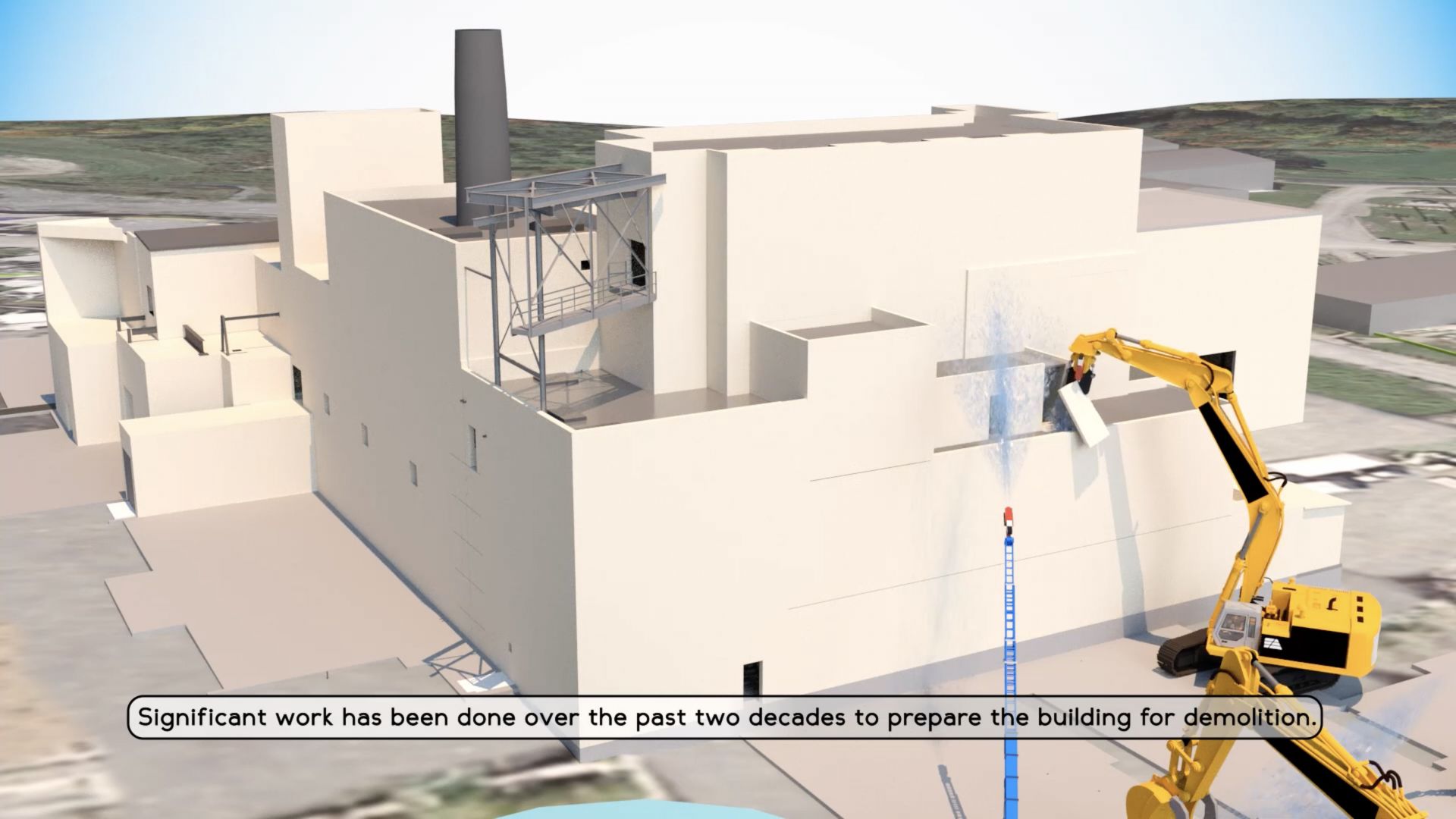 A new animated video from the Department of Energy's Office of Environmental Management (EM) shows how cleanup contractor CH2M HILL BWXT West Valley (CHBWV) will take down the main plant process building at the West Valley Demonstration Project (WVDP).
The EM team at West Valley wanted to convey the project to the public, and they believe the animation accomplishes that goal, according to Stephen Bousquet, EM WVDP federal project director for the Main Plant Deconstruction Project.
Click here to watch the video.
Quotes: "An animation is an excellent visual tool for showing how this project will be accomplished safely and in compliance with local, state and federal regulations," said Bousquet, who helped create the animation. "Our engineered approach is designed to safely deconstruct this facility at a deliberate rate and sequence while maintaining the building's structural integrity."
CHBWV president John Rendall said removal and disposal of the main plant is the contractor's remaining primary task at the site. "More than 98 percent of the contamination has been removed from the building, and we have a state-of-the-science monitoring system that verifies the protective measures and safeguards in place continue to be protective of employees, the public and the environment," he said.
The video: The animation was created using images from a 3D engineering model developed during the planning process for the main plant demolition.
"DOE's carefully planned approach for deconstructing the main plant incorporates best practices and lessons learned from the WVDP and across the DOE complex," Bousquet said. "This approach includes the use of deliberately planned and sequenced demolition, the implementation of robust work controls and the use of specialized tools and techniques to safely deconstruct the building."
The EM workforce at West Valley has completed significant work over the past two decades to prepare the Main Plant for the demolition, which began in September last year, achieving an EM 2022 priority. The project is expected to take more than 30 months to complete.
History: The West Valley Demonstration Project is an approximate 150-acre area located 35 miles south of Buffalo, N.Y. The site is owned by the New York State Energy Research and Development Authority and is home to the only commercial spent nuclear fuel reprocessing facility to operate in the United States.
Operating from 1963 to 1972, the site processed 640 metric tons of spent nuclear fuel and generated more than 600,000 gallons of liquid high-level waste. In 1980, Congress passed the WVDP Act, which required the DOE to conduct a high-level waste management demonstration project at the site and transport it to a federal repository for disposal.
---