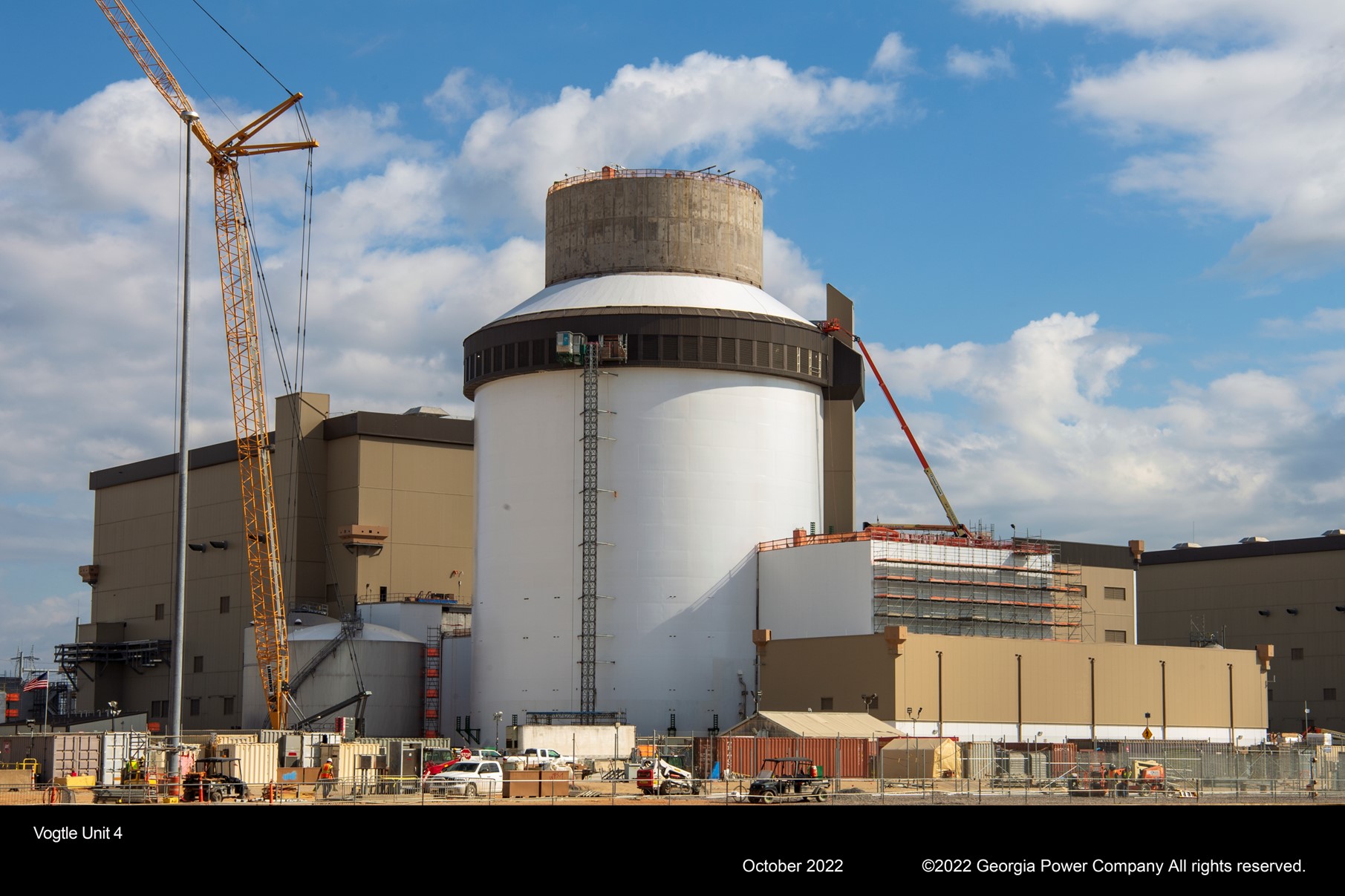 Cold hydro testing of Unit 4 at the Vogtle plant's nuclear expansion site has been completed, Georgia Power announced on December 7.
The utility—Vogtle's largest shareholder with a 45.7 percent of the facility—noted in its announcement that cold hydro testing is required to support the last major test remaining for the reactor, hot functional testing, which is currently projected to commence by the end of the first quarter of 2023.
The cold hydro testing confirmed that the AP1000's coolant system functions as designed and verified that the welds, joints, pipes, and other components of the system and associated high-pressure systems do not leak when under pressure, according to Georgia Power. As part of the testing, the coolant system was filled with water and pressurized to above-normal operating conditions, then lowered to normal design pressure while inspections were conducted to verify that the systems met design standards.
Early last month saw the completion of Vogtle-4's closed vessel testing, which verifies that the pipes and valves in the reactor coolant system are installed as designed and which helps ensure that safety systems function properly.
C-suite support: "The team at the Vogtle-3 and -4 site continues to make important progress as we move closer to bringing on line the first new nuclear units to be built in the country in over 30 years," said Chris Womack, chairman, president, and chief executive officer of Georgia Power. "Completion of cold hydro testing on Unit 4 is another critical milestone along the path to get us there. These units are a long-term investment for our state and essential to building the future of energy for Georgia. For the next 60 to 80 years, they will help us continue to provide clean, safe, reliable, and affordable energy for our customers, serving generations of Georgians as clean, emission-free sources of energy."
In case you missed it: On August 3, the Nuclear Regulatory Commission authorized the Vogtle plant operator, Southern Nuclear, to load fuel and begin operation at Unit 3—the first reactor to reach that point in the agency's combined license process. (Prior to 1989, reactors were licensed under a two-step process, requiring both a construction permit and an operating license.)
And on October 13, Georgia Power announced that Vogtle-3 fuel loading had begun. Unit 3 is expected to begin commercial operation in the first quarter of 2023, followed by Vogtle-4 by the end of next year.