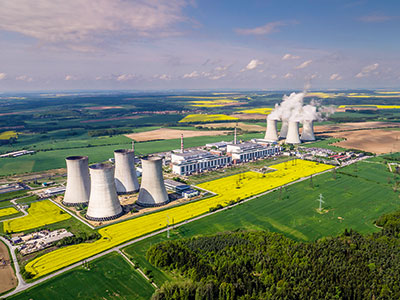 A Westinghouse-Bechtel team, France's EDF, and Korea Hydro & Nuclear Power have all submitted their initial bids for securing the contract to build a fifth reactor at the Czech Republic's Dukovany plant, Czech utility ČEZ has announced.
Dukovany, one of the Czech Republic's two nuclear power facilities—the other being the two-unit Temelín plant—houses four Russian VVER-440/V213 pressurized water reactors, all of which entered commercial operation from 1985 to 1987. In March 2020, ČEZ filed an application with the country's State Office for Nuclear Safety to construct up to two new reactors at the site, each with a generating capacity of up to 1,200 MWe. Czech political parties agreed in January 2021 to exclude China from participating in a tender to build a Dukovany-5, adding Russia to the thanks-but-no–thanks list in April of that year.
The tender was launched in March 2022 by ČEZ subsidiary Elektrárna Dukovany II, following approval from the country's Ministry of Industry and Trade. At the time, the cost of the project was estimated at €6 billion (about $6.3 billion at this writing).
Final bids are to be submitted by the end of September 2023 and the winning bidder announced in 2024, according to the announcement. ČEZ hopes to have the new unit in operation by 2036.
The initial bids from Westinghouse and EDF both propose not only the construction of Dukovany-5 but the potential construction of a Dukovany-6 and two additional units at Temelín. (Details of the KHNP bid were not available at press time.)
C-suite statements: "We believe that the bidders have a strong interest in building a new nuclear power source in the Czech Republic," said Tomáš Pleskač, ČEZ board member and director of the company's New Energy Division. "Since the tender launched in March this year, we have seen careful preparation from all bidders. They assembled strong teams for this contract, had a number of clarifying questions, and visited the Dukovany site."
"We are proud to have the opportunity to expand on our long-term support of the Czech Republic's nuclear industry," Westinghouse energy systems president David Durham said. "As the country continues moving toward a safer, cleaner, and more secure energy future, our AP1000 technology is unequaled in its ability to safely decarbonize grids on a massive scale."
EDF chairman and chief executive officer Luc Rémont declared his firm's commitment to the Dukovany-5 project "and the further expansion of ČEZ's nuclear fleet with its state-of-the-art European EPR1200 technology," adding, "This would pave the way for a long-term strategic and industrial European partnership, benefitting from the fleet effect of the EPR technology in Europe, and creating many industrial synergies between our respective nuclear programs in the coming decades."