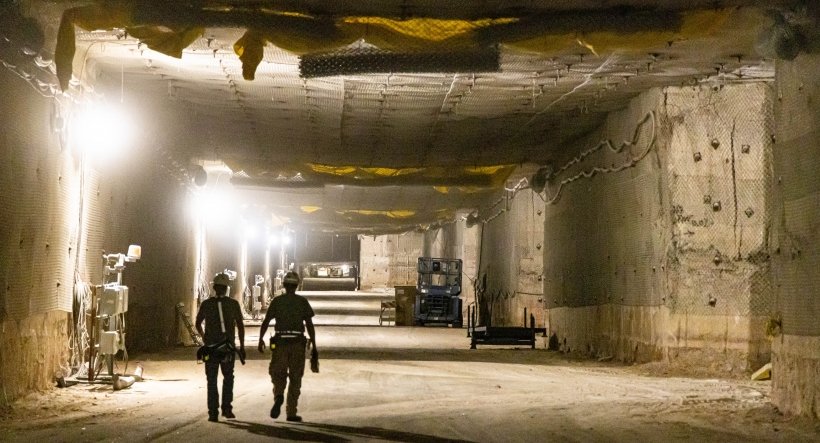 Employees have begun emplacing defense-related transuranic (TRU) waste in Panel 8 of the Waste Isolation Pilot Plant (WIPP) in New Mexico, the Department of Energy's Office of Environmental Management (EM) announced in November. TRU waste is permanently disposed of at WIPP in rooms mined in a Permian salt bed 2,150 feet below the surface.
Mining of Panel 8 was completed in October 2021, and WIPP marked a milestone this past October when employees finished emplacement in Panel 7 with the last of 20,056 TRU waste containers. The most common containers, 55-gallon drums, totaled almost 13,000.
The panels: Similar to WIPP's other disposal panels, Panel 8 consists of seven rooms where TRU waste is placed. Each room measures 33 feet wide by 16 feet high by 300 feet long—the length of a football field minus the end zones. Creating a panel requires mining nearly 160,000 tons of salt.
According to EM, emplacement began in Panel 8's Room 7 with waste containers from Oak Ridge National Laboratory in Tennessee. Panels are filled back to front, and it normally takes about 2.5 years to fill a panel, after which they are sealed.
He said it: "We have already seen significant increases in our efficiency as we have emplaced in Panel 8 compared to Panel 7," said Sean Dunagan, president and project manager of Nuclear Waste Partnership, the WIPP management and operations contractor. "WIPP has the best workforce of anywhere in the complex, and I am so excited for the team as we make this significant move in Panel 8."
Background: Construction of WIPP followed congressional passage of the WIPP Land Withdrawal Act in 1992, which approved emplacement of up to 6.2 million cubic feet of waste. Emplacement in WIPP's Panel 1 began in 1999.
Because of lost capacity resulting from the 2014 radiological release in the repository underground, EM intends to mine two replacement panels to dispose of the DOE's remaining inventory of TRU waste.