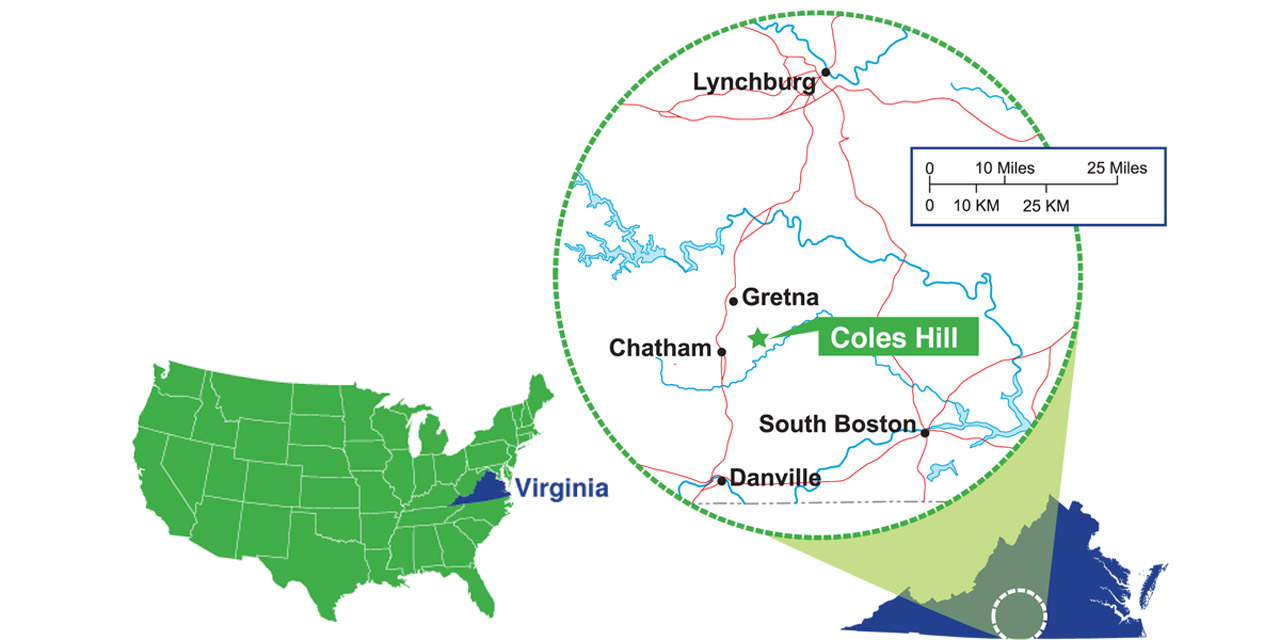 Consolidated Uranium plans to acquire Virginia Energy Resources, which owns Virginia Uranium and the Coles Hill Uranium Project, an undeveloped uranium deposit that sits under about 3,000 acres of land in south central Virginia. The state's General Assembly has maintained a moratorium on uranium mining since 1982 that was upheld in the courts as recently as 2020, but Consolidated Uranium sees reason for "confidence that the moratorium on developing uranium projects in the state may ultimately be overcome," and appears content to settle in for a wait.
Under the terms of an acquisition that is subject to shareholder approval and expected to close in the first quarter of 2023, Virginia Energy shareholders would receive 0.26 of a common share of Consolidated Uranium per share, giving those current shareholders of Virginia Energy ownership of about 17.6 percent of Consolidated Uranium's outstanding shares. The transaction is valued at about $32.3 million.
Background: According to the companies' November 15 press release, Coles Hill's historical mineral resource estimates point to indicated resources amounting to 132.9 million pounds of U3O8 and inferred resources of 30.4 million pounds. After initial exploration drilling between 1980 and 1982, the project lay dormant until 2007, when nuclear energy appeared poised for a renaissance and Virginia Uranium drilled 12 holes to confirm the historic grades. Development activities were stopped in late 2013, but the company has continued legal efforts to contest the state's mining moratorium.
That moratorium on the issuance of permits for uranium mining was imposed in 1982 as a temporary measure to allow time for the Virginia Coal and Energy Commission to determine whether uranium mining could proceed safely. The commission submitted a report to the Virginia General Assembly in 1985, recommending, by a vote of 12–8, that uranium mining be allowed, but adding a caveat that the state should develop a robust regulatory framework. Opposition in the General Assembly has continued since then, however, and the moratorium has remained in place.
When Virginia Gov. Glenn Youngkin released his 2022 Energy Plan in October encouraging the state to go "all-in" on innovation in nuclear, Consolidated Uranium saw reason for optimism.
"This level of support for nuclear energy at the state level, combined with the local support for Coles Hill, gives [Consolidated Uranium] confidence that the moratorium on developing uranium projects in the state may ultimately be overcome and the risk/return profile of the transaction is extremely compelling," the company said in its press release.
State's rights vs. property rights: In July 2020 a Virginia circuit court judge upheld the state's now 40-year-old moratorium, rejecting Virginia Uranium's argument that the ban was an unconstitutional violation of the company's rights regarding its Coles Hill property. The ruling was made in the state's favor, as the administration of then governor Ralph Northam defended the moratorium—and the state's right to regulate mining within its boundaries—in court.
Mark R. Herring, Virginia's attorney general at the time, said, "Today's ruling once again affirms that Virginia is well within its right to regulate mining activities in the Commonwealth, and I'm pleased we were able to yet again successfully defend Virginia's environment and uranium mining moratorium in court."
Herring was referring to a separate case brought by Virginia Uranium that made its way to the U.S. Supreme Court in June 2019. In that case, Virginia Uranium claimed that under the U.S. Constitution's supremacy clause, the Atomic Energy Act preempts uranium mining laws like Virginia's and establishes the Nuclear Regulatory Commission as the lone regulator in the field. The court concluded that "both the District Court and the Fourth Circuit rejected the company's argument, finding that while the AEA affords the NRC considerable authority over the nuclear fuel life cycle, it offers no hint that Congress sought to strip states of their traditional power to regulate mining on private lands within their borders."
Consolidated approach: Consolidated Uranium has assembled a portfolio that includes "past-producing mines in the U.S. that are currently on stand-by and ready for rapid restart when market conditions permit," as well as a pipeline of projects in countries including Canada, Australia, and Argentina, according to the November 15 press release. The addition of Coles Hill "is expected to bolster this pipeline and provide long-term optionality in the strategically important U.S. uranium market where sourcing domestic supply of uranium is becoming a critical issue for the U.S. nuclear industry, to help address the growing importance of energy security."
Philip Williams, chairman and chief executive officer of Consolidated Uranium, said, "We believe the future does not have to mirror the past particularly for a large uranium resource in the U.S. where increasingly, the need for new sources of domestic supply is becoming a critical issue for utilities and politicians alike. Our due diligence process highlighted the strong local support for the project which is paramount for future development. Our plan is to take a measured approach to advancing the project with a focus on education and engagement with the local, state, and federal levels of government. We compliment Virginia's management team, particularly Walt Coles Sr., in keeping this project going through its tumultuous history and will endeavor to steward the project forward with the same level of care and ability."
Leases extended to 2090: Prior to the acquisition agreement, Virginia Uranium amended terms and conditions of the two principal mining leases that provide long-term access to the Coles Hill deposit. According to the companies, "the amendments to the leases provide for a significantly longer period for regulatory changes in the state of Virginia, the permitting of the project, construction, and mining. The leases previously expired in 2045, which have now been extended to 2090 and have mechanisms in place that may allow for a further extension."