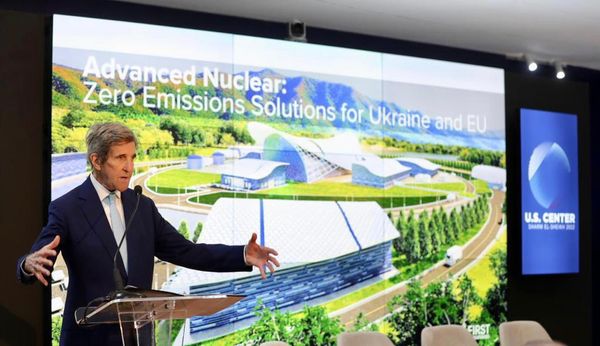 U.S. special envoy for climate John Kerry and Ukraine's minister of energy German Galushchenko have announced a two-to-three-year pilot project aimed at demonstrating the commercial-scale production of clean hydrogen and ammonia from small modular reactors in Ukraine using solid oxide electrolysis.
Debuted at the COP27 climate change conference in Egypt, the project, according to a State Department media note, leverages the existing capacity-building cooperation launched under the U.S. Foundational Infrastructure for Responsible Use of SMR Technology, or FIRST, program and seeks to support Ukraine's energy security goals, enable the decarbonization of hard-to-abate energy sectors via clean hydrogen generation, and improve long-term food security through clean ammonia–produced fertilizers.
Participating partners in the project include Argonne National Laboratory, Clark Seed, FuelCell Energy, NuScale Power, and Starfire Energy from the United States; and nuclear plant operator Energoatom, the National Security and Defense Council, and the State Scientific and Technical Center for Nuclear and Radiation Safety from Ukraine. Also joining the consortium are South Korea's Doosan Enerbility and Samsung C&T, as well as Japan's IHI Corporation and JGC Corporation.
"Even during the war, we do not stop modeling the new energy future of Ukraine," said Galushchenko in a November 14 statement. "Carbon-free energy is one of the main focuses of the world in technological development. Of course, Ukraine, with our experience and potential in nuclear energy, will also actively participate in the implementation of the global agenda. The achievements of the international public-private consortium, among other things, will be used to develop, after our victory, a new energy system of Ukraine and will accelerate our 'green transition.'"
But wait, there's more: Also at COP27, Kerry announced a new initiative, Project Phoenix, to accelerate the transition in Europe from coal-fired plants to SMRs while retaining local jobs through workforce retraining. Project Phoenix will provide direct U.S. support for coal-to-SMR feasibility studies and related activities in support of energy-security goals for countries in Central and Eastern Europe, the State Department said.