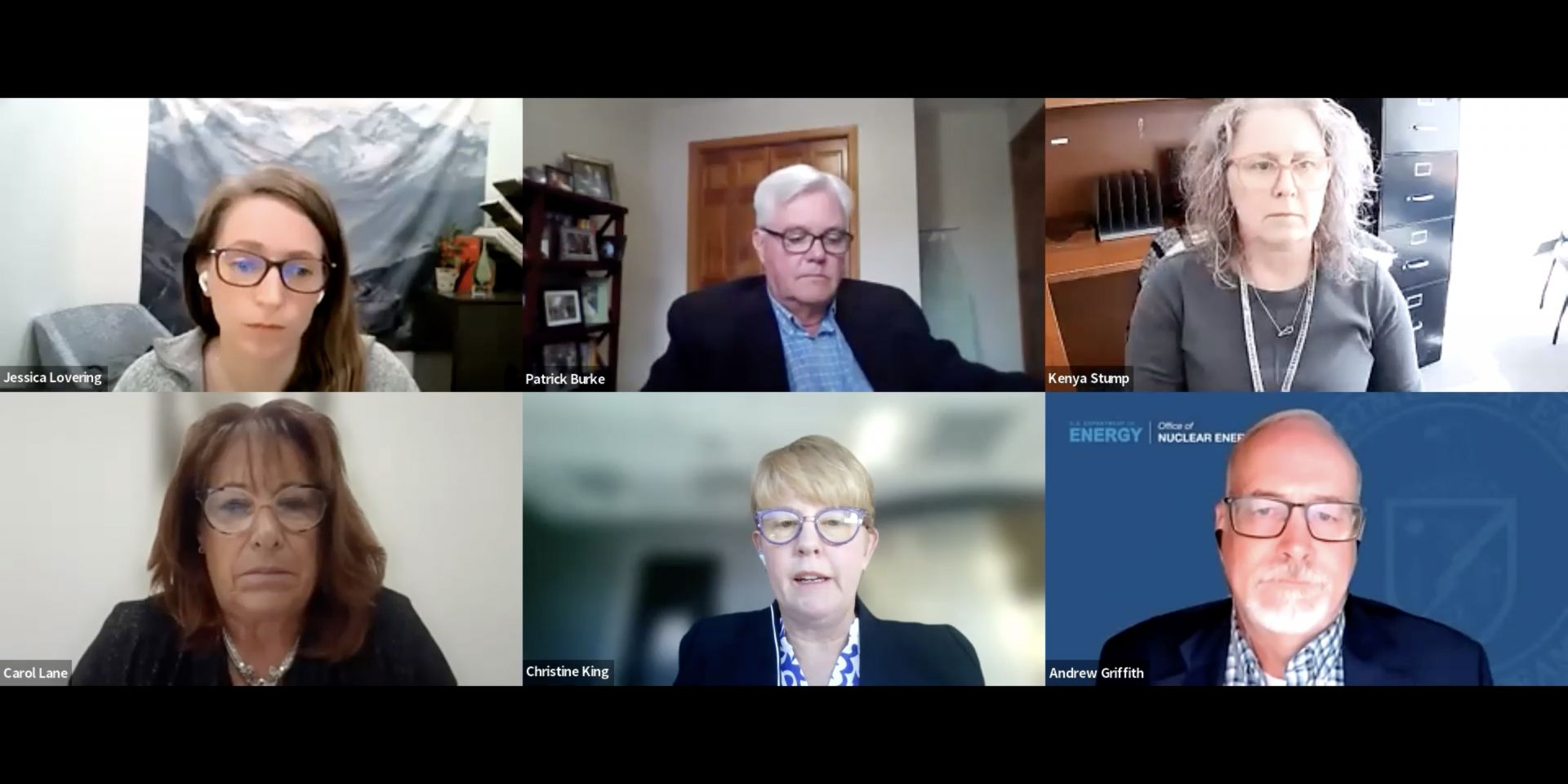 Since at least June of last year—when TerraPower and PacifiCorp announced plans to site the Natrium reactor demonstration project at one of Wyoming's retiring coal plants—the concept of repurposing those plants to host nuclear reactors has been a popular topic of conversation among the energy cognoscenti.
This September, for instance, the Department of Energy released a major, 127-page report on the subject, Investigating Benefits and Challenges of Converting Retiring Coal Plants into Nuclear Plants, concluding that hundreds of U.S. coal power sites could be successfully converted. According to the DOE, this would dramatically increase the supply of firm and dispatchable clean electricity to the grid and deliver quite sizable gains to the nation's goal of net-zero emissions by 2050.
More recently, on October 24, the American Nuclear Society's Operations and Power Division contributed to the conversation with a webinar on the potential of a large-scale coal-to-nuclear transition in the United States. Entitled "Powering Our Future: The Coal to Nuclear Opportunity," the one-hour panel discussion featured Xcel Energy's Patrick Burke, the DOE's Andrew Griffith, X-energy's Carol Lane, Good Energy Collective's Jessica Lovering, the Kentucky state government's Kenya Stump, and, as moderator, Christine King, director of the DOE's Gateway for Accelerated Innovation in Nuclear (GAIN) initiative.
In opening comments, King noted, "Over the past year, GAIN has put together a pilot project to work with three coal stations specifically to investigate the feasibility of repowering the plants with nuclear energy. These plants are all owned by utilities without nuclear in their portfolio. Our work is focused on near-term reactor retirement options, as well as longer-term strategies."
Griffith: The deputy assistant secretary for the nuclear fuel cycle and supply chain in the Office of Nuclear Energy, Griffith provided a brief overview of the DOE's September analysis. According to Griffith, the report found that more than 250 GW of coal capacity in the United States could be converted to nuclear, doubling the existing nuclear capacity. The report also showed that conversion to nuclear could offer a number of benefits to the communities surrounding the coal plants, including the addition of 650 permanent jobs and $275 million in economic activity, as well as an 86 percent reduction in greenhouse gas emissions.
"We view this as an opportunity and a potentially catalytic moment for these communities looking to see what life after hosting a coal plant could be like," Griffith said. "Clearly, with the number of coal plants that are in the process of being shut down or are planned for shutdown in the coming years, there's a huge potential out there. Clearly, connecting with the existing electricity grid infrastructure is a huge benefit, but also the workforce as well.
"Nuclear offers them an opportunity. In many instances, what they were doing at the coal plant can be applied to a nuclear plant as well. But more importantly, I think, how the community views the future and how nuclear might play into that future for that community are also really important questions. But DOE is not targeting any communities here. We want this to be an opportunity they can learn about, and should they feel comfortable, willing, and informed on the future with a nuclear plant on the horizon, we would like to have that conversation with them. So it's a huge opportunity, and it's not just an opportunity to connect with the electricity grid, because many of these reactor concepts can have industrial heat applications as well. The opportunity goes beyond the decarbonization of the electricity grid and into the decarbonization of the broader industrial economy."
Stump: As the executive director of Kentucky's Office of Energy Policy, Stump focused her remarks on the Bluegrass State's energy landscape and what introducing nuclear power to Kentucky might mean for its energy communities.
Over the past 12 years, Kentucky has lost some 14,000-15,000 jobs in the coal industry, according to Stump. "We have 9.5 GW of coal capacity currently operating that would be at risk as we look into a carbon constrained future," she said. "When we look at our energy communities, we're looking at how do we maintain the reliability that we're known for, how do our assets play into the wholesale market, and, more importantly, how do we have fuel security, fuel diversification beyond what we have in Kentucky or what we're seeing unfold, and that's a transition to gas, along with solar."
From an emergency response perspective, Stump noted, the gas and solar energy portfolio does not support where the state wants to be in terms of resilience, fuel security, and reliability of its baseload. "The next decade is one where we can't afford for the nuclear development to fail," she said. "There's not a scenario where nuclear failure works here in Kentucky, because as I said, 9.5 GW at risk, and we've already lost 14,000 jobs. . . . We're not just looking here in Kentucky at siting a reactor—that's one aspect to it. But because of our history in Paducah with the gaseous diffusion facility, we're looking at what does it mean for our manufacturing base here—how do we look at advanced manufacturing to support a nuclear economy and all aspects of that, from reactor siting to the fuel cycle to manufacturing the parts, the materials needed, construction. How do we fill that workforce need here moving forward? The way we see it, nuclear is just a matter of time here in Kentucky."
Lovering: The cofounder and executive director of Good Energy Collective (a self-described "progressive think tank that delivers policy and leadership on nuclear energy"), Lovering discussed her organization's concerns with the impact that transitioning to clean energy can have on vulnerable communities and shared some of the findings from the group's own coal-to-nuclear report, Opportunities for Coal Communities Through Nuclear Energy: An Early Look, released late last year.
According to Lovering, Good Energy Collective is primarily focused on the communities most likely to be hosting advanced nuclear and how policy surrounding that technology intersects with policy surrounding environmental justice, energy justice, and economic justice. "This idea of a 'just transition' has been at the forefront of a lot of energy policies in the Biden administration, and we think it's critical to a progressive energy vision," she said.
The challenges to successfully transitioning coal plant workers to new employment, Lovering observed, can include mismatches in job location or skills, reduced pay or benefits, the inability to join a union, and piecemeal state/federal approaches to the sourcing of new energy jobs. "There can be a lot of uncertainty for these communities, wondering if these promises of new energy jobs will be fulfilled," she said. "It seems like coal to nuclear repowering could be a way to mitigate some of these challenges, because you know that the jobs will stay local if the new nuclear plant is built at the same site or next to the closing coal site. And there's a good overlap in jobs—in their skill set, in the training that's required, minimal retraining for a lot of the positions, higher pay often, more jobs per unit of energy produced, and similar unionization rates and benefits. . . . So we did a study to see, more at the community level, what was needed for coal repowering."
The authors of the report, looked for communities that would be the best first host for coal repowering projects, according to Lovering. "We weren't looking for all the sites, because there are a ton of sites in the U.S. that would make sense for coal repowering in the long term," she said. "We really wanted to see where there would be the most success in the short term of doing coal repowering."
Working with Fastest Path to Zero's database of 304 coal plants retired since 2010 or retiring before 2045, the authors filtered out states that had active policy restrictions against new nuclear facilities, FPTZ-identified safety hazards, and a total nameplate capacity of less than 300 MWe and a per-unit capacity of more than 1,000 MWe.
"We found about 80 retiring coal power plants that fit those parameters," Lovering said. "We see these plants everywhere, but there is still a lot that is needed on the policy side to support communities that might be interested." States with the highest number of coal plants suitable for repowering include Texas (12), Michigan (8), Indiana (7), and Ohio (5).
The Good Energy Collective report also listed recommendations for both small modular reactor vendors and coal-closure communities. "For both of them, you've got to start early," Lovering said. "The time is really now to be starting. SMR vendors should be engaging with these communities, communities should start talking with their utilities and with vendors. Also, there is some help in the recently passed Inflation Reduction Act. There are tax credits for new clean energy projects, and there are certain things that get you a multiplier on that tax credit. And one of them is being located in an energy community, which includes communities that have coal power plants or have been historically dependent on the coal industry for employment, for their economies. . . . And in the Infrastructure Investment and Jobs Act, there is also some funding for feasibility studies that communities could take advantage of."
Lane: Bringing the perspective of a reactor developer to the topic was Lane, vice president for government affairs at X-energy, the company behind the Xe-100—a TRISO-fueled, 80-MWe high-temperature gas-cooled reactor capable of being optimized as a four-unit, 320-MWe plant.
The last few years have seen an acceleration of coal plant retirements, Lane noted, as well as the creation of policies at both the state and federal levels that provide financial incentives for moving away from coal and toward clean energy sources. "That's been really important and has been a real driver in understanding our markets and targets," she said. "Coal plants have been the cornerstones of many communities, in the same way nuclear plants have been. What's a little bit different now is that light water reactors, because of their emergency planning zones, have been pretty far away from community centers. But with small nuclear modular reactors, we're able to base them closer to the community, allowing them to fill the role that coal facilities played in those communities. We see that as really positive."
Under a grant from the Maryland Energy Administration, Lane said, X-energy is examining the feasibility of replacing a coal plant with a nuclear plant. "This has been broken into two parts, technical and socioeconomic," she explained. "We've partnered with Frostburg State University to study the socioeconomic impacts. And that's been really important in terms of a social license to participate in those communities. There was a study done by Nuclear Powers Maryland a couple of years ago showing that 82 percent of the state's clean energy is provided by the two-unit Calvert Cliffs nuclear plant, yet less than 50 percent of the people in the state even know of its existence, much less its contribution to clean energy. So communication and acceptance of nuclear is really important as we move forward."
Burke: The vice president of nuclear strategy at Xcel—the first major U.S. utility to announce (in 2018) a net-zero-by-2050 commitment—Burke spoke on the company's continuing decarbonization efforts, with particular attention to its plans for exiting coal in Colorado.
Xcel's coal plants in Colorado include the Comanche, Craig, Hayden, and Pawnee facilities. Through the company's Colorado Energy Plan, Burke noted, Comanche-1 is to be retired at the end of this year, Comanche-2 in 2025, and Comanche-3 by the end of 2030 (with reduced operations starting in 2025); Craig-1 will be retired in 2025, Craig-2 in 2028, Hayden-1 in 2028, and Hayden-2 in 2027. In addition, according to Burke, the single-unit Pawnee plant is to be converted to natural gas by 2026. (Notably, just one week after the webinar, Xcel announced a proposal to advance the retirement of coal operations at the Tolk coal plant in Texas to 2028, more than four years earlier than planned. "With this earlier retirement, along with accelerated coal plant retirements in other states, the company will exit the use of coal by the end of 2030, when the Comanche-3 coal unit in Colorado retires," Xcel stated.)
"We are looking at the feasibility of other generation sources at these coal sites, and we've developed this process to go through and figure out what is the best path forward for our ratepayers and customers regarding these stations once they close," Burke said. "We've come to the conclusion that it is technically feasible to transition to an advanced reactor, for many of the reasons we've talked about here—you have the land, the water, transmission. There are, however, significant challenges with advanced reactors that we need to work hard at overcoming. Those include things like the cost to refinance. You know, inflation has become a concern for some of these advanced reactors. And there are still some first-of-a-kind challenges—we need to actually build some of these things to see how they operate and how efficient they are. And then the timelines—we need to decrease the timelines. With all that said, we continue to work with our stakeholders to find the most cost-efficient solutions for our customers."