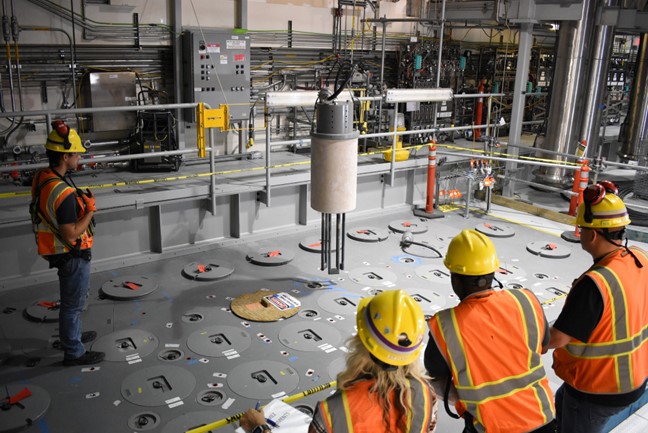 Heating of the first waste vitrification melter at the Department of Energy's Hanford Site was paused after operators identified an "abnormal condition with the startup heater power supplies," the DOE's Office of River Protection (ORP) said. Heat-up of the 300-ton melter, which will be used to vitrify Hanford's low-level radioactive tank waste, was initiated on October 8.
According to the DOE, the pause occurred just prior to reaching the first 48-hour holding point at 300°F. Heating of the melter to an operational temperature of 2,100°F was expected to last several weeks.
The DOE said that initiating and completing the heating of the melter, one of two within the Low-Activity Waste Facility at Hanford's Waste Treatment and Immobilization Plant (WTP), is a critical step to implementing the department's LLW vitrification program, known as Direct-Feed Low-Activity Waste (DFLAW).
Complex process: In response to questions regarding the pause in operations, Hanford's ORP released the following statement to ANS's Newswire:
"Heating up the melter is a complex process that consists of a series of activities over at least several weeks to prepare for and establish a molten pool of glass that will eventually be used to vitrify low-level tank waste. The detailed and methodical process for melter heat-up has been planned in a way that allows for issues identified during the complex startup to be effectively and safely addressed. Issues are expected to be identified and resolved throughout the process."
The ORP said that a technical team, including corporate and vendor subject matter experts, is in the process of resolving the issue. However, they did not provide a date for when heating of the melter would resume.
"The workers' performance in identifying and responding to the issue is a demonstration in operational excellence," the ORP added.
Additional melters assembled: On October 25, the DOE announced that ORP tank operations contractor Washington River Protection Solutions (WRPS) was ready to begin assembling two additional melters to support continued WTP operations.
ORP contracted with WRPS to assemble the spare melters at an off-site location, in addition to procuring critical replacement parts. Replacement melters cannot be assembled at WTP once waste treatment has started because assembly can take up to two years.
"The melters are the heart of DFLAW, making it vital to have replacements assembled and ready to change out the first set of melters when they reach the end of their expected lifespans," said Delmar Noyes, ORP assistant manager for Tank Farms Project.