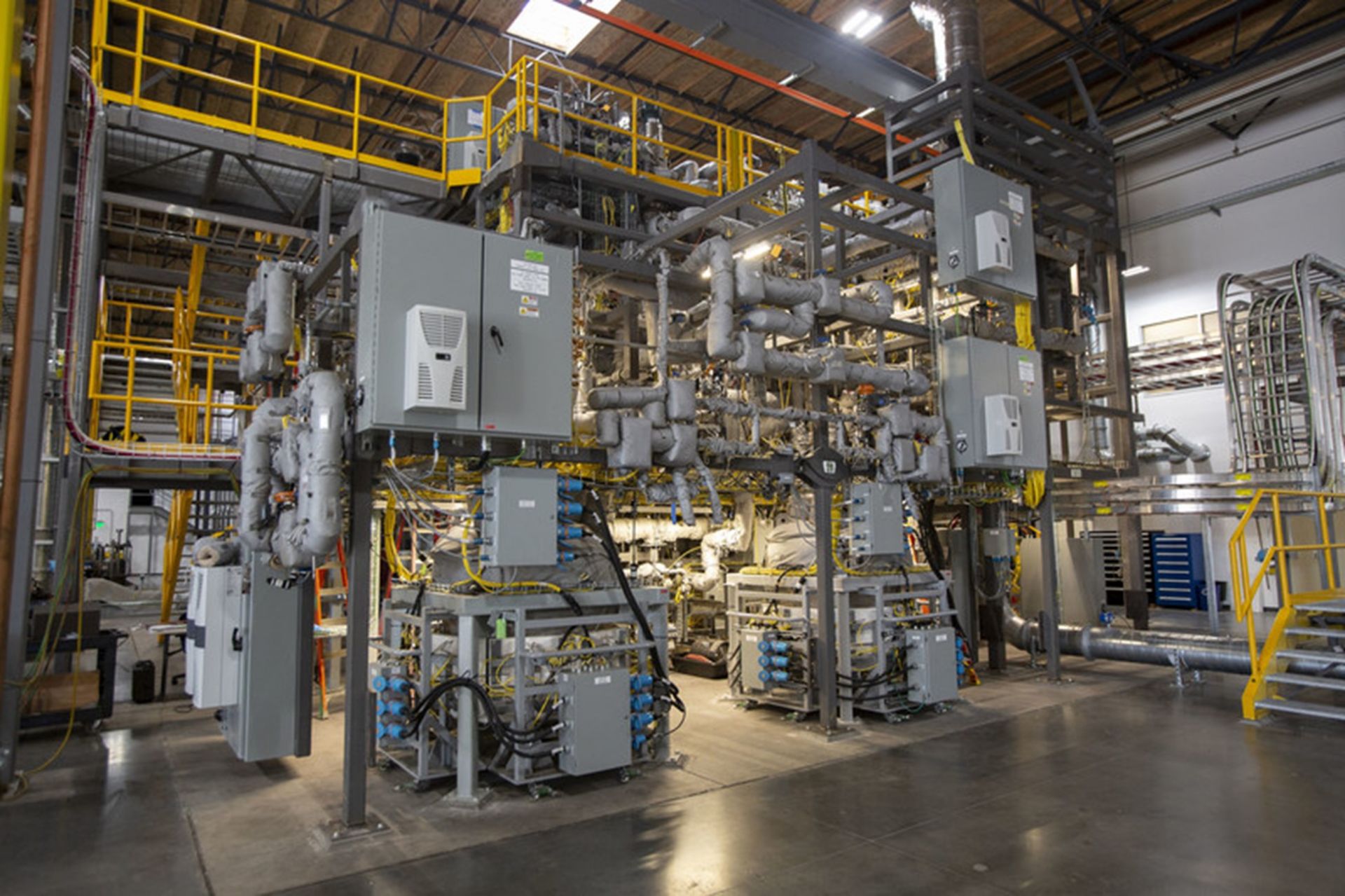 "The world's largest chloride salt system developed by the nuclear sector" is now ready for operation in TerraPower's Everett, Wash., laboratories. Southern Company, which is working with TerraPower through its subsidiary Southern Company Services to develop molten chloride reactor technology, announced on October 18 that the Integrated Effects Test (IET) was complete. The multiloop, nonnuclear test infrastructure follows years of separate effects testing using isolated test loops, and it was built to support the operation of the Molten Chloride Reactor Experiment (MCRE) at Idaho National Laboratory that the companies expect will, in turn, support a demonstration-scale Molten Chloride Fast Reactor (MCFR).
It took a team: The IET was completed as a seven-year, $76 million cost-shared project with funding from a Department of Energy Advanced Reactor Concepts (ARC-15) award. The DOE marked the completion of the project with its own press release and a short video overview. Core Power, the Electric Power Research Institute, INL, Oak Ridge National Laboratory, and Vanderbilt University all contributed to the IET project, according to the DOE.
Representatives from Southern Company, TerraPower, INL, and others involved in the project attended a September 9 ribbon-cutting ceremony. Energy secretary Jennifer Granholm's visit and tour of the lab on October 17 was reported by local media.
What is it? The IET is a nonnuclear, externally heated, up to 1-MW multiloop system that can support future deployment of fast-spectrum, salt-cooled reactors. Test data will help validate thermal hydraulics and safety analysis codes, and the system is equipped with gas and fuel salt handling systems that will be used to train operators who will go on to support the operation of MCRE at INL. As a test reactor of less than 200 kWe, MCRE is being built to provide experimental and operational data. Both the IET and MCRE will inform the design, licensing, and operation of an approximately 180-MW MCFR demonstration planned for the early 2030s.
Next steps: The MCFR will be a liquid salt–fueled, salt-cooled fast reactor operating at low pressures and high temperatures. Molten chloride will circulate through the MCFR as a transparent liquid at reactor operating temperatures, containing dissolved fuel and serving as both coolant and fuel carrier. As fission heat increases the reactor and coolant temperature, the liquid fuel mixture will expand, effectively moving the fissile fuel nuclei farther apart to passively slow the fission chain reaction without operator actions.
TerraPower's MCFR design is distinct from the company's Natrium sodium fast reactor, which was selected through the DOE's Advanced Reactor Demonstration Program (ARDP) for a near-term full-scale commercial demonstration.
In February 2022, TerraPower and Southern Company finalized the agreement announced in November 2021 to design, construct, and operate MCRE at INL with support from a cost-shared Risk Reduction Award from the DOE's ARDP. Southern Company is leading that collaborative effort between TerraPower, INL, Core Power, Orano Federal Services, EPRI, and 3M Company.
Words of support: "Southern Company's research and development program is committed to advancing next-generation nuclear as part of a diverse technology portfolio supporting our goal of a net-zero future for customers," said Mark S. Berry, Southern Company Services senior vice president of R&D. "We are honored to engage with TerraPower, the Department of Energy, and the other team members to further this goal through the Integrated Effects Test. Collaborations of this kind are critical to making transformational change in our energy system a reality."
"The completion and installation of the Integrated Effects Test is an important step to advancing TerraPower's Molten Chloride Fast Reactor technology," said Jeff Latkowski, TerraPower's senior vice president of innovation programs. "The MCFR will play a pivotal role in decarbonizing heavy industries, and we are proud to work with Southern Company, Core Power and other partners to develop the systems necessary to bring new reactors to market."
"The IET facility is a huge step forward in commercializing molten salt reactor technology that will help the U.S. transition to a new, clean-energy economy and help position the U.S. as a leader in the development of advanced reactor technologies," said Kathryn Huff, assistant secretary for the DOE's Office of Nuclear Energy, in recorded remarks shared at the September 9 ribbon cutting.