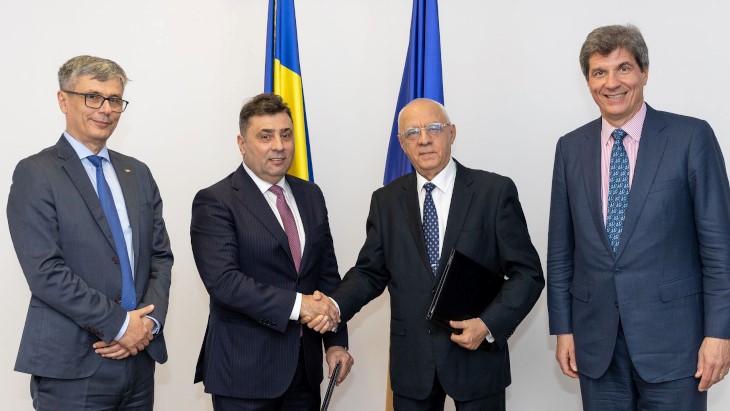 Energy firms Nuclearelectrica and Nova Power & Gas have launched a joint venture, RoPower Nuclear, for the development of small modular reactors in Romania, with SMR technology provided by NuScale Power, of Portland, Ore.
Largely state-owned, Nuclearelectrica operates Romania's sole nuclear power facility, the two-unit Cernavoda plant, while Nova Power & Gas, a subsidiary of the privately held E-Infra Group, is a supplier and distributor of electricity and natural gas in Romania. The two firms own equal shares of RoPower.
According to a September 27 announcement from Nuclearelectrica, RoPower first will be tasked with developing a NuScale VOYGR-6 power plant (housing six 77-MWe NuScale Power Modules for a total of 462 MWe) this decade, at the site of a former coal-fired plant owned by E-Infra in Doicești, Romania. Installed capacity of the new plant could be complemented, Nuclearelectrica noted, with approximately 80 MWe from renewable sources, which would give the power complex a greater total capacity that that of the retired coal facility.
Nuclearelectrica envisions the project generating over 200 permanent jobs in the power plant, as well as 1,500 jobs in construction and 2,300 jobs in production. In addition, the VOYGR plant will help Romania avoid over 4 million tons of CO2 emissions per year while bringing additional benefits to the local community, the utility said.
Signers' language: "The RoPower Nuclear Shareholders' Statement, signed today, reaffirms the good faith of the two partners, Nuclearelectrica SA and Nova Power & Gas, for the implementation in Romania of the small modular reactors developed by the American company NuScale," said Teodor Chirica, chairman of Nuclearelectrica's board of directors. "At the same time, it is a guarantee that we will treat this project with the utmost seriousness. Long-standing cooperation between the United States and Romania in the nuclear field is successful. Thus, I am firmly convinced that RoPower Nuclear will have an excellent cooperation with both the American and the Romanian nuclear industry, within the U.S.-Romania strategic partnership, ensuring clean energy and security of supply for our country and the region."
Nova Power & Gas president Teofil Mureșan said the joint venture "combines the expertise, potential, stability, and agility of the parent companies," and that his firm is "very proud to be part of such a transformational project, which will contribute to Romania's energy security."
Good signs: There has been a fair amount of action on the NuScale-SMRs-for-Romania front in recent years:
In March 2019, NuScale and Nuclearelectrica signed a memorandum of understanding to evaluate the development, authorization, and construction of an SMR in Romania.
In October 2020, the United States and Romania signed an intergovernmental agreement in the field of nuclear energy, which was later ratified by the Romanian Parliament.
That same month, the U.S. Export-Import Bank expressed, through an MOU with the Romanian Ministry of Energy, its interest in financing energy investment projects in Romania, including nuclear projects, with a total value of $7 billion.
At COP26 in November 2021, NuScale and Nuclearelectrica signed a collaboration agreement to accelerate the deployment of the first SMR in Europe.
Nuclearelectrica received $1.2 million in funding from the United States Trade and Development Agency in early 2021 to identify and assess potential locations for SMRs. After the completion of the study in May of this year, several suitable locations were identified, including the Doicești site, qualifying it as a candidate for further consideration.
In May 2022, NuScale, Nuclearelectrica, and E-Infra signed an MOU to analyze SMR development at the Doicești site.
At the G7 summit held in Germany this June, President Joe Biden and other world leaders launched the Partnership for Global Infrastructure and Investment, described by the State Department as an effort "to narrow infrastructure gaps around the world, strengthen the global economy and supply chains, and advance international security through strategic investments." Included among the partnership's projects was a $14 million U.S. commitment toward a front-end engineering and design (FEED) study to provide site-specific data necessary for the deployment of a NuScale plant in Romania, including cost, construction, schedule, and licensing details.
The study is expected to take eight months and cost a total of $28 million, with contributions from NuScale and Nuclearelectrica.