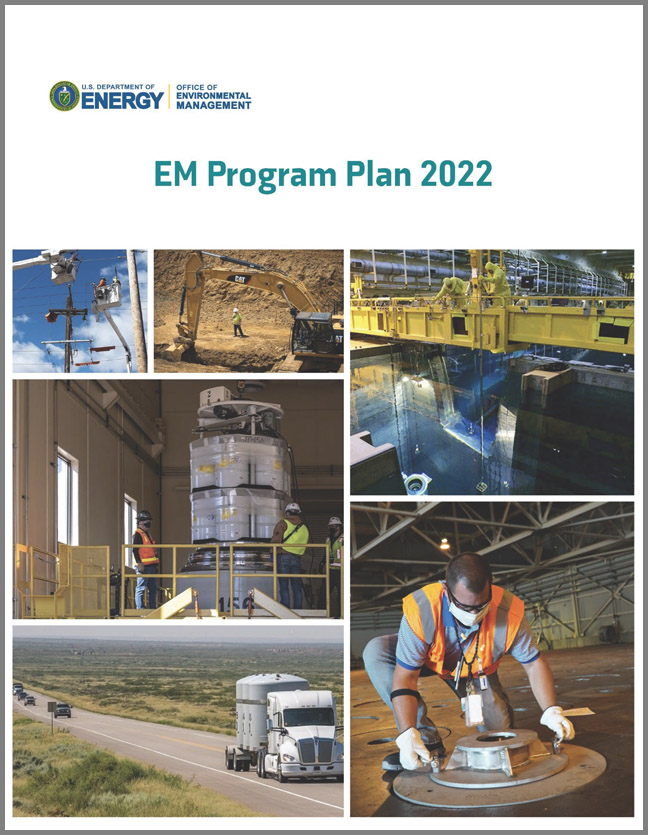 The Department of Energy's Office of Environmental Management (EM) released its EM Program Plan 2022, outlining a decision roadmap the cleanup program will use as a guide over the next two decades.
The new program plan, which was introduced by EM senior advisor William "Ike" White during the National Cleanup Workshop in Arlington, Va., on September 22, completes a trio of outward-facing planning documents, joining EM's calendar year priorities list and its 10-year Strategic Vision.
This new program plan provides us with a long-range planning baseline for the entire cleanup program that we'll use to identify long-term opportunities and the challenges that we need to face well in advance," White said.
The road ahead: The 123-page document describes the scope of EM's remaining cleanup work and strategies for completing the office's cleanup mission, summarizes opportunities to complete cleanup work earlier, and provides a framework that EM will use as a guide over the next two decades.
The plan also contains a summary roadmap highlighting the decisions and associated timelines that have the potential to reduce costs and accelerate schedules.
A new tool: EM undertakes a variety of tasks as it works to complete the cleanup of its remaining 15 sites. As outlined in the EM Program Plan, these tasks include strategic planning, program and project management and acquisition strategies,; technology development and innovation, workforce strategy, infrastructure management, and regulatory and legislative initiatives.
"The EM Program Plan is a new tool to guide continuous evaluation of the status quo against viable alternatives to accelerate cleanup in key mission areas like tank waste, spent nuclear fuel, and soil and groundwater remediation," said Dae Chung, EM associate principal deputy assistant secretary, who led development of the plan. "By adding another layer of discipline and transparency to EM decision-making, the plan will help inform our work with communities, tribal nations, regulators, and others to drive to completion."