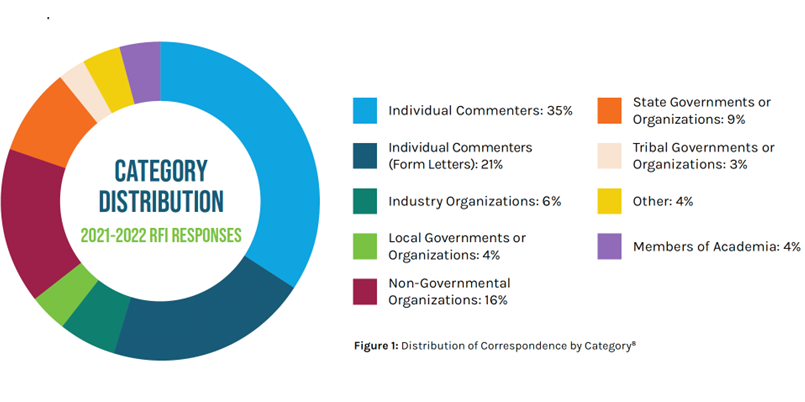 The Department of Energy's Office Nuclear Energy (NE) has published a new report summarizing and analyzing public feedback on the department's proposed consent-based siting process for the consolidated interim storage of the nation's spent nuclear fuel.
In December 2021, the DOE issued a request for information (RFI) on its proposed consent-based siting process. The RFI sought input from the public on the process itself, on removing barriers to participation, and the role of interim storage as part of an integrated, national radioactive waste management system.
In response, the DOE received 225 submissions from a variety of commenters, including tribal, state, and local governments; nongovernmental organizations; members of academia and industry; other stakeholders; and individual commenters. The DOE report summarizes the input received on the RFI, as well as earlier responses to a request for comments on a draft consent-based siting process that was issued in 2017.
Key priorities: Using the public input, the DOE said it has identified the following six key priorities and steps to guide the implementation of a successful consent-based siting process:
1. Implement congressional direction to pursue consolidated interim storage in a way that maximizes the potential benefits of an integrated nuclear waste management system.
2. Address the current lack of trust in the DOE by making changes internally and externally. The department has said it is working internally to improve follow-through on commitments and candidly acknowledge past missteps. Externally, the DOE is embarking on a consent-based siting process that is inclusive, community driven, phased, and adaptive.
3. Ensure the consent-based siting process is fair. According to the DOE, this means actively and equitably engaging with communities and collaborating with tribal, state, and local governments, as well and other interested parties, in all phases of the process. It also means providing the necessary resources and data for communities to participate fully and make informed decisions.
4. Focus on fairness in siting outcomes as well as process. The DOE said it will prioritize equity and environmental justice considerations, work collaboratively with communities to define what constitutes consent, and consistently recognize communities' needs, priorities, and voices, as well as tribal nations' rights to self-determination and sovereignty.
5. Continue planning for the safe transportation of spent nuclear fuel in close cooperation with tribal and state partners and regional groups to address transportation issues and respond to the concerns of communities near proposed facility sites and along potential transportation corridors.
6. Rigorously apply safety, security, and other relevant criteria in assessing the suitability of potential sites for different types of spent nuclear fuel facilities. A consent-based siting process should unfold in phases and include a series of evaluation steps, including suitability assessments, the DOE said. The department anticipates that potential host communities may want to make their own assessments of the impacts and risks of proposed facilities, and it is committed to helping communities conduct independent studies related to safety and other issues of concern.
Next steps: The DOE report, Consent-Based Siting: Request for Information Comment Summary and Analysis, was issued on September 15 and will be followed by an updated consent-based siting process document that incorporates the RFI feedback. The DOE plans to issue a funding opportunity to support learning and help build a community of practice in consent-based siting.
In announcing the report, Sam Brinton, deputy assistant secretary of the DOE-NE Office of Spent Fuel and Waste Disposition, wrote, "We believe that a consent-based approach, driven by community well-being and community needs, is both the right thing to do and our best chance for success. We plan to shape our consent-based siting process, with help from communities and stakeholders, until we successfully site a safe and secure facility to store spent nuclear fuel."