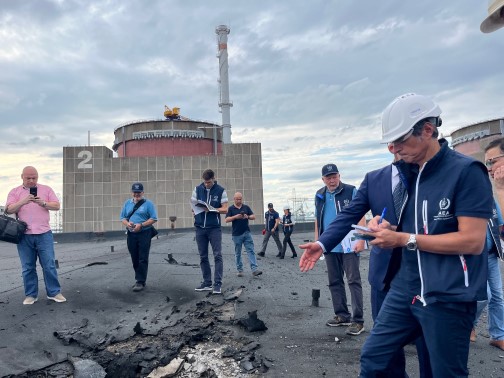 Located in southeastern Ukraine, Zaporizhzhia is Europe's largest nuclear plant, housing six 950-MWe pressurized water reactors. Under Russian military occupation since March 4, it is still being operated by its Ukrainian staff.
According to various media reports this week, the last remaining external power line connecting the plant to Ukraine's electricity grid was severed Monday due to a fire caused by shelling. As a result, the facility is now receiving power for its safety and cooling systems from its sole operational unit, which is running in "island mode."
Petro Kotin, president of Ukraine's nuclear operator Energoatom, told the Associated Press yesterday that the utility is "trying to keep this unit running as much as possible, but eventually it will have to be shut down, and then the station will switch to diesel generators." Those generators, he added, are "the station's last defense before a radiation accident."
Kotin also told the AP that the Russians "have a crazy idea to switch [Zaporizhzhia] to the Russian power system; in fact, they are trying to steal [the plant] and steal all the electricity it produces." Plant management, said Kotin, was given a 10-page plan some weeks ago to connect Zaporizhzhia to the grid of Crimea, seized by Russia in 2014.
Meanwhile, the nearby towns of Nikopol and Marhanets came under Russian shelling Wednesday night, according to Dnipropetrovsk Province Gov. Valentyn Reznichenko, leaving apartment buildings, a school, industrial facilities, and power lines damaged.
Mission accomplishments: Speaking before the United Nations Security Council on Tuesday, Grossi, who returned to Vienna last Friday, outlined the findings and recommendations made by the IAEA mission team and stressed the need for a nuclear safety and security protection zone around Zaporizhzhia to prevent its physical integrity from being compromised. Those findings and recommendations are part of the agency's Nuclear Safety, Security and Safeguards in Ukraine: 2nd Summary Report by the Director General, released Tuesday.
Grossi told the council that the IAEA, through its mission, now has a continuous presence at Zaporizhzhia, with personnel on the ground providing firsthand, impartial, and technical information on the site's status. The agency staff's presence at the plant, he said, provides the IAEA—and through it, the United Nations and the international community—with the capacity to have a direct, immediate evaluation of the situation.
"This fact is unprecedented," Grossi stated, noting that IAEA inspectors typically become involved after the fact. "We in this case have the historical, ethical imperative to prevent something from happening. We can agree on a very simple, but incredibly necessary protective mechanism to avoid what is happening now, as we speak, which is the shelling of a nuclear power plant. Let's seize this opportunity so fundamental for peace, for security, and to protect the populations of Ukraine and beyond."