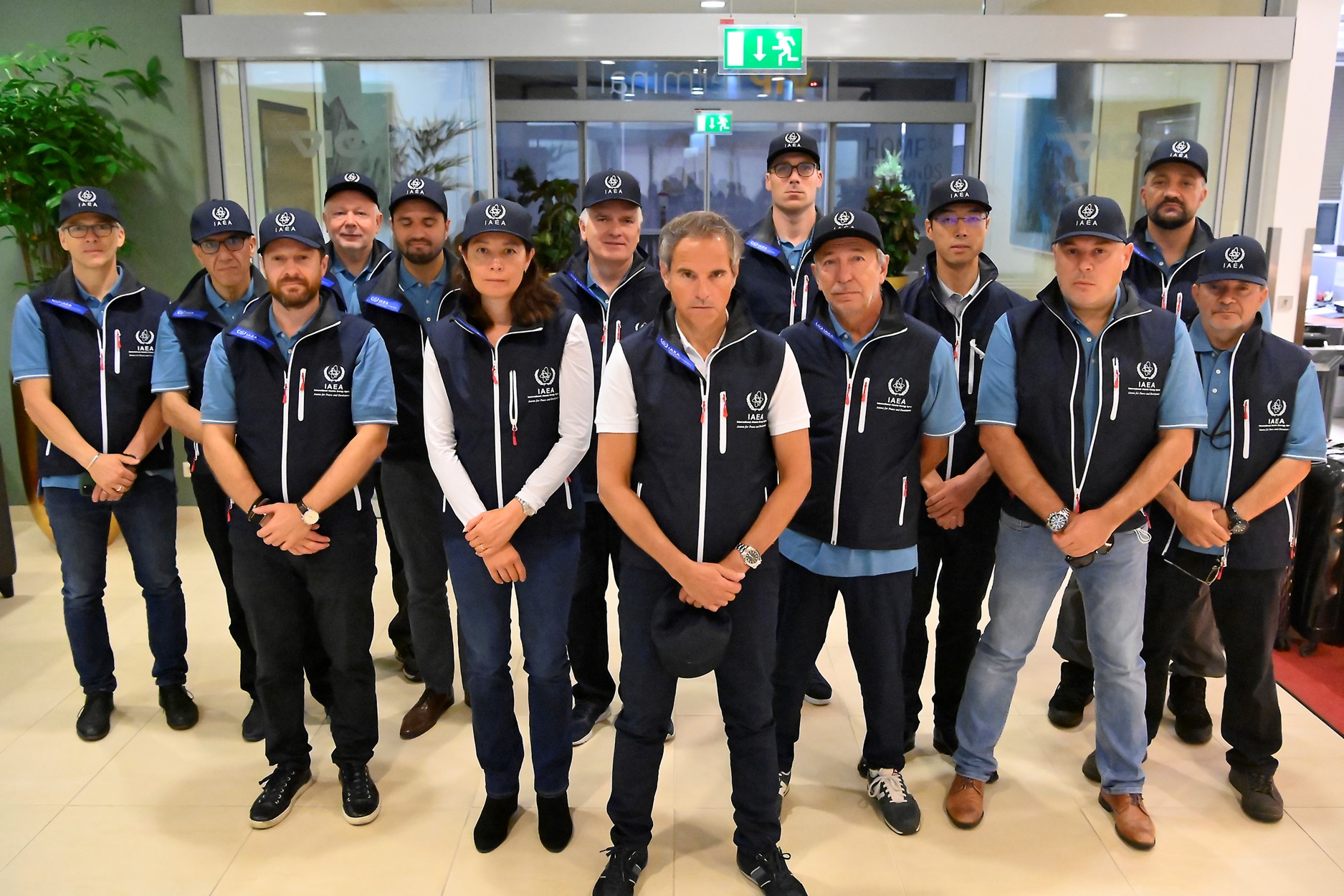 After months of urgent entreaties to both the Ukrainian and Russian governments to allow the International Atomic Energy Agency access to the embattled Zaporizhzhia nuclear plant, IAEA director general Rafael Mariano Grossi yesterday set off for the facility, accompanied by a team of nuclear security, safety, and safeguards experts.
Located in southeastern Ukraine, Zaporizhzhia is Europe's largest nuclear plant, with six 950-MWe pressurized water reactors. While still operated by its Ukrainian staff, the plant has been under Russian military occupation since March 4, just days after Russia commenced its invasion. In recent weeks, the site has been the target of artillery attacks, with each side blaming the other for the shelling. Last Thursday, Ukraine's nuclear operator, Energoatom, said that the plant temporarily lost connection to its sole remaining operational 750-kV external power line due to fires at a nearby thermal power plant's ash dumps—the result, said the utility, of Russian aggression.
Also, in its most recent report to the IAEA over the weekend, Ukraine said that Zaporizhzhia has come under renewed shelling but added that all plant safety systems remain operational, with no increase in radiation levels.
The mission: According to an August 29 news release from the IAEA, once the mission reaches Zaporizhzhia, it will assess the physical damage to the facilities, determine the functionality of the main and backup safety and security systems, evaluate the working conditions of the control room staff, and perform safeguards activities to verify that nuclear material is being used for peaceful purposes only.
What they're saying: "The day has come, the IAEA's Support and Assistance Mission to Zaporizhzhia is now on its way," Grossi said in a tweet. "We must protect the safety and security of Ukraine's and Europe's biggest nuclear facility. Proud to lead this mission which will be in [Zaporizhzhia] later this week."
A spokesman for Ukraine's Ministry of Foreign Affairs, Oleg Nikolenko, declared, "Ukraine's position has been clear: The occupation of [Zaporizhzhia] by Russian troops and the importation of a large amount of military equipment and ammunition into its territory in violation of all international rules expose the nuclear plant to extreme danger, in particular provoking a nuclear incident. As Foreign Minister Dmytro Kuleba emphasized, Russia must immediately demilitarize the facility, withdraw military units, equipment, and Rosatom's experts and return control over the [plant] to the government of Ukraine. We expect the IAEA will play an important role in achieving this goal."
And in Moscow, Kremlin spokesman Dmitry Peskov said that Russia will ensure the IAEA mission's security and called on other nations to "raise pressure on the Ukrainian side to force it to stop threatening the European continent by shelling the territory of the Zaporizhzhia nuclear power plant and surrounding areas."