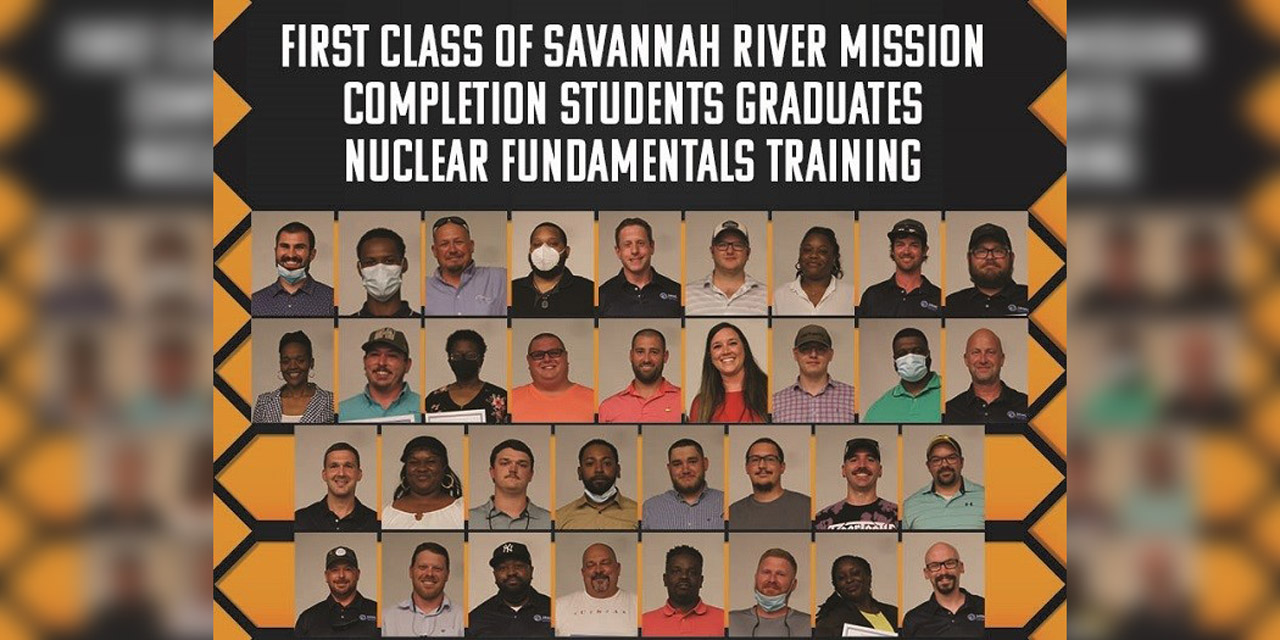 The first 36 students graduated this summer from Savannah River Mission Completion's (SRMC) Nuclear Fundamentals Certificate program. SRMC is the Department of Energy's liquid waste contractor at the Savannah River Site (SRS) in South Carolina.
The program, which is a partnership between Aiken Technical College (ATC) and SRMC, is in its inaugural year.
SRMC's training department is working with ATC and Apprenticeship Carolina to fill nuclear operator positions at SRS. Apprenticeship Carolina, a division of the South Carolina Technical College System, is a statewide program that works to attract new companies to the state and provide comprehensive workforce assistance to ensure they stay and grow.
The schooling: For the Nuclear Fundamentals Certificate program, the students received seven months of intensive training with courses in chemistry, physics, engineering, and radiation fundamentals, completing two college-level classes in an abbreviated semester.
They also participated in the site's regulatory courses, facility training, and other requirements, each week attending two days of classes and two days of work at SRS.
The second group of students is scheduled to begin the certificate program in January.
They said it: ATC president Forest Mahan noted that his school is serving as an important link between businesses and students who seek a technical career. "One of the goals of a strong technical college like ours is to partner with businesses in our community to produce high quality workers to fill their job opportunities," he said. "Nuclear fundamentals training will provide a career level for these students that they might never have dreamed of reaching before."
SRMC president and program manager Dave Olson said that recruiting and training the right people for the job positions is crucial to the future of the site's liquid waste program. "These students have proven that they want to be an important part of the liquid waste team at SRS," said Olson. "We are extremely pleased to have this partnership with Aiken Technical College, which helps us strengthen our team while providing important job opportunities for the local workforce."
In case you missed it: In August, 23 students graduated from another collaborative apprenticeship program between ATC and Savannah River, earning their certificates for completing the Nuclear Operator Apprenticeship Program.