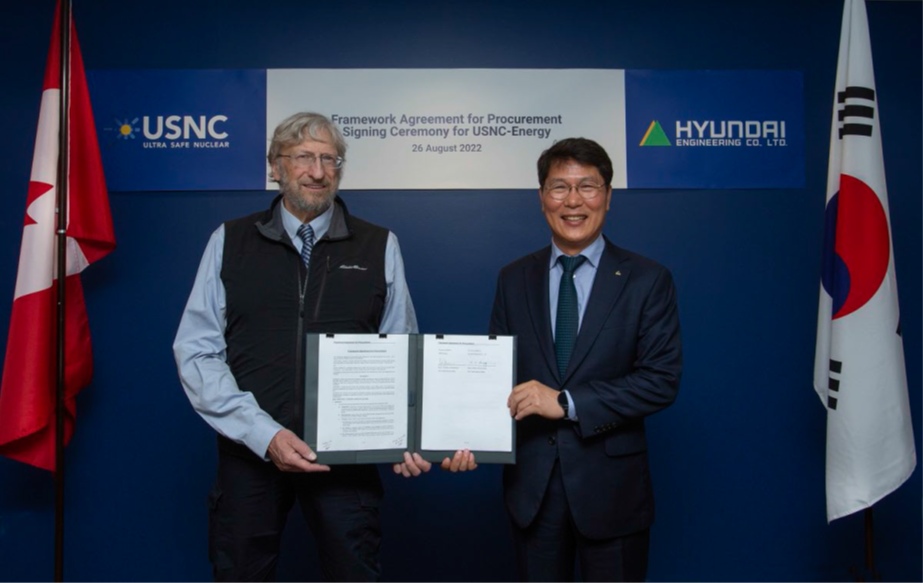 Representatives of Ultra Safe Nuclear Corporation (USNC) of Seattle, Wash., and Hyundai Engineering of Seoul, South Korea, traveled last week between USNC project sites in Oak Ridge, Tenn., and Ontario, Canada, to sign two agreements extending their collaboration on the deployment of USNC's high-temperature, gas-cooled Micro Modular Reactor (MMR). The agreements expand on a business cooperation agreement signed in January 2022 and an engineering agreement signed in June, and follow the closure earlier this month of a previously announced $30 million equity investment after its review by the U.S. Treasury Department's Committee on Foreign Investment in the United States.
Process heat for hydrogen: The first agreement, signed on August 24 in Oak Ridge, outlines plans by the two companies to develop a multipurpose high-temperature reactor (MP-HTR) for power production and industrial process heat applications, including but not limited to hydrogen production. The signing ceremony took place at the recently completed USNC Pilot Fuel Manufacturing facility in Oak Ridge, where TRISO particles will be manufactured and packed into fuel elements for irradiation testing and qualification.
Procurement provisions: The second agreement, signed August 26 in Ottawa, establishes a framework for Hyundai's plans to procure materials and services to support USNC's global deployment plans. According to the companies, Hyundai Engineering is participating in USNC's full-scale MMR demonstration project at Chalk River Laboratories in Canada.
They said it: "We are seeing tremendous interest in our microreactor for a growing number of power and industrial process heat applications," said Francesco Venneri, chief executive officer of USNC. "Partnering with global EPC leader Hyundai Engineering positions us well to meet this market demand worldwide."
"It is a great opportunity to contribute not only to the development of Ultra Safe Nuclear's key projects globally but also to advance the capabilities and performance of these power plants to deliver reliable, carbon-free energy anywhere," said Hyeon Sung Hong, CEO of Hyundai Engineering. "We are pleased to help bring this advanced microreactor technology to the world at a very important time of global energy transition."