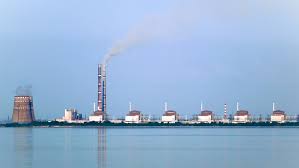 The latest news on Ukraine's Zaporizhzhia nuclear power plant—under occupation by the Russian military since early March—sparks some hope, but also more anxiety.
The good: This morning, Russia requested that the United Nations Security Council hold a meeting tomorrow on the situation at the six-unit pressurized water reactor plant, according to RIA Novosti, a Russian state-owned news agency. The RIA report cited a post via the Telegram messaging app from Dmitry Polyansky, Russia's first deputy minister at the UN. In the post, Polyansky said the meeting is scheduled for "22:00 Moscow time on August 23."
In addition, at a meeting last Thursday, Ukrainian president Volodymyr Zelensky, UN secretary general António Guterres, and Turkish president Recep Tayyip Erdoğan agreed on a framework for a possible International Atomic Energy Agency mission to Zaporizhzhia, which has been the target of artillery shelling in recent days, although by which side in the conflict cannot at this writing be verified. Following the meeting, Zelensky told reporters that the mission to the imperiled facility, located in southeastern Ukraine, would be "via territory free from occupiers."
And last Friday, Russian president Vladimir Putin and French president Emmanuel Macron agreed on the importance of sending an IAEA team to Zaporizhzhia as soon as possible. According to the Kremlin, Russia is prepared to provide the necessary assistance to the agency's inspectors.
IAEA director general Rafael Mariano Grossi welcomed the expressions of support for an agency mission, adding, "In this highly volatile and fragile situation, it is of vital importance that no new action is taken that could further endanger the safety and security of one of the world's largest nuclear power plants. There is an urgent need to lower the tension and take the necessary steps to help ensure nuclear safety and security and prevent any radiological consequences for the population and the environment. The IAEA can play an indispensable role in this regard."
The bad (and the ugly): Ukrainian energy firm Energoatom on Friday said through a Telegram post that Russia was preparing a "large-scale provocation" at Zaporizhzhia and that the facility's Ukrainian management had been ordered to allow on-site Friday only those workers necessary for plant operation.
Energoatom further claimed in the post that Russia plans to disconnect the Zaporizhzhia reactors from the Ukrainian power grid in the near future. "Currently, the Russian military is looking for suppliers of fuel for diesel generators, which must be turned on after the shut down of power units and in the absence of external power supply for nuclear fuel–cooling systems," Energoatom stated.