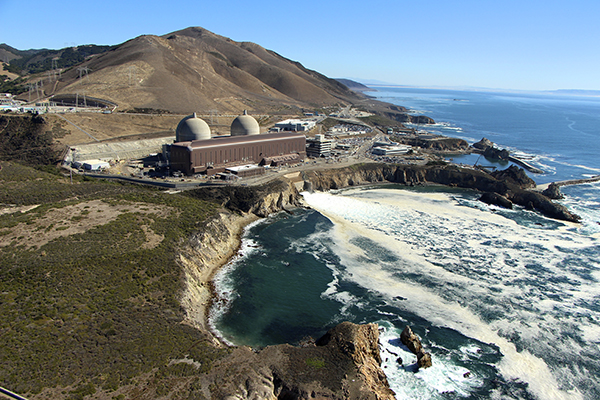 There is still a chance for California's last remaining nuclear power plant to stay open.
Last Friday, more than 50 nuclear advocates testified in support of the Diablo Canyon nuclear power plant at a California Energy Commission workshop. Many spoke of the need for California to shore up its electricity grid in the face of coming heat waves and power outages. Others emphasized that closing the plant, which generates 2.2 GW of electricity and currently provides 8.6 percent of the state's total supply and about 15 percent of its low-carbon electricity, would be devastating to California's emission-reduction goals.
California's role: On the heels of the workshop, Gov. Gavin Newsom proposed a $1.4 billion forgivable loan to PG&E, the plant's operator, to keep Diablo Canyon running. The loan would cover the fees to relicense the plant's reactors until 2029 and 2030, with the possibility of extending its lifetime to 2035. Both reactors are scheduled to shut down when their licenses expire in 2024 and 2025.
The fate of Diablo Canyon seemed sealed in 2018, when California regulators approved a plan to retire the plant. Reasons for the closure were complex but mostly centered around public fear, local politics, and utility economics. Over the past year, however, the tune around the Diablo Canyon debate has changed significantly.
Reliable supply? Stakeholders and researchers have recently emphasized the need to maintain a reliable electricity supply as California decarbonizes. Under current law, California is required to generate 100 percent of its electricity from carbon-free sources by 2045. But state officials have forecasted that if California continues to aggressively roll out new solar capacity while decreasing its reliance on fossil fuels, millions of residents could face power shortages year-round.

While scaling up solar is a step in the right direction, demand mismatch will continue to be a problem for this type of energy. Climate change will also exacerbate grid fragility, as wildfires cut off transmission infrastructure and heat waves lead to blackouts from an overwhelming demand for power.
Clean energy, now: "Much of California's energy future is planned as a result of complex modeling attempting to predict load. But regardless of what these scenarios demonstrate, it's obvious we need more clean energy, right now," said Heather Hoff, a plant operator at Diablo Canyon and founding member of the advocacy organization Mothers for Nuclear. "California's electricity supply is 50 percent natural gas. And as climate change progresses and we experience more often and severe weather, and as we attempt to electrify transportation and residential sectors, we will need even more clean energy."
Researchers from Stanford University and the Massachusetts Institute of Technology have concluded that delaying Diablo Canyon's retirement to 2035 would cut carbon emissions from the electricity sector by 11 percent per year, compared with 2017 levels. It would also save $2.6 billion—and as much as $21 billion if the plant continued operating until 2045.
Take the steps: Over a dozen U.S. nuclear power plants have closed in the past decade. Cheap natural gas and heavily subsidized renewables—and the associated operating losses at nuclear plants from low electricity prices—have made it harder for plants to remain profitable. But in the long run, nuclear plants last many decades and provide large amounts of highly reliable electricity. Whenever a nuclear power plant has closed, emissions in that area have increased and air quality has declined.
Steps to ensure Diablo Canyon's future must be taken now to protect the option to extend its lifetime.
"There's absolutely no justification to shut down any clean energy supplies, let alone the single source that provides 15 percent of California's clean energy," said Hoff. "We need Diablo Canyon now. We will need it in 10 years. Our best course of action is to plan for ongoing operation until proven otherwise. Then we won't need to repeat this knee-jerk, hurry-up-and-save-Diablo action again in the future."