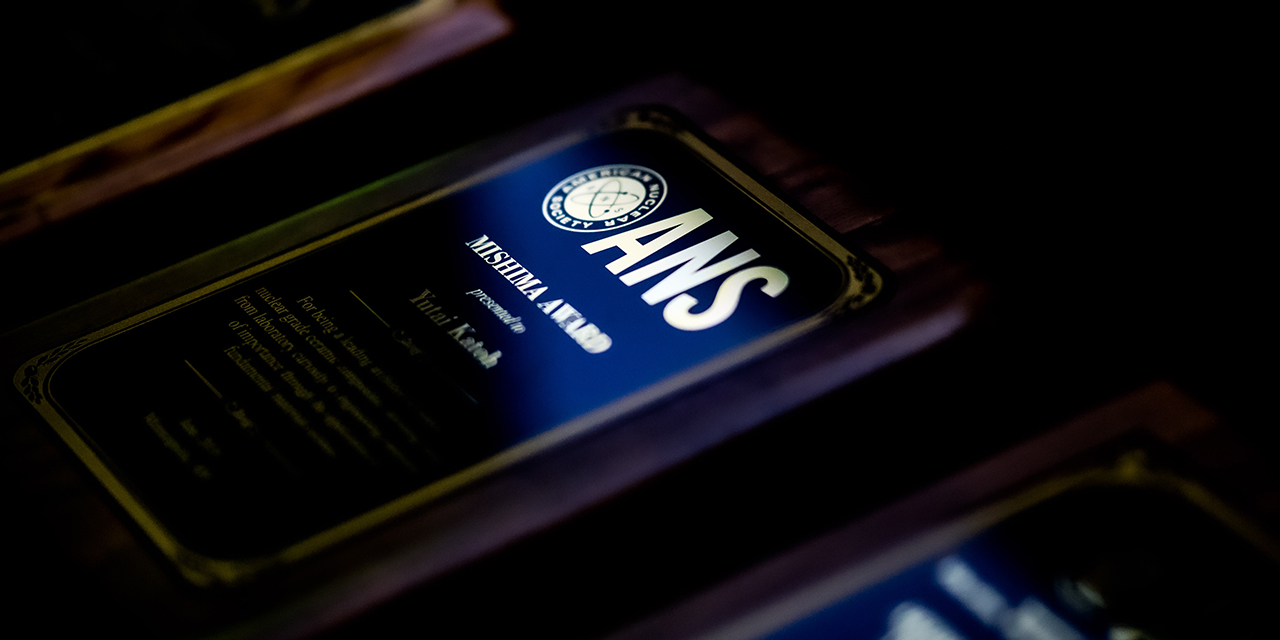 At every national meeting, the ANS Honors and Awards Program recognizes outstanding achievements and meritorious service in the various fields served by our Society. The deadline for submission of nominations for the upcoming Winter Meeting awards is Monday, August 1.
The recipients of this year's national awards will be honored on November 13 during the opening plenary of the ANS Winter Meeting. Honorees will be notified of their selection by October.
All members are encouraged to review the nomination requirements for these awards and consider nominating a qualified colleague. This is the key step in ensuring that the ANS Honors and Awards program is aware of highly qualified individuals' achievements so the Society may recognize their contributions. Many ANS awards are open to non-ANS members, and nominating people who are not members is one way to foster new ANS relationships.
More information on each award, including past award recipients, nomination forms, and information about awards administered by ANS's professional divisions, is available online. . If you have questions about a specific award, please contact Hash Hashemian, chair of the Honors and Awards Committee. Brief descriptions of the Winter Meeting awards are listed below:
E. Gail de Planque Medal—Presented to women whose outstanding lifetime or singular achievements have resulted in tangible benefits to the field of nuclear science and engineering.
Dwight D. Eisenhower Medal—Presented to individuals in recognition of outstanding public policy leadership or contributions to the field of nuclear nonproliferation.
Distinguished Public Service Award—Presented to a public servant who has demonstrated leadership in energy policy formulation and public enlightenment and has made significant contributions for the betterment of mankind in the public service sphere.
Milton Levenson Distinguished Service Award—Presented to individuals who have contributed in an outstanding manner to the development and understanding of the goals and policies of the Society or who have made outstanding nontechnical contributions to the fields of nuclear science and engineering.
Fellow of ANS—The highest grade of membership, Fellow status can be attained only via nomination by peers and election by the Honors and Awards Committee and Board of Directors based on the nominee's professional accomplishments.
Landis Public Communication and Education Award—Presented to individuals or organizations whose outstanding personal efforts, dedication, and accomplishments have furthered public understanding of the peaceful applications of nuclear science and technology.
Nuclear Historic Landmark Award—Presented to a site or facility to memorialize locations where outstanding physical accomplishments took place that were instrumental in the advancement and implementation of nuclear technology and the peaceful uses of nuclear energy.
Mary Jane Oestmann Professional Women's Achievement Award—Presented to women whose outstanding technical achievements might not have the tenure or visibility to be considered for other Society awards.
Reactor Technology Award (awarded with the Atomic Energy Society of Japan) —Presented to individuals who have made original and excellent contributions to the advancement of reactor technology, emphasizing recognition of advances in the areas of design and safety in reactor technology.
Seaborg Medal—Presented to individuals in recognition of outstanding scientific or engineering research achievements associated with the development of peaceful uses of nuclear science.
Social Responsibility in the Nuclear Community—Presented to an individual, group, or organization for outstanding efforts in social responsibility promoting diversity, equity, and inclusion or inclusive community building in the nuclear community.
Alvin M. Weinberg Medal—Presented to individuals in recognition of outstanding international technical and policy leadership in nuclear science and technology and for consistently and effectively illuminating the human dimensions of the nuclear enterprise.
Young Member Excellence Award—Presented to an individual or group to recognize significant contributions toward integrating young members into ANS.
Young Members Advancement Award—Presented to young members (under 36 years old) who actively advance the goals of the ANS YMG, display outstanding nontechnical skills as well as technical or managerial ability, are recognized by others in their field, demonstrate high quality and safety standards, and positively represent nuclear science and technology to the general population.