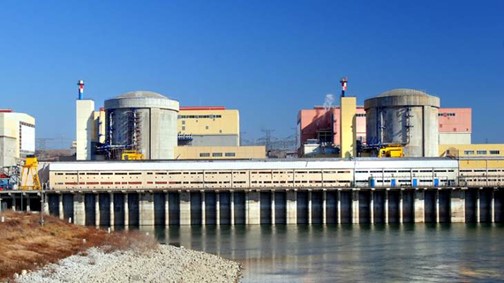 Romania's Nuclearelectrica, the state-owned operator of the two-unit Cernavoda nuclear power plant, has awarded Candu Energy a contract to conduct design and engineering services for the facility's Unit 1 refurbishment project, according to an announcement last week from SNC-Lavalin, Candu Energy's parent company.
The sole nuclear power facility in Romania, Cernavoda consists of two operating 650-MWe CANDU-6 pressurized heavy water reactors, Units 1 and 2, plus the partially completed Units 3 and 4, also CANDU-6 reactors, work on which was halted not long after the collapse of the Ceauşescu regime in 1989.
Nuclearelectrica is seeking to extend the life of Cernavoda-1, which began commercial operation in 1996, to 2060. The utility plans to continue operating the unit through 2026 and perform the refurbishment in the 2027–2029 time frame.
The contract, reportedly worth some C$64 million (about $49.8 million), calls for Candu to provide engineering and early procurement services for retubing work to replace key components of the Cernavoda-1 reactor core, including fuel channels, pressure tubes, and feeders.
In its announcement, SNC-Lavalin said that specialized personnel will be deployed to the Cernavoda site to carry out the work, including experts across design engineering, reactor engineering analysis, and procurement qualification.
What they're saying: "Europe is contending with the most significant energy crisis of this century," declared Ian L. Edwards, SNC-Lavalin's president and chief executive officer. "It is faced with the challenge of shifting electricity generation to sources that are net zero while also working to ensure the continuity of its energy supply. This project not only contributes to SNC-Lavalin's net-zero philosophy and our purpose—engineering a better future for our planet and its people—but it also advances the refurbishment of the Cernavoda reactor that provides Romania with energy security and has contributed to the reduction of its greenhouse gas emissions by over 10 million tons a year."
SNC-Lavalin's president of nuclear, Joe St. Julian, added that "as the steward and original equipment manufacturer of CANDU technology, no one knows this reactor, or how to execute a successful retubing of it, better than we do."
Cosmin Ghiță, CEO of Nuclearelectrica, noted, "We have a long-term mission of generating clean energy—33 percent of the total decarbonized power in Romania—at excellent standards of safety, and the refurbishment of Unit 1 will provide Romania with another 30 years of baseload clean energy. We are proud to sign this contract with SNC-Lavalin on this vitally strategic project."
In case you missed it: As part of its preparation for the Cernavoda-1 refurbishment, Nuclearelectrica in May chose Candu for "optimization work," consisting of "axial channel shifting for several fuel channels . . . during a three-year period," according to SNC-Lavalin.
Also, Candu won a 12-month, C$8.4 million (about $6.5 million) contract from Romanian firm EnergoNuclear last November to provide engineering services during the preparatory stage of a precursor project to complete Cernavoda Units 3 and 4.
Edwards said at the time, "The potential to develop two new-build nuclear reactors demonstrates that the Romanian government, along with several other of our public sector clients around the world, recognize that safe, reliable, affordable, low-carbon nuclear energy is how we will combat and ultimately win the battle against climate change."