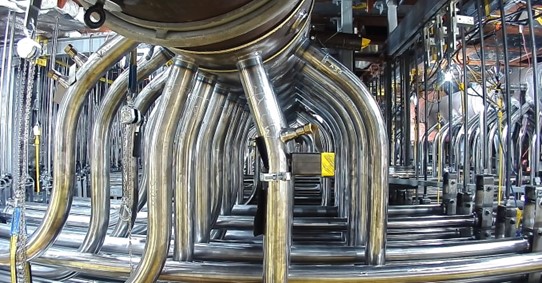 As part of its "Made in Ontario" strategy announced last year, Bruce Power has awarded a contract valued at C$130 million (about US$100.8 million) to BWXT Canada in support of the ongoing major component replacement (MCR) project at the utility's eight-unit Bruce nuclear plant.
The contract is for the fabrication and supply of replacement feeders for Bruce Units 3, 4, 5, 7, and 8. According to Bruce Power, the feeders will be manufactured by members of United Steelworkers Local 2859 at BWXT Canada's facility in Cambridge, Ontario. Preproduction qualification work is currently underway, and production manufacturing is scheduled to start this fall. The replacement feeder project is expected to be completed in 2031.
What they're saying: "We have a 'Made in Ontario' technology and are announcing this 10-year contract today with the confidence that BWXT and the men and women of United Steelworkers Local 2859 will continue to deliver high-quality, on-time, and on-budget components for our [MCR] project," said Mike Rencheck, Bruce Power's president and chief executive officer. "Through our life-extension program and MCR project, we are securing an important source of clean electricity to power the province and help meet our climate change goals."
BWXT Canada's president of commercial operations, John MacQuarrie, noted that the contract "will allow us to make investments in our workforce and facility." Myles Sullivan, director of United Steelworkers District 6, added, "This contract represents nearly a decade of high-skilled jobs for our members, and I am confident in their ability to successfully execute this work."
Also praising the deal was Ontario's energy minister, Todd Smith. "This contract is good news for Ontario consumers and workers," he said. "In addition to helping create new jobs in Ontario, the contract is helping to extend the operational life of Bruce Power, ensuring Ontario families and businesses have access to clean, reliable electricity for decades to come."
Background: In December 2015, Bruce Power reached an agreement with Ontario's Independent Electricity System Operator to advance a long-term investment program aimed at refurbishing the company's nuclear fleet and securing the Bruce plant's operation until 2064.
The plant's life-extension program started in January 2016 and involves the gradual replacement of older systems in Bruce's eight CANDU units during regularly scheduled maintenance outages. As part of this effort, Bruce Power began the MCR project in January 2020, with a focus on replacing key reactor components in Units 3–8, including steam generators, pressure tubes, calandria tubes, and feeder tubes.
Last July, the utility announced a C$3 billion (about US $2.34 billion) "Made in Ontario" plan to invest in Ontario jobs and economic prosperity through its life-extension program, medical isotope development, and asset optimization strategy.