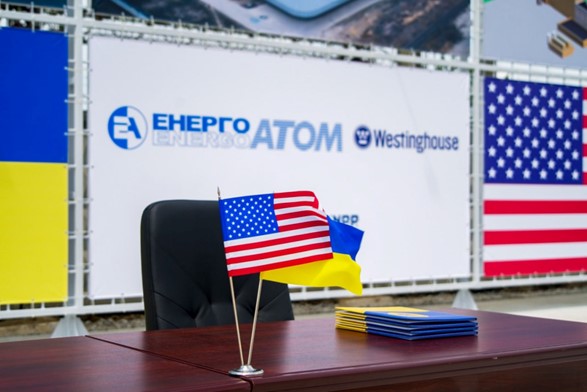 Westinghouse has signed a new contract with Energoatom, Ukraine's state-owned nuclear utility, to provide technical information in support of Energoatom's feasibility study update for the construction of two Westinghouse AP1000 reactors at the Khmelnytskyi nuclear power plant in Ukraine.
The contract, according to Westinghouse's announcement, advances the previously signed agreement between Westinghouse and Energoatom for the construction of two of the Generation III+ reactors at Khmelnytskyi Units 5 and 6.
Signers' language: "We are pleased to take this important next step in support of our commitment to build new AP1000 units at Khmelnytskyi," said Petro Kotin, Energoatom's president. "We value our partnership with Westinghouse to work collaboratively and expeditiously to achieve key project milestones."
"These are significant steps for Ukraine's energy independence," remarked David Durham, president of Westinghouse Energy Systems. "We stand ready to provide our AP1000 plant technology and equipment in Ukraine and are continually inspired by our strategic partners' unwavering determination and resilience."
In case you missed it: Last month, Westinghouse and Energoatom signed agreements to supply all of the nuclear fuel for Ukraine's operating reactor fleet and to collaborate on the construction of nine AP1000 units for the country, rather than the five earlier envisioned.
In addition, the two companies affirmed their intention to establish a Westinghouse Engineering Center in Ukraine to support the planned AP1000 projects, as well as Energoatom's operating fleet and future decommissioning program.