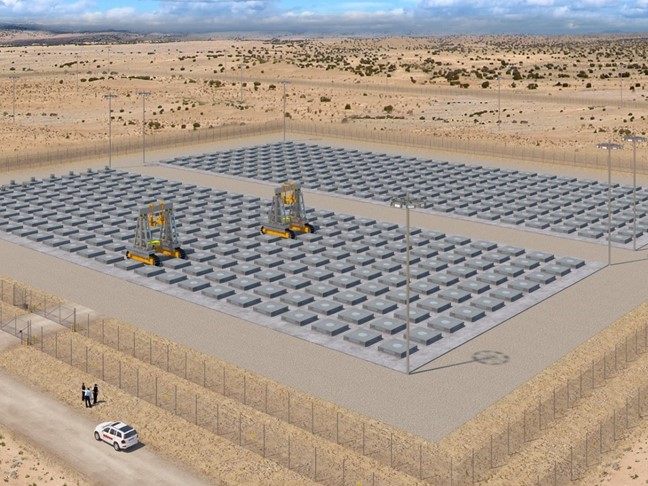 The Nuclear Regulatory Commission has published its final environmental impact statement (EIS) for Holtec International's proposed HI-STORE consolidated interim storage facility (CISF) for spent nuclear fuel in southeastern New Mexico. Based on its environmental review, the NRC staff recommends issuing the license, subject to the findings in the staff's ongoing safety review of the application.
"Our community is pleased that the NRC has verified with the issuance of its environmental impact statement that the HI-STORE CISF project is a safe project with no negative implications to our existing businesses or to the public, said Sam Cobb, mayor of Hobbs, N.M. "We look forward to working with Holtec as it moves forward in receiving the NRC license for a consolidated interim storage facility and the positive economic benefits it will bring to our area."
The city of Hobbs, along with the city of Carlsbad, is a member of the Eddy-Lea Energy Alliance (ELEA) of New Mexico, which in 2015 launched the initiative to establish an interim spent fuel storage facility at a site between the two cities. Holtec, in partnership with ELEA, submitted its application to the NRC for the HI-STORE CISF license in 2017.
The phases: Holtec proposes initially to store 500 canisters holding approximately 8,680 metric tons of spent nuclear fuel in a first phase and eventually up to 10,000 canisters in an additional 19 phases. The canisters would be transported by rail from operating, decommissioning, and decommissioned commercial nuclear power plants around the country.
The NRC's final EIS assesses the environmental impacts of the entire project, or all 20 possible phases, from construction through decommissioning. It looked at the impacts to land use, transportation, geology and soils, surface waters and wetlands, groundwater, ecological resources, historic and cultural resources, environmental justice, and several other areas.
The review: The NRC published a draft EIS for public comment in March 2020. Due to the COVID-19 public health emergency, the public comment period was extended to six months. During that time, NRC staff held six online public meetings to present the draft EIS and receive public comments.
According to the NRC, more than 4,800 comment submissions with 3,718 individual comments were received and addressed in the final EIS.
Publication of the final EIS completes the environmental portion of the NRC's licensing review. The staff will make a licensing decision following completion of its safety evaluation report, expected in January 2023. Information about the Holtec application and the NRC's review is available here.
They said it: "By establishing the HI-STORE CISF, Holtec offers the nation a structurally impregnable, below-ground, disaster-immune, essentially zero-dose-emitting, and visually inconspicuous facility that will have zero impact on the local oil, gas, or potash mining operations or the lives of local farmers and ranchers, while creating well-paying clean energy jobs in the host communities," said Kris Singh, chief executive officer of Holtec.
ELEA vice chair John Heaton added, "This is a great day for ELEA, the Holtec team, and southeastern New Mexico, as it is the beginning of the final steps leading to a license. The project will diversify our economy, generate 350 jobs and potentially be a $3 billion investment in our area."
"The NRC's final environmental impact statement confirms that the HI-STORE CISF will have no negative impact on our community," said Dale Janway, mayor of Carlsbad. "Holtec has been a true partner on this important project, and we look forward to continuing to work together to bring jobs and economic growth to the area."