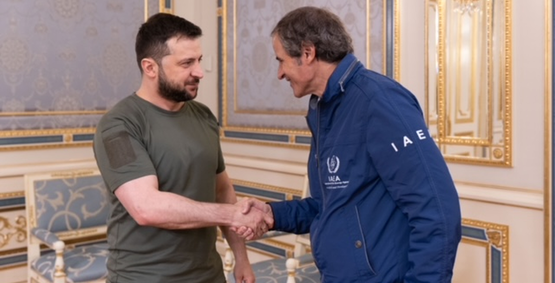 The director general of the International Atomic Energy Agency, Rafael Mariano Grossi, led a mission to Ukraine's Chernobyl nuclear plant this week to address ongoing radiological safety concerns at the shuttered site following five weeks (February 24–March 31) of Russian military occupation.
Grossi and his team of nuclear safety, security, and safeguards experts arrived at Chernobyl on April 26—the 36th anniversary of the accident—to deliver equipment, including radionuclide identification devices, gamma dose rate meters, and personal protective equipment, to conduct radiological assessments, and to restore safeguards monitoring systems.
"It was an emotional day to be in Chernobyl and remember the tragic events of 1986," Grossi said. "At the same time, it is an honor to be here with President Zelensky and show our support. The IAEA will continue to support Ukraine."
Grossi also met with staff from the plant, praising their efforts while under Russian occupation. "We do not only have respect for you, we have admiration for you because you did exactly what you were expected to do," he said. "You showed professionalism, courage, and, of course, patriotism. But you did the right thing, so don't worry. We are here. The IAEA is going to stay."
After returning to IAEA headquarters in Vienna yesterday, Grossi briefed journalists on the visit, including the results of radiation monitoring conducted in the Chernobyl Exclusion Zone.
According to Grossi, IAEA experts took measurements in an area of the Exclusion Zone where "some excavations were most probably made by the occupation forces during their month-long presence." The results, he said, show dose levels at the excavation site to be three or more times lower than the authorized levels for workers exposed to radiation. "The situation is not one that could be judged as posing great danger to the environment or to people at the moment that we were taking these measurements," he said.
Also yesterday, Grossi released a 26-page summary of the situation in Ukraine with respect to the safety, security, and safeguards of nuclear facilities, as well as to activities involving radioactive sources.
Plant status: According to the most recent reports from the State Nuclear Regulatory Inspectorate of Ukraine (SNRIU) to the IAEA, seven of the 15 reactors at Ukraine's four operational nuclear power plants are connected to the grid, including two at the Russian-controlled Zaporizhzhia plant, two at Rivne, two at South Ukraine, and one at Khmelnytskyi. The eight others are off line for regular maintenance or are being held in reserve, the SNRIU said.