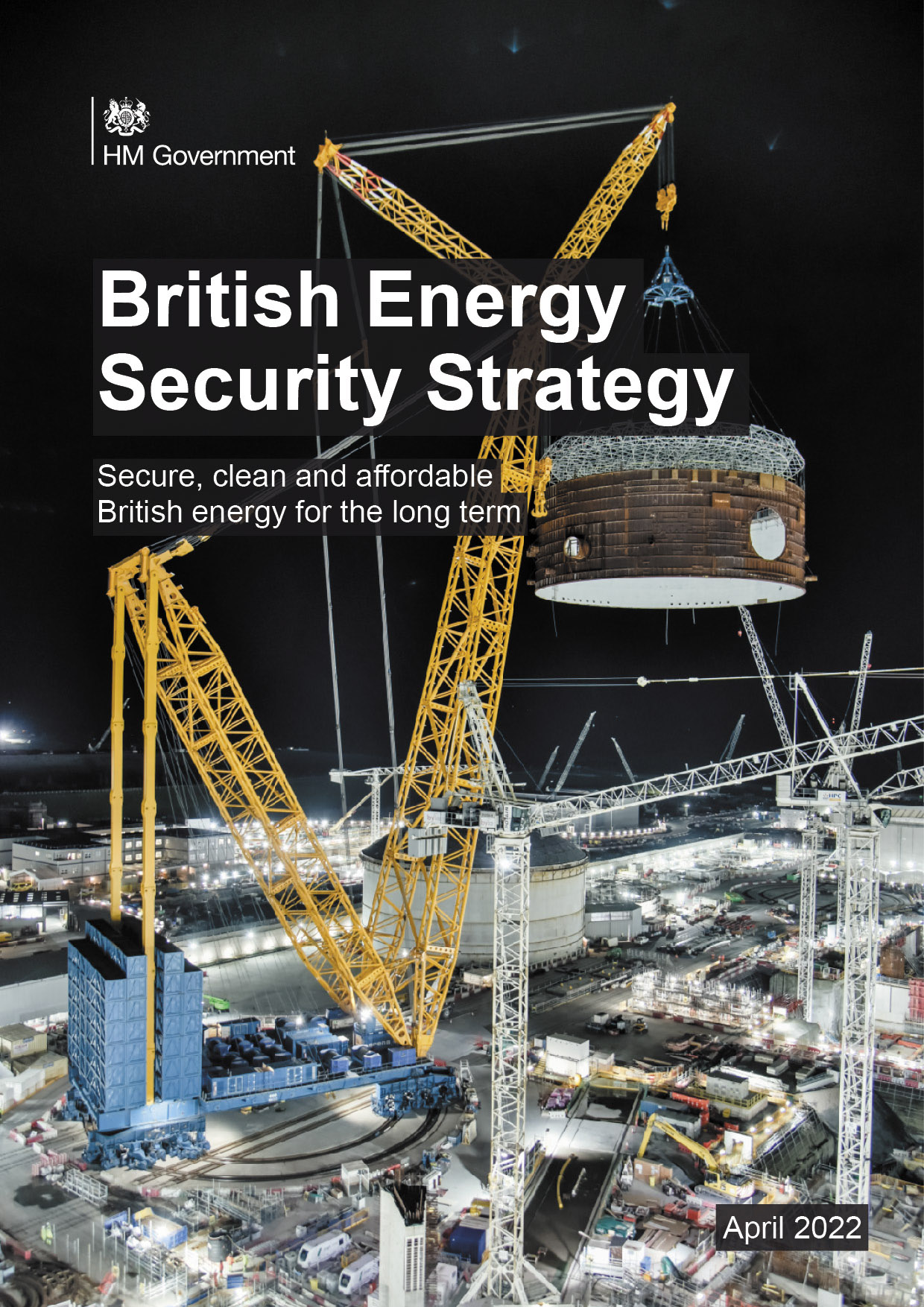 The U.K. government has released a new energy strategy aimed at boosting Britain's energy independence, stabilizing its soaring energy prices, and accelerating the deployment of new nuclear, wind, solar, and hydrogen to mitigate climate change.
At the same time, the 38-page document, British Energy Security Strategy, calls for near-term support for domestic oil and gas, stating, "Net zero is a smooth transition, not an immediate extinction, for oil and gas." (The United Kingdom in 2019 became the first of the world's major economies to embrace a legal obligation to achieve net-zero carbon emissions by 2050.)
Following through with this strategy, the government says, could result in low-carbon sources generating up to 95 percent of British electricity by 2030.
New nuclear: The new plan, which was issued on April 7, is not shy in its support for nuclear energy, declaring, "Nuclear is the only form of reliable, low-carbon electricity generation which has been proven at scale and returns more than a hundred times as much power as a solar site of the same size. We can only secure a big enough baseload of reliable power for our island by drawing on nuclear."
With an aim toward boosting nuclear's dwindling share of U.K. electricity generation (five of the six remaining operating plants will be closed within the decade), the government envisions up to 24 GW from nuclear by 2050—about three times the current reactor fleet's output and representing up to 25 percent of Britain's projected 2050 electricity demand. Nuclear currently accounts for about 15 percent of Britain's electricity mix. To help reach this goal, a new government body, Great British Nuclear, is to be set up immediately to bring forward new projects, backed by substantial funding, and a £120 million (about $156 million) Future Nuclear Enabling Fund is to be launched this month.
The government said that the ambitious plan could result in the construction of as many as eight reactors in this decade. The U.K.'s designated nuclear sites are Bradwell, Hartlepool, Heysham, Hinkley, Moorside, Oldbury, Sizewell, and Wylfa.
Further, the government notes, "This will all sit alongside our existing investment of over £2 billion [about $2.6 billion] this Parliament in new nuclear, including £100 million [about $130 million] to support the development of Sizewell C, and £210 million [about $274 million] to bring through small modular reactors."
Reactions: "Britain is right to take control of its energy future, with a step change in ambition for electricity from wind, nuclear, and solar, and greater energy efficiency," said Simone Rossi, head of EDF Energy, which operates the U.K. nuclear fleet. "Building more new nuclear will reduce Britain's dependence on overseas gas and keep energy prices stable, creating thousands of jobs while we're doing it. At Hinkley Point C, we're already building British nuclear, with 3,600 British businesses and 22,000 people making it happen, including over 800 apprentices."
Tom Samson, chief executive officer of Rolls-Royce SMR, commented, "The Rolls-Royce SMR remains the fastest route to market for new nuclear deployment in the U.K., and we welcome this government's clear commitment to turbocharging nuclear deployment. By providing an early commitment and working in series, Rolls-Royce SMRs will be able to contribute to the bold vision set out by the prime minister for energy security and decarbonization."
The U.K. Department of Business, Energy, and Industrial Strategy last month asked nuclear regulators to begin a generic design assessment of Rolls-Royce SMR's 470-MWe reactor design.