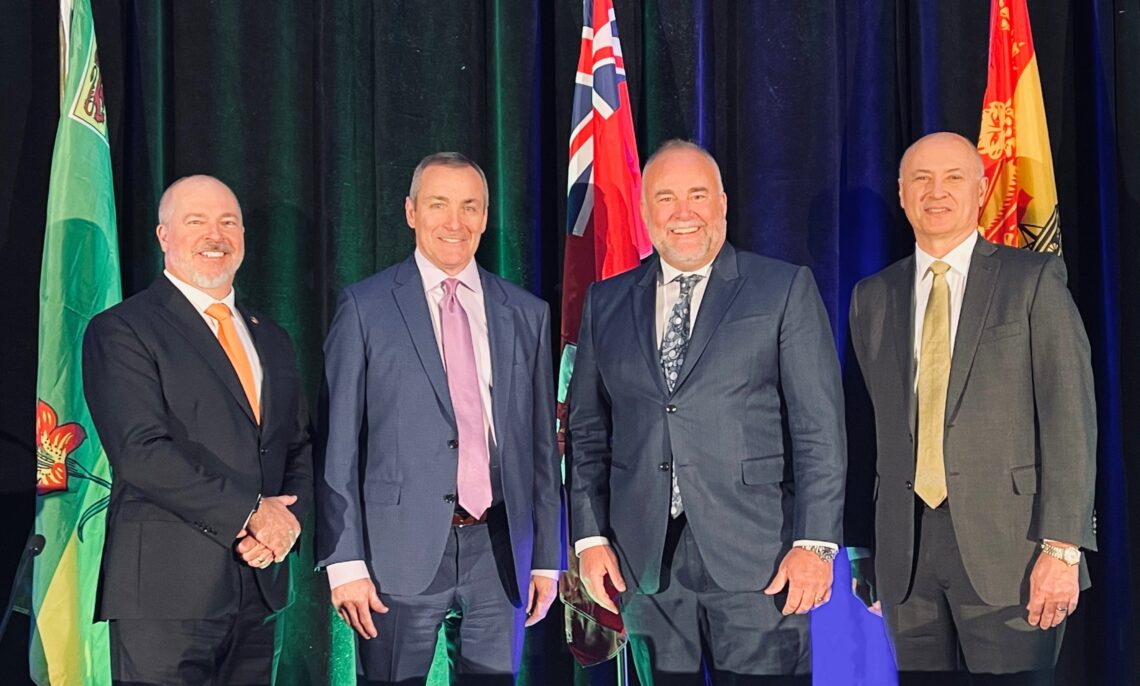 Bruce Power and Ontario Power Generation (OPG) have announced an agreement to work together to support new nuclear technologies in Ontario. Bruce Power operates the Bruce nuclear plant and OPG operates the Darlington and Pickering facilities.
According to an April 6 joint press release, both companies, which partnered on the refurbishment of their CANDU reactor fleets, believe that nuclear energy has a critical role to play in climate change mitigation. Under the agreement, the companies will collaborate on regulatory strategies and other matters for a new nuclear fleet. The companies will also work together to evaluate opportunities for the future deployment of small modular reactors and other new nuclear technologies in Ontario and beyond.
What they're saying: "OPG's collaboration with Bruce Power will help advance new nuclear options for the long-term production of clean energy in Ontario and Canada," said Chris Ginther, executive vice president of business strategy and commercial management for OPG. "We believe the Darlington new nuclear project [see In case you missed it below] is the first of many new nuclear opportunities that will need to be advanced as we make critical steps towards a net-zero future."
James Scongack, chief development officer and executive vice president for operational services at Bruce Power, said, "Bruce Power is strongly supportive of OPG's SMR project at Darlington and is looking forward to expanding our long-standing collaboration with OPG to advance new nuclear technology more broadly to create economic opportunities for the province, support innovation, and to meet future energy needs while achieving net zero. Nuclear power will be a key energy source to enabling a net-zero future, and by working together we will continue to ensure Ontario and Canada remain at the forefront of these future options."
Todd Smith, Ontario's minister of energy, added, "Nuclear energy is the backbone of Ontario's clean electricity grid, which is over 90 percent emissions free. Cooperation between key industry leaders like this will ensure Ontario continues to be a leader in clean technology growth today and in the years to come."
In case you missed it: OPG selected GE Hitachi Nuclear Energy (GEH) as its technology partner for the Darlington nuclear new-build project last December. The companies will work to deploy GEH's BWRX-300 SMR at Darlington, located in Clarington, Ontario.
An evolution of GEH's 1,520-MWe Generation III+ ESBWR design (approved by the U.S. Nuclear Regulatory Commission in 2014), the BWRX-300 is a 300-MWe water-cooled, natural-circulation SMR with passive safety systems. According to GEH, as a result of design simplification the BWRX-300 should require significantly lower capital costs per MW than other water-cooled SMR designs or existing large nuclear reactor designs. It is currently undergoing a pre-licensing vendor design review by the Canadian Nuclear Safety Commission (CNSC).
Darlington, home to four 878-MWe CANDU pressurized water reactors, is the only site in Canada currently licensed for new nuclear. OPG was granted a license by the CNSC in 2012 to begin site preparation activities for a nuclear new-build project. The license was renewed last October and is now valid until October 11, 2031.