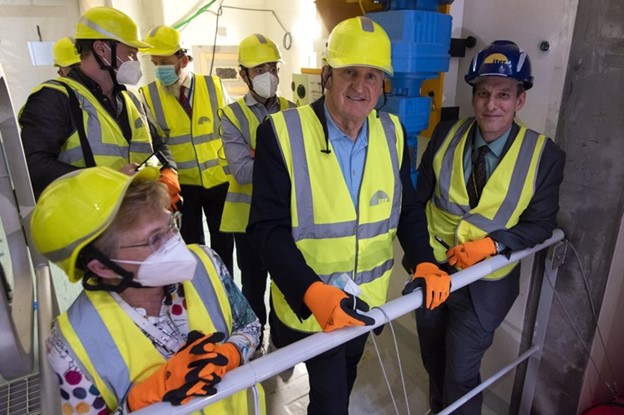 "We cannot eliminate our way to net zero," said Sen. Joe Manchin (D., W.Va.) during a visit to the ITER site in Cadarache, France, on March 25. "We have to innovate, not eliminate, our way to carbon neutrality."
Manchin was joined by Ali Nouri, assistant secretary for congressional and intergovernmental affairs at the Department of Energy; Kathy McCarthy, director of the U.S. ITER Project Office; and other U.S. officials for a tour of the ITER Assembly Hall led by ITER chief scientist Tim Luce, head of the ITER Science and Operations Domain. The visit was described in an ITER Newsline article published on March 28.
"Senator Manchin immediately grasped the advantages of fusion, as well as the scientific and technical challenges we are overcoming," Luce said. "He also understood the value of working together on fusion challenges."
Energy priorities: After the tour, Manchin, who serves as chair of the Senate Committee on Energy and Natural Resources, led a discussion with U.S. scientists and engineers working at ITER and with visiting U.S. officials, focusing on energy markets, energy security, and what he referred to as the current "weaponization of energy, energy resources, and weaponization of access to the minerals used in energy production."
Manchin emphasized the return on investment represented by U.S. participation in an international project. "For a 9 percent investment, we are getting a 100 percent return," he said. "You are showing that fusion can be done to scale. And what you are building is the future." Manchin also said that West Virginia would be a "prime candidate" for clean energy, including fusion.
Fusion for peace: Manchin spoke of the potential for fusion power to stabilize energy markets and fuel security. "Today I saw the possibility of world peace," he said, "because I don't think, in the annals of history, we've ever had a war that was not in some way about energy. What you are all doing here is laying the ground for world peace."
Manchin's visit to France, with energy secretary Jennifer Granholm and other senior officials, was initiated as part of ongoing U.S.-European exchanges on energy collaboration, according to ITER.