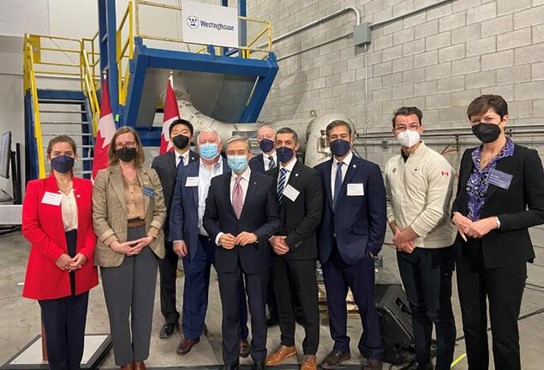 The Canadian government has announced an investment of C$27.2 million (about $21.6 million) in Westinghouse Electric Canada to support the development of the company's eVinci microreactor technology.
François-Philippe Champagne, Canada's minister of Innovation, Science, and Industry, made the announcement on March 17 during a visit to the company's Burlington, Ontario, facility.
The investment is being made through the Strategic Innovation Fund's Net Zero Accelerator initiative, a program designed to attract and support high-quality business investments that support Canada's goal of net-zero emissions by 2050, according to a government news release.
What they're saying: "As our government moves swiftly with our green economic recovery, we are laying the foundation for a better and more prosperous climate-oriented future," Champagne said. "Westinghouse's innovative technology will help deliver cleaner energy sources across Canada, especially in remote communities. This investment will play a critical role in fighting climate change, building on Canada's global leadership in [small modular reactors] and securing jobs in Ontario's energy sector."
David Durham, president of Westinghouse Energy Systems, remarked, "The eVinci microreactor technology enables many applications which will benefit Canadian industries and communities, especially those in need of carbon-free heat and power. We appreciate the government of Canada's partnership and are proud to support a Pan-Canadian energy transition program in support of net-zero emissions targets."
The technology: Westinghouse describes the eVinci microreactor as "essentially a small battery for decentralized generation markets and for microgrids, such as remote communities, remote industrial mines, and critical infrastructure."
According to the company, key attributes of the eVinci include the following:
Transportable energy generator
Fully factory built, fueled, and assembled
1 MWe to 5 MWe combined heat and power
40-year design life, with three-plus-year refueling interval
Target of less than 30 days on-site installation
Autonomous operation
Power demand load following capability
Minimal moving parts
Near zero emergency planning zone with small site footprint
In case you missed it: A feasibility study completed last year by Westinghouse and Bruce Power concluded that the eVinci microreactor is capable of providing cost-competitive clean energy to decentralized, off-grid markets in Canada. The study focuses on key market opportunities, including remote communities and industrial mines, and identifies benefits the Westinghouse technology could provide in support of the Canadian government's decarbonization goals.