February 24, 2022, 9:48AM
Updated

February 24, 2022, 3:10PM
Nuclear News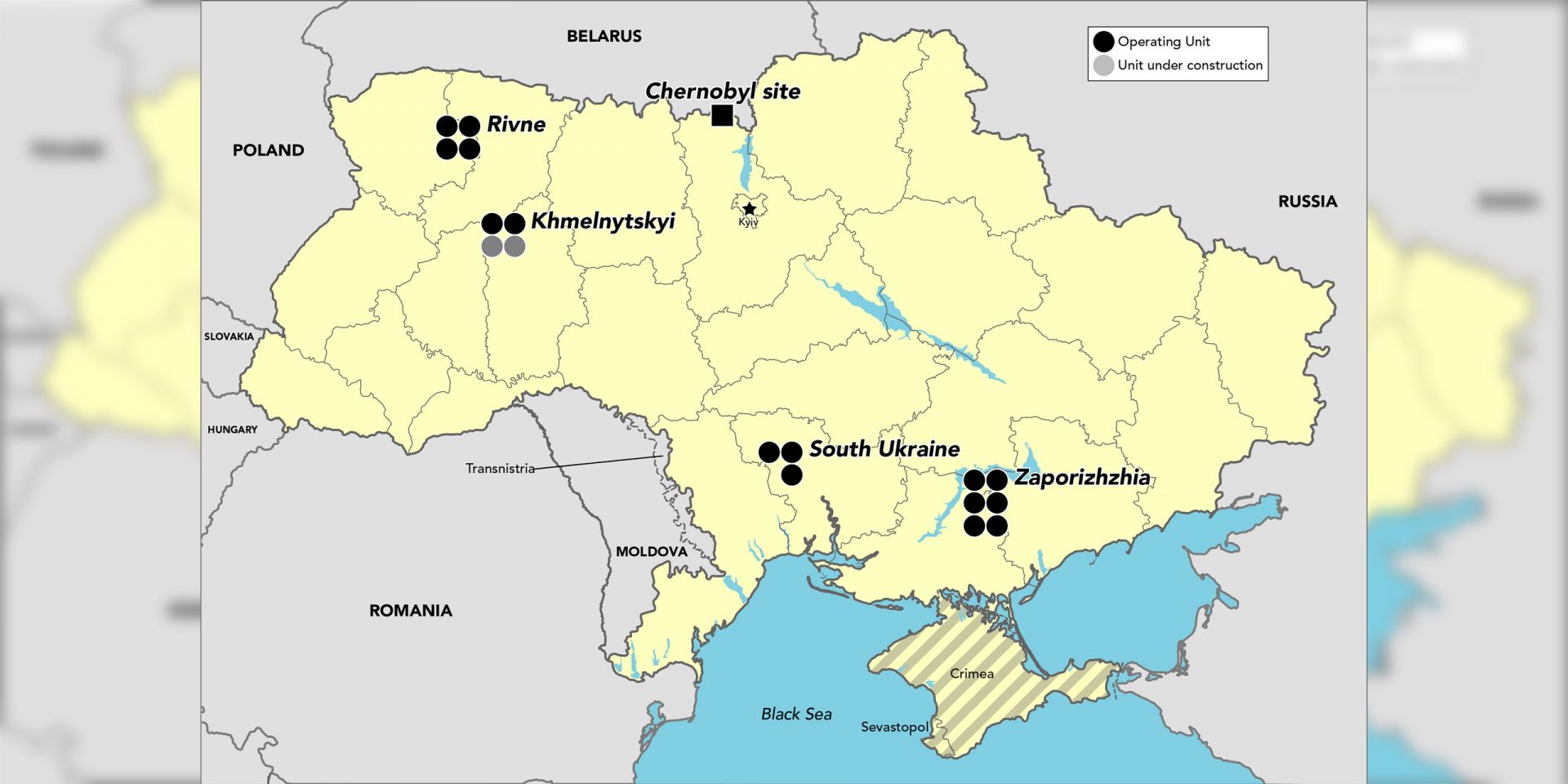 Russian forces invaded Ukraine today in what news sources are calling the largest military attack of one state against another on the European continent since World War II. These developing events follow an extraordinary meeting of the NATO-Ukraine Commission in Brussels on February 22, when NATO secretary general Jens Stoltenberg said that Russia's recent actions constituted "serious escalation" of tensions in the region and that Russia had shifted from covert attempts to destabilize Ukraine to overt military action. Well before this juncture was reached, news outlets had questioned the readiness of Ukraine's nuclear power fleet to operate safely in a country at war and ensure energy security, while Energoatom, which operates all of Ukraine's nuclear power reactors, has issued assurances of safety and security.
Ukraine has 15 operating pressurized water reactors of Russian VVER design located at four plant sites. Khmelnytskyi, in western Ukraine, has two operating reactors and two reactors under construction (including one, Khmelnytskyi-4, that Westinghouse is contracted to build as an AP1000). Rivne, in northwestern Ukraine about 40 miles south of the border with Belarus, hosts four operating reactors. South Ukraine, located about 100 miles east of Moldova, has three operating reactors. Zaporizhzhia, Ukraine's largest plant with six reactors, is also the plant that is closest to Russian-occupied regions of Crimea and eastern Ukraine. The Chernobyl Exclusion Zone in north central Ukraine, near the border with Belarus, holds four shut-down reactors (Unit 4 housed in the New Safe Confinement) and one new facility, the Central Spent Fuel Storage Facility.
Nuclear Energy & Ukraine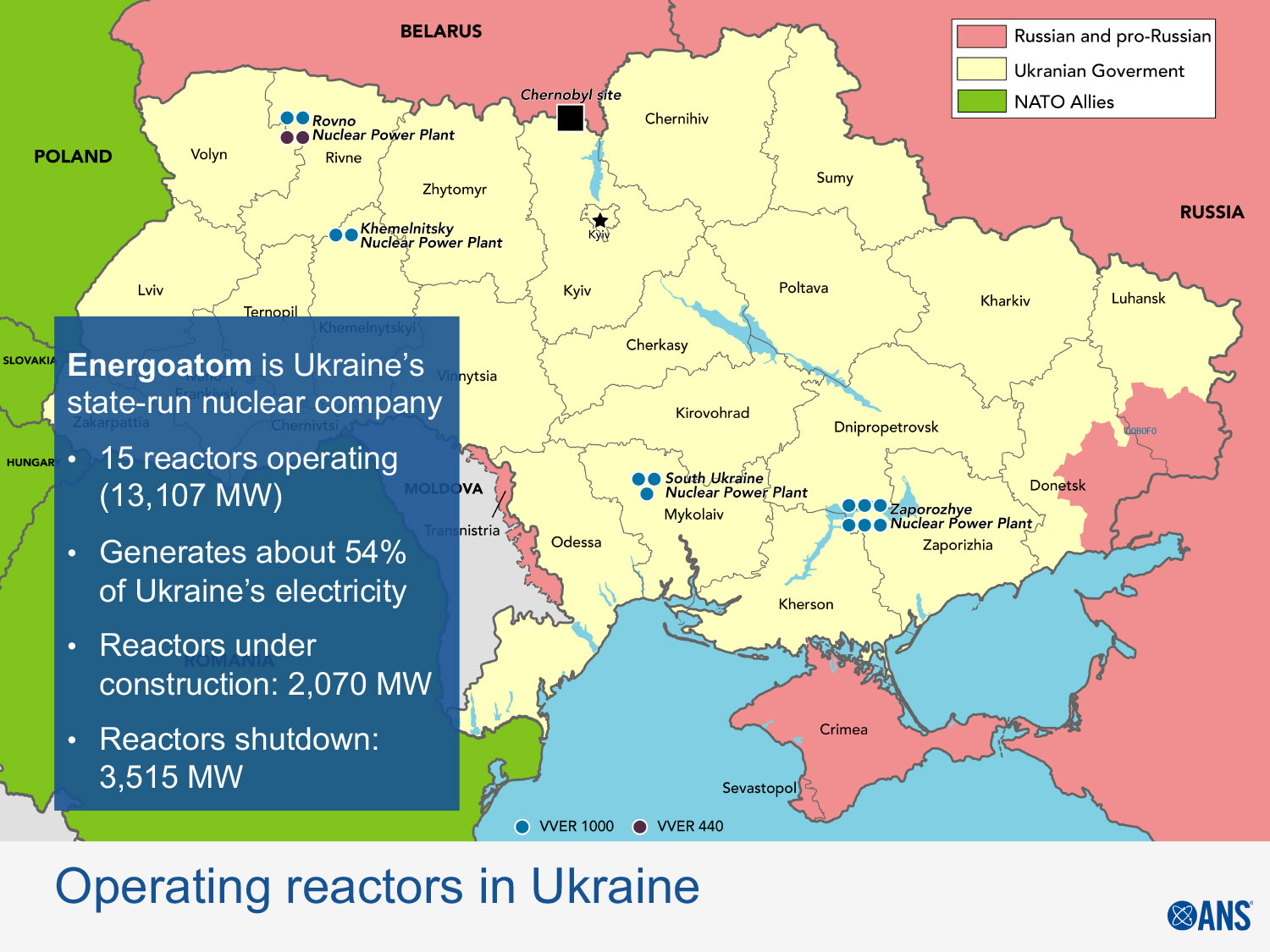 Nuclear Energy & Ukraine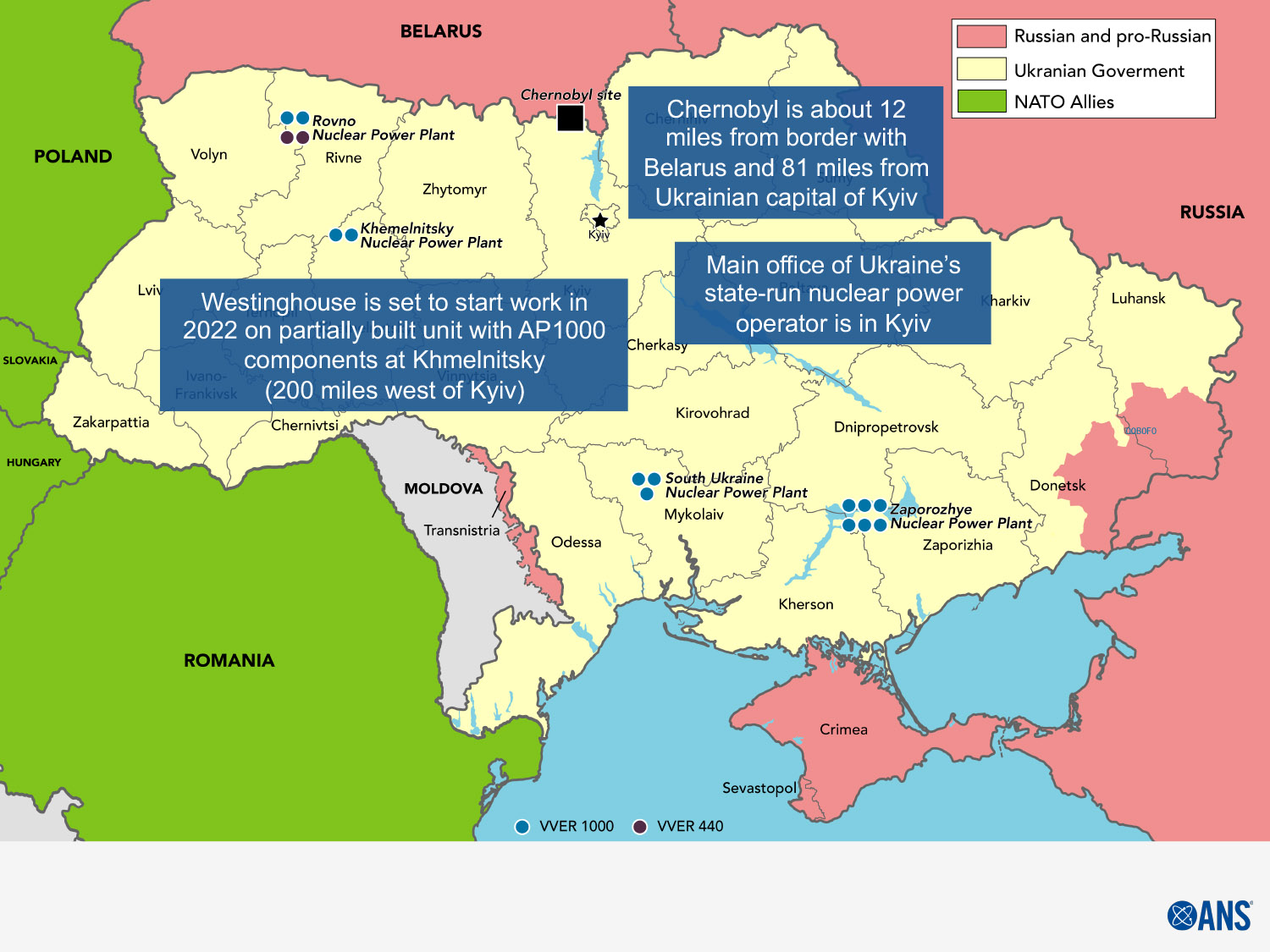 Nuclear Energy & Ukraine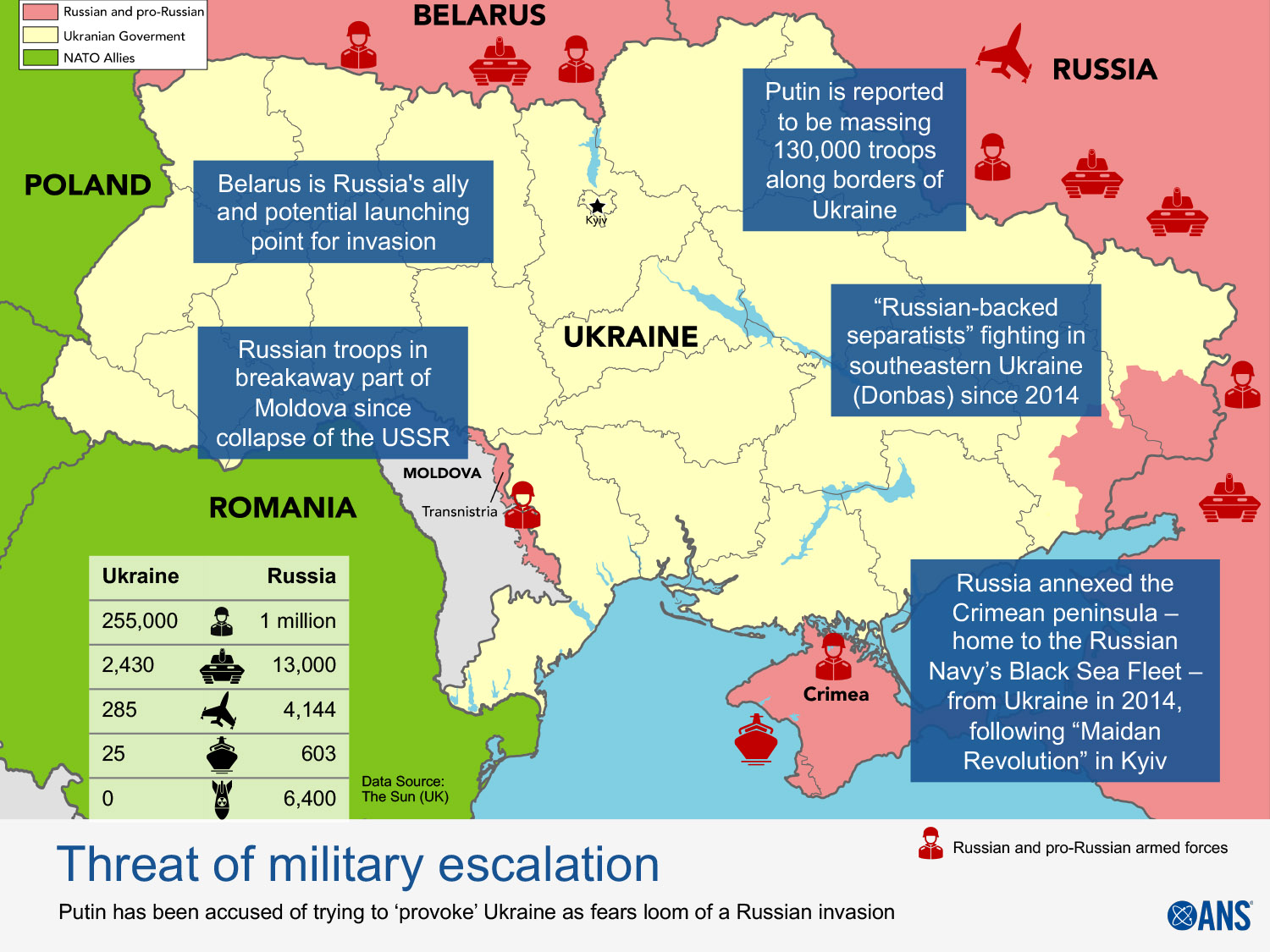 Nuclear Energy & Ukraine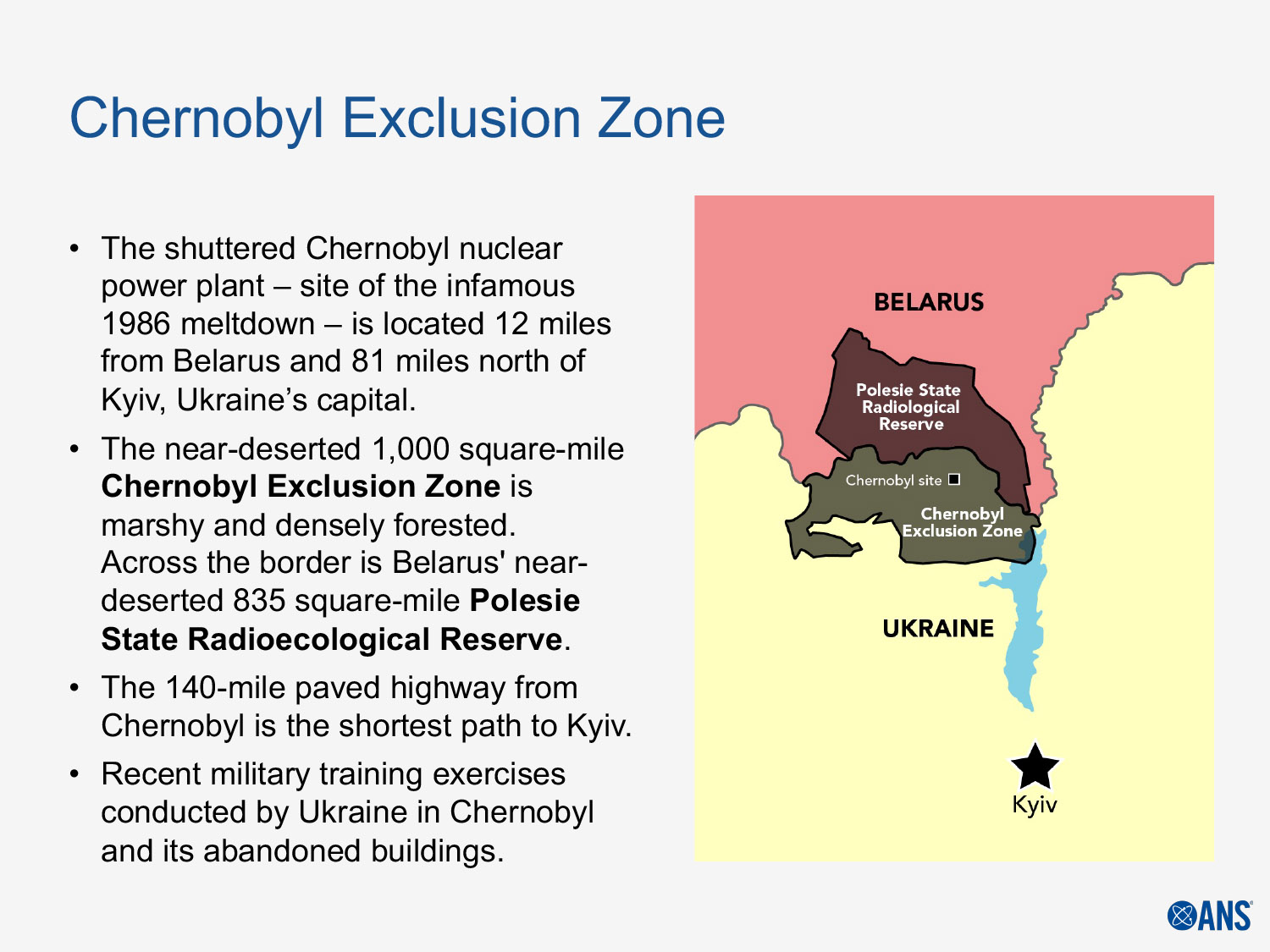 Nuclear Energy & Ukraine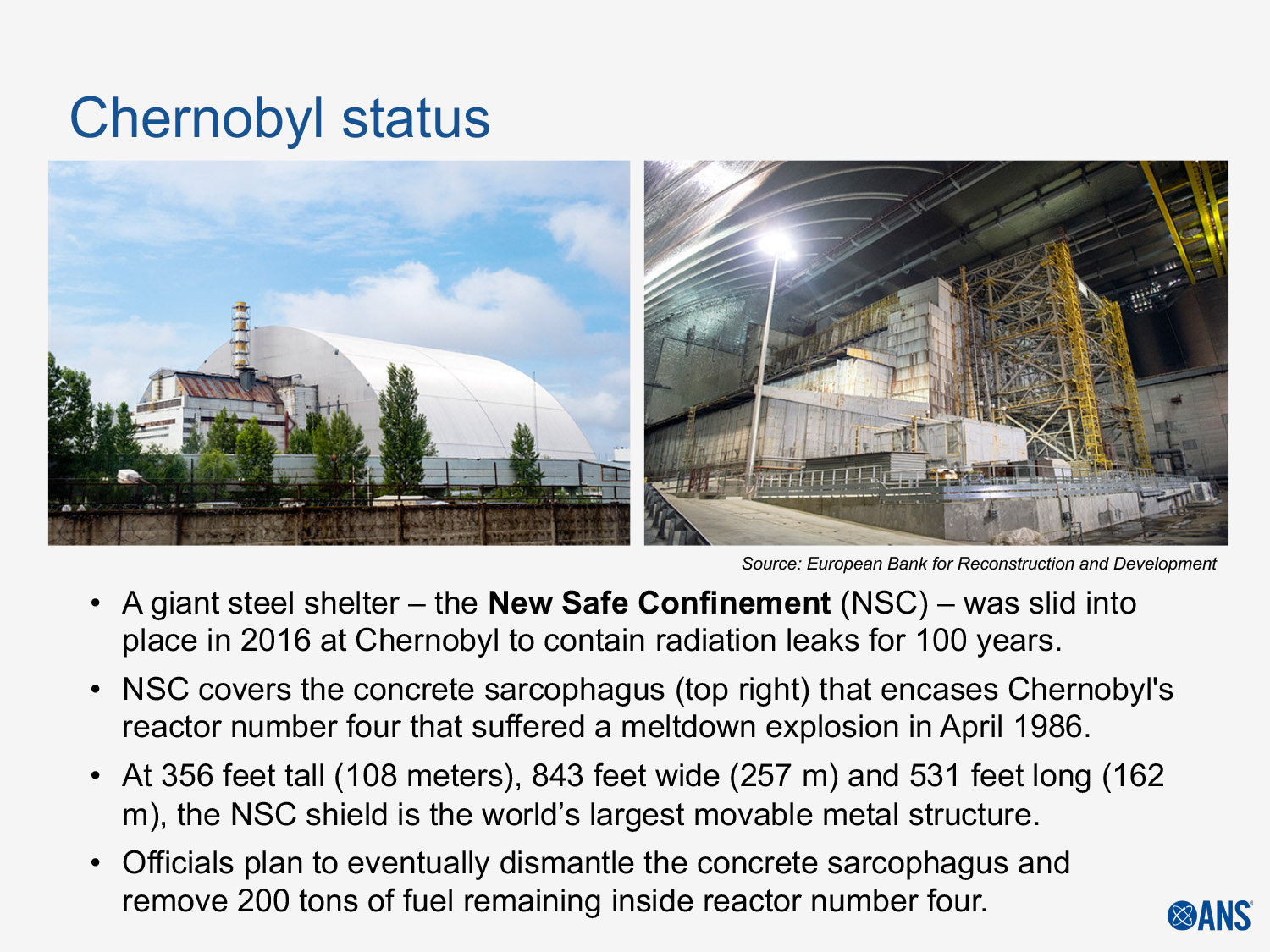 Nuclear Energy & Ukraine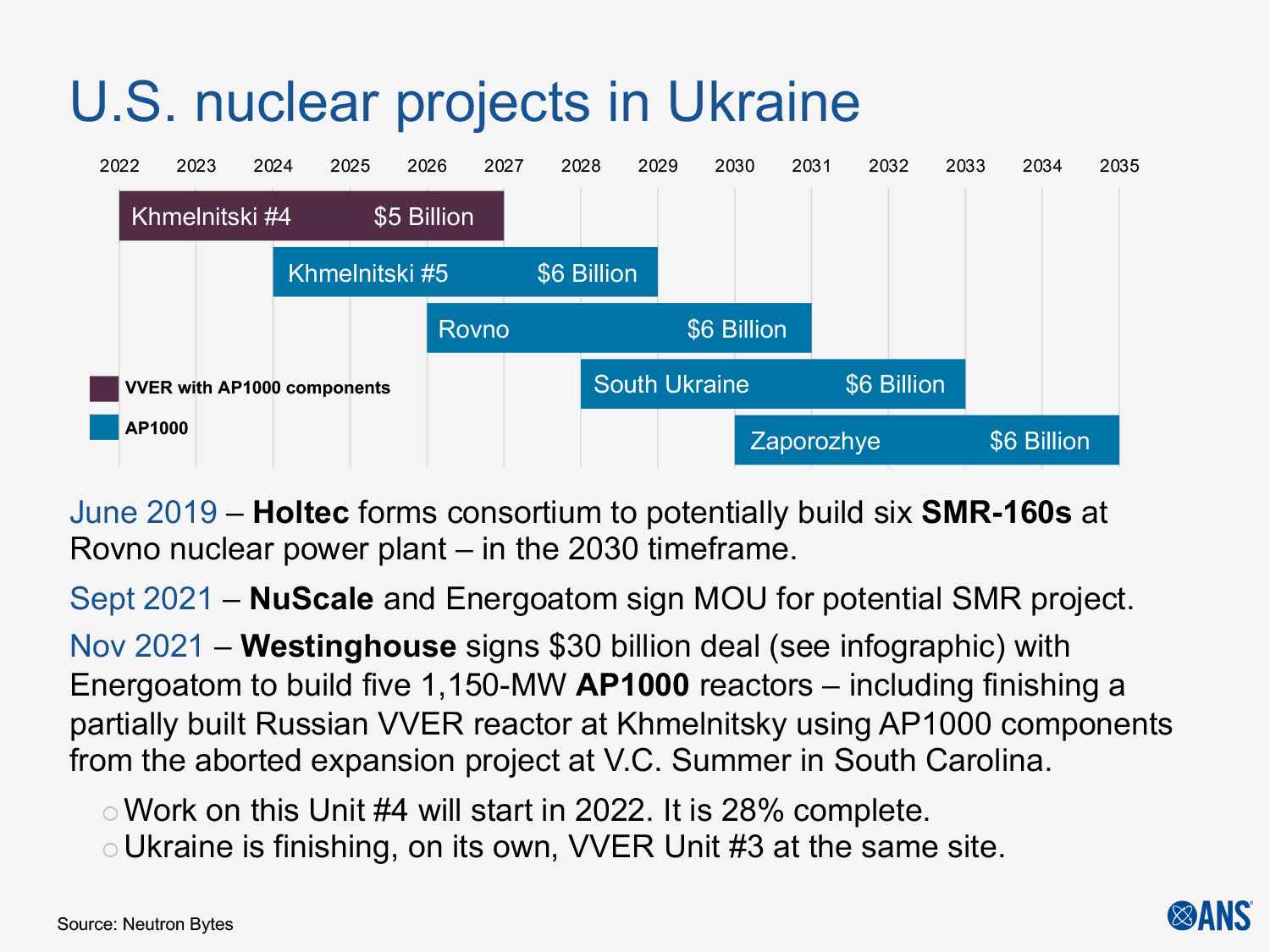 Nuclear Energy & Ukraine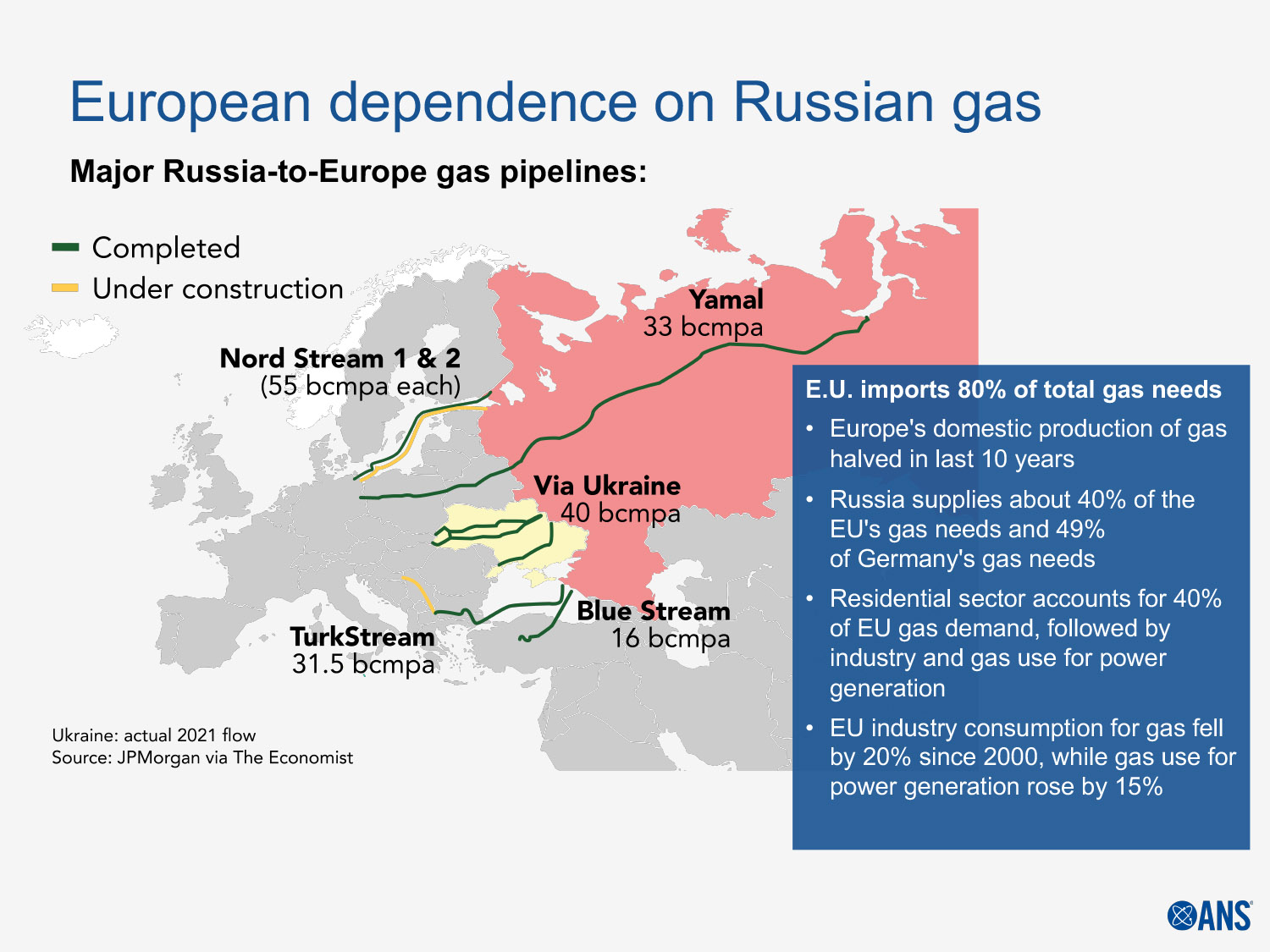 Nuclear Energy & Ukraine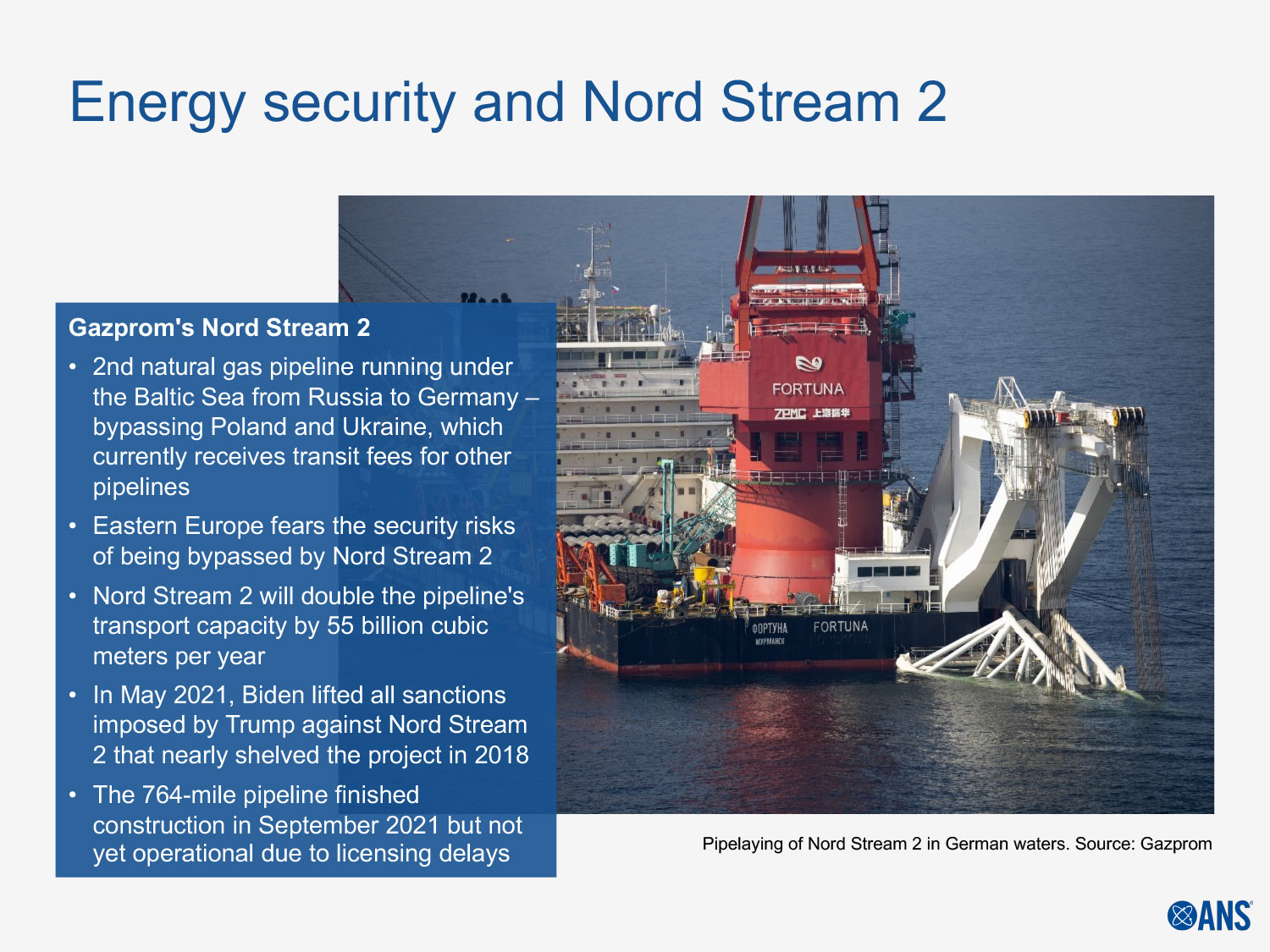 Nuclear Energy & Ukraine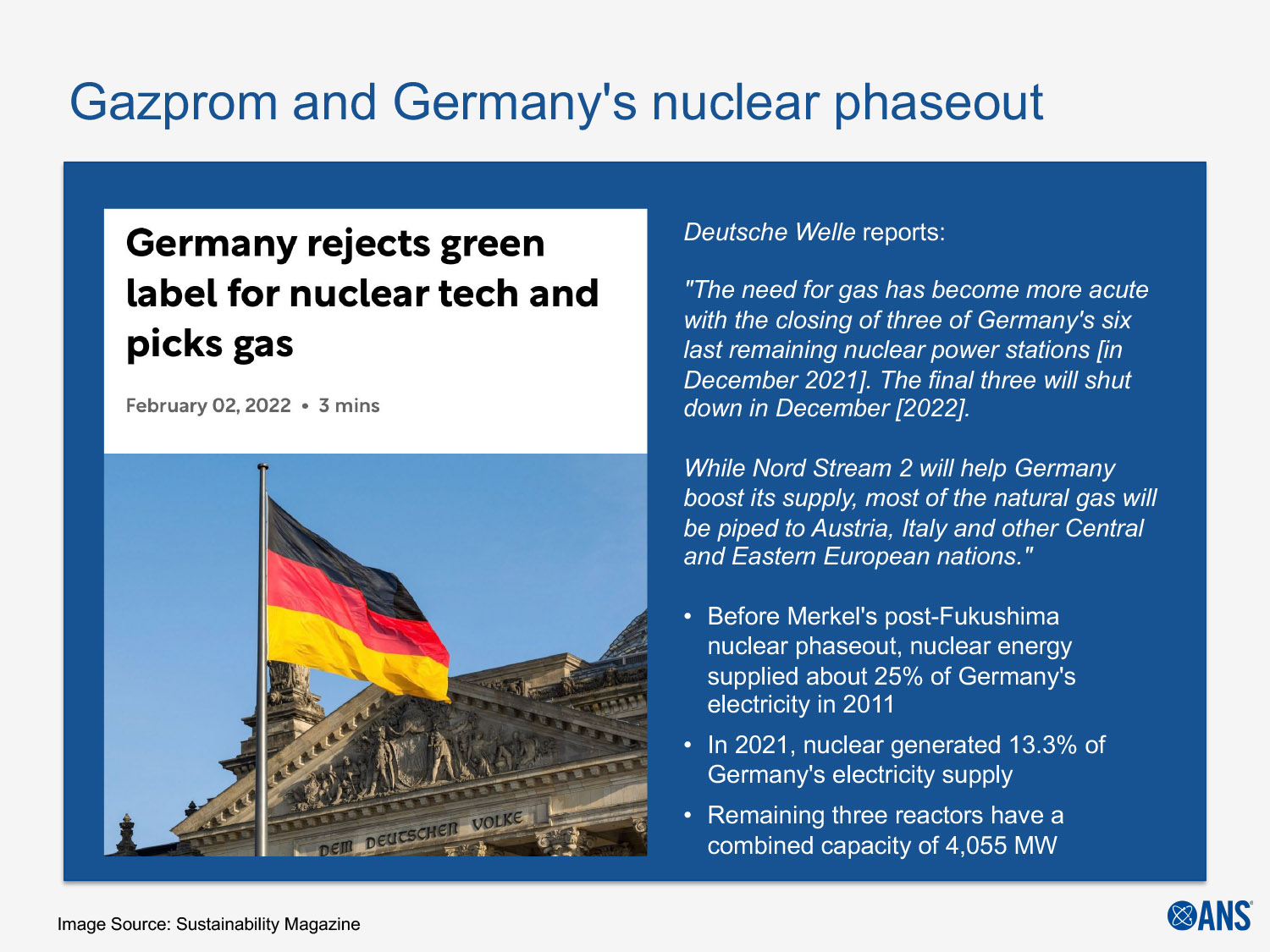 Nuclear Energy & Ukraine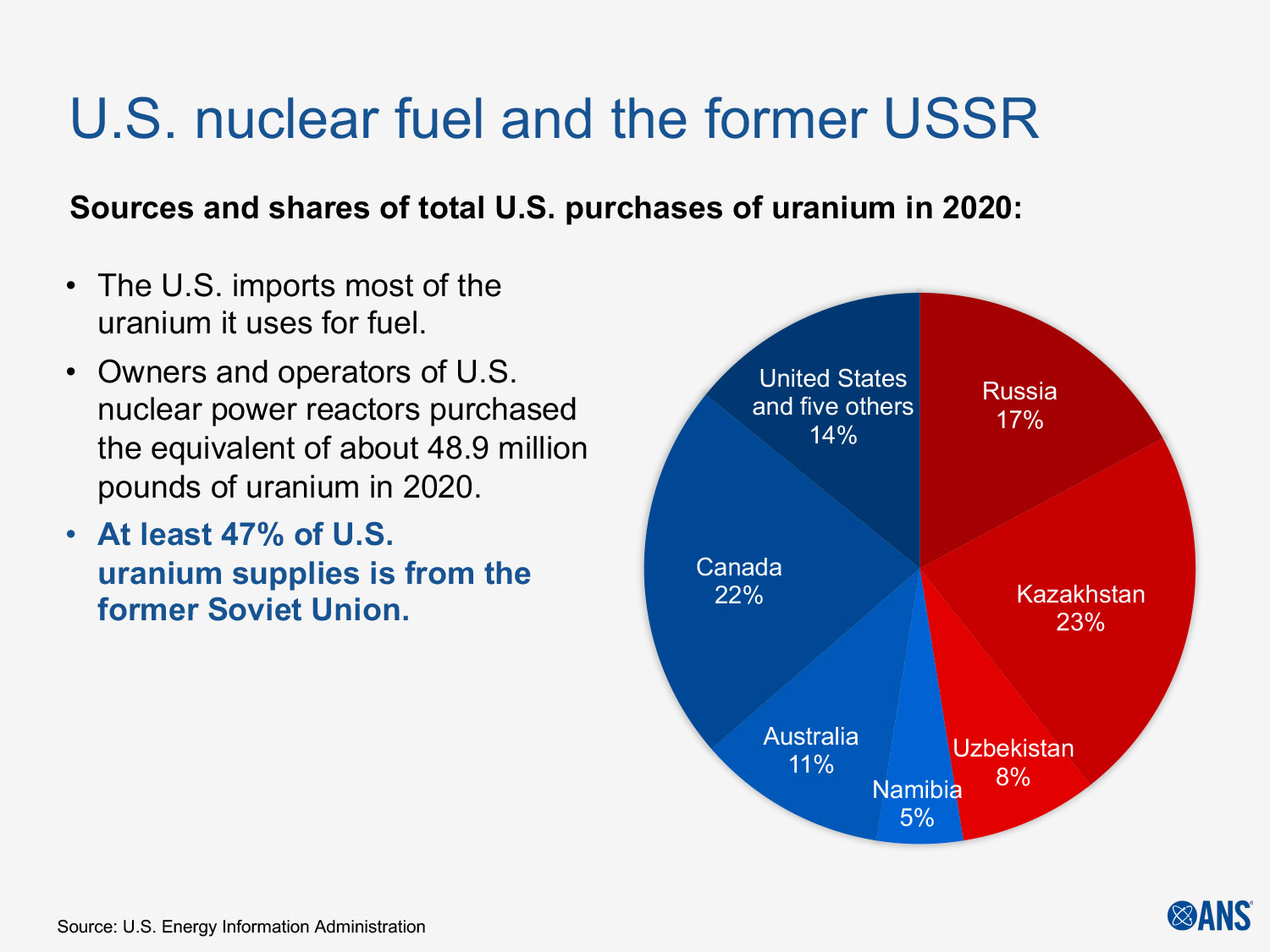 Events unfold: On February 19, Ukrainian president Volodymyr Zelenskyy exhorted diplomats as world leaders convened for the annual Munich Security Conference to clarify their commitment to Ukrainian security. Zelenskyy testified to the shelling of Ukrainian territory from occupied areas of Donetsk and Luhansk after a February 17 visit to the Donbas region of eastern Ukraine. "Ukraine has received security guarantees for abandoning the world's third nuclear [weapons] capability. We don't have that weapon. We also have no security," Zelenskyy said, calling on western nations to ensure security guarantees as he referred to a 1994 agreement for the disposal of nuclear weapons that were left in Ukraine after the fall of the Soviet Union.
February 21: Just two days later, Russian president Vladimir Putin announced that he would recognize the independence of two breakaway regions of Ukraine—the self-proclaimed Donetsk People's Republic and Luhansk People's Republic.
U.S. secretary of state Antony Blinken issued a statement in response, saying, "This decision represents a complete rejection of Russia's commitments under the Minsk agreements, directly contradicts Russia's claimed commitment to diplomacy, and is a clear attack on Ukraine's sovereignty and territorial integrity." In a tweet on the evening of February 21, Blinken added, "Russia's move to recognize the 'independence' of so-called republics controlled by its own proxies is a predictable, shameful act. We condemn them in the strongest possible terms and #StandWithUkraine, as I told Foreign Minister @DmytroKuleba tonight."
February 22: President Joe Biden announced the start of sanctions against Russia in a live address. "Yesterday, Vladimir Putin recognized two regions of Ukraine as independent states and he bizarrely asserted that these regions are no longer part of Ukraine and their sovereign territory. To put it simply, Russia just announced that it is carving out a big chunk of Ukraine," Biden said. "So today, I'm announcing the first tranche of sanctions to impose costs on Russia in response to their actions yesterday."
February 24: The situation on the ground in Ukraine rapidly deteriorated in the early morning hours (local) on February 24 when Putin announced an invasion. Shortly after, reports came in of explosions in the capital of Kyiv and elsewhere in the country.
Energoatom announced early in the day that all of the nuclear power plants were operating normally and said, "There are no violations of the boundaries and conditions of safe operation. Radiation, fire, and environmental conditions at NPPs and adjacent territories have not changed and are within the current norms." Shortly after the first announcement, Energoatom released a statement that their crisis center was open and an initial meeting was held with their top officials.
The statement quotes Ukraine's minister of energy Herman Galushchenko as saying that "the most urgent task of all power engineers in Ukraine today is to ensure the sustainable operation of the unified energy system, all energy facilities, and nuclear power plants in Ukraine. The Ukrainian energy system is currently operating autonomously. Equally important is cybersecurity in general, and critical infrastructure, which includes all nuclear power plants in particular. However, no massive cyber attack succeeded—all were repulsed."
Chernobyl: Before the end of the day, the International Atomic Energy Agency announced that it is monitoring developments in Ukraine with a focus on the safety and security of the country's nuclear power plants and other nuclear-related facilities, according to Rafael Mariano Grossi, the agency's director general.
The Ukraine regulatory body earlier today informed the IAEA that it is maintaining communications with Ukraine's operational nuclear power plants, which it said are operating safely and securely.
Regarding the situation at the Chernobyl nuclear power plant, Ukraine has informed the IAEA that "unidentified armed forces" have taken control of all facilities of the State Specialized Enterprise Chernobyl plant, located within the exclusion zone. The Ukraine regulatory body added that there had been no casualties or destruction at the industrial site. Grossi said that it is of vital importance that the safe and secure operations of the nuclear facilities in that zone should not be affected or disrupted in any way.
Grossi also noted that the IAEA General Conference—the annual gathering of the agency's Member States—adopted a decision in 2009 saying "any armed attack on and threat against nuclear facilities devoted to peaceful purposes constitutes a violation of the principles of the United Nations Charter, international law, and the Statute of the Agency."
The IAEA remains in permanent contact with its Ukrainian counterpart.
Day of unity: February 16, which had previously been identified by U.S. officials as a day Russia might invade Ukraine, instead was celebrated by staff at Energoatom headquarters and at the country's four plant sites as a "day of unity," marked by raising of Ukrainian flags and singing of the national anthem. Energoatom stated that the day of unity "confirmed that Ukrainian nuclear power professionals are united in defending our state, the stable operation of its economy, and the production of clean and affordable electricity."
Acting president of Energoatom Petro Kotin said, "We gathered together to confirm: we are consolidated, we are united, we are together!"
Ready for safe operation: In the English-language version of a February 2 press release posted on Energoatom's website, Kotin was quoted as saying that in case of "a special period" Ukrainian nuclear power plants are ready for safe operation.
"Energoatom will act in accordance with a special protocol that specifies measures for the operation of nuclear power plants during this period," Kotin said. "According to the protocol, the plants will not work in case, for example, of bombing attack. In such a case, the plant is shut down and unloaded until the threat is eliminated."
Kotin emphasized that standard nuclear safety measures contribute to plant security. "In the event of loss of the external power supply at the nuclear power plant, the autonomous power supply system starts working by means of powerful diesel generators. Ukrainian nuclear power plants are ready for such a mode of operation: the stock of diesel fuel located at nuclear power plants significantly exceeds the established standards," Kotin said. "In addition, Ukrainian power units are ready even for an aircraft crash, because the containment and the reactor vessel designed to withstand corresponding risks."
Fuel supplies: "As for the stockpiles of nuclear fuel at Ukrainian nuclear power plants, back in 2014, the U.S. government's special security mission developed a number of recommendations in the nuclear field in the event of a military attack," Kotin continued.
"One of the key recommendations was to provide the [plants] with the stock of nuclear fuel for two-year operation in the event of a cessation of fuel supplies from the Russian Federation. We have implemented this recommendation."