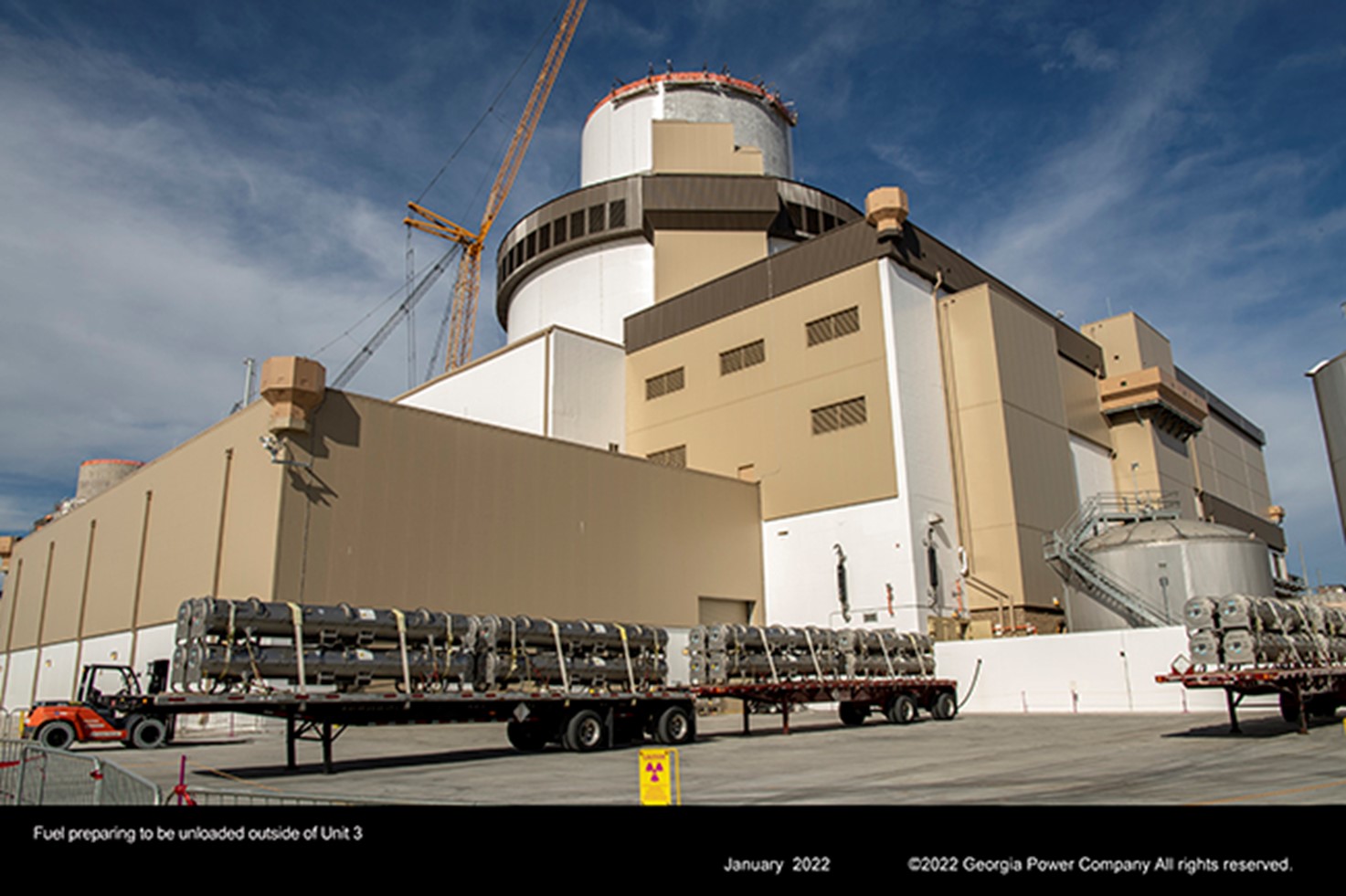 Commercial operation dates for the two new reactors under construction at the Vogtle nuclear plant have been pushed back yet again, adding to the project's total cost, Southern Company announced last week. The Vogtle plant is near Waynesboro, Ga.
During its February 17 fourth-quarter earnings call, Southern reported that the projected start dates for both reactors were being extended by three to six months. Vogtle-3 is now expected to begin providing electricity to Georgians in the fourth quarter of 2022 or first quarter of 2023, with Vogtle-4 coming on line in the third or fourth quarter of 2023.
Multiple delays and project losses: Southern subsidiary Georgia Power—Vogtle's largest shareholder with a 45.7 percent ownership of the plant—announced project delays a total of four times in 2021, most recently last October, when it revised Unit 3's start date to the third quarter of 2022 and Unit 4's to the second quarter of 2023.
Investors and analysts on last week's call were also informed that Southern last year took a $920 million loss on the project—consisting of $480 million for Georgia Power's share of cost and schedule changes, and $440 million for incremental costs under the project's co-owners agreement.
Southern further warned that it might have to write off an additional $460 million, depending on how the plant's owners wind up interpreting certain "sharing and tender provisions." (Vogtle's other owners are Oglethorpe Power Corporation, Municipal Electric Authority of Georgia, and Dalton Utilities.)
From the top: A major culprit in this latest delay to the project, according to Tom Fanning, Southern's president and chief executive officer, is paperwork. "The paper process is a critical aspect of turning plant components and systems over from construction to testing and operation," said Fanning. "We have discovered incomplete and missing inspection records concerning much of the materials and equipment that have been installed at Unit 3. These inspection records are an important part of the documentation that is necessary to file ITAACs [inspections, tests, analyses, and acceptance criteria]. Our progress on Unit 3 ITACCs has slowed as we address a backlog of tens of thousands of inspection records needing completion to support system turnovers. Through hard work over the last several weeks, we have reduced this backlog by more than 30 percent."
Fanning added, "Documentation within these inspection records is a critical aspect of getting it right. And the time and resources to complete the remaining inspection records and remediate construction issues identified in the process, including the impact of borrowing Unit 4 resources, are key drivers for the change in schedule."
Fanning also noted that the latest cost and schedule changes have triggered a provision in the Vogtle co-owners agreement requiring a vote on whether to proceed with the project. "Vogtle-3 and -4 are incredibly important to the state of Georgia and its robust, growing economy," Fanning said. "Furthermore, the addition of 2,000 MW of baseload, carbon-free energy is vital to increasing the availability of net-zero energy resource across the state. Considering these facts and our proximity to commercial operation, Georgia Power has already voted to proceed. The other owners are required to vote by March 8, which allows time for them to work through their own governance processes."