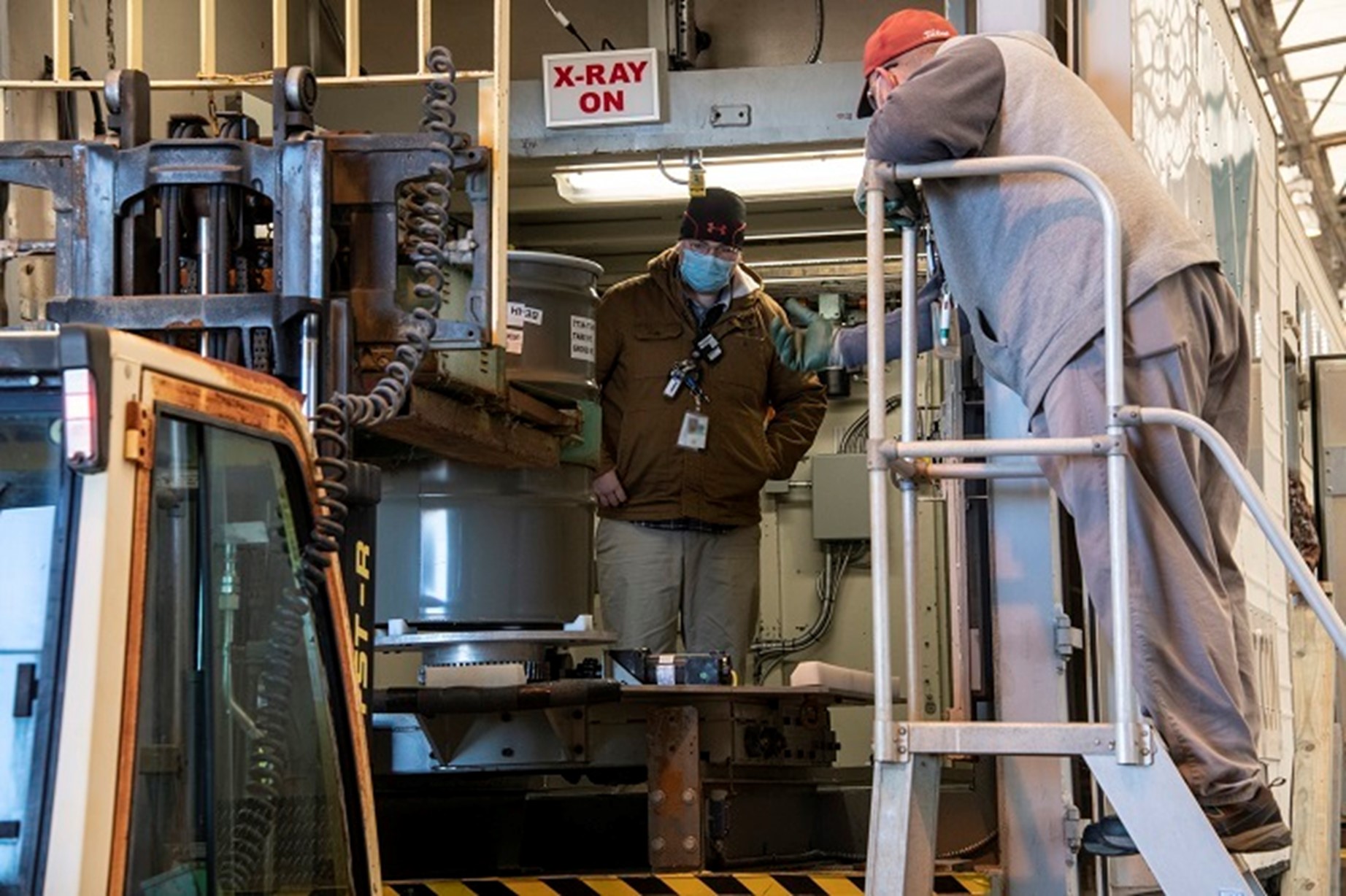 Operators at the Savannah River Site's Solid Waste Management Facility can now characterize and certify newly generated TRU waste through the use of a real-time radiography unit that uses an X-ray system to examine the contents of waste containers. The equipment was recently installed to meet updated requirements set by the Department of Energy's National TRU Program that involve evaluating the containers for chemical compatibility and oxidizing chemicals.
The shipments of TRU waste from SRS, in South Carolina, are sent to the Waste Isolation Pilot Plant (WIPP), in New Mexico, for disposal.
Standards: WIPP has set standards for waste containers that are permitted to be buried in the underground repository. Before the containers get to WIPP, SRS's operators examine the containers as part of characterization activities to verify and validate that the waste within each container matches up with documentation. The examination also allows operators to ensure that the containers do not include items prohibited by WIPP without having to open them.
TRU waste, a by-product of the nation's nuclear defense program, consists of tools, rags, protective clothing, sludge, soil, and other materials contaminated with radioactive elements that have atomic numbers greater than uranium.
The radiography unit: Owned by the DOE's Central Characterization Project (CCP), the radiography unit was previously used by Lawrence Livermore National Laboratory before it was refurbished for use at SRS.
The DOE established the CCP to standardize and provide efficiencies in the characterization and certification process at its waste generator sites. One of those efficiencies is the deployment of mobile loading units (MLUs) and associated teams to assist waste generator sites. MLUs contain the equipment needed to load waste containers into casks for shipment to WIPP, eliminating the need to develop a DOE-certified loading capacity at each waste generator site.
The TRU program: The DOE's Office of Environmental Management established the National TRU Program to oversee the process of preparing TRU waste to meet WIPP requirements. The process involves the characterization and packaging of waste at generator sites, followed by the transporting of the waste to WIPP.