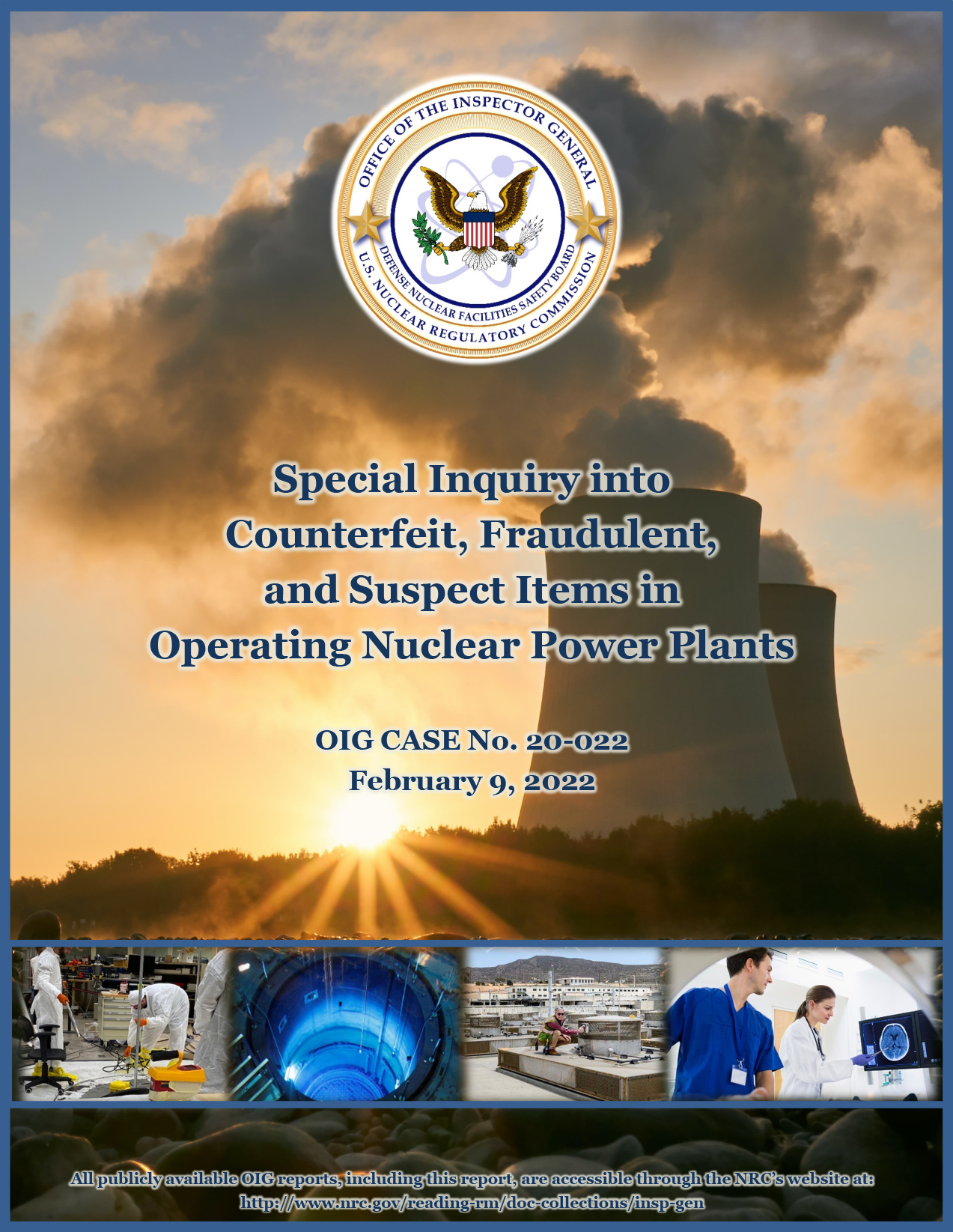 Counterfeit, fraudulent, and suspect items (CFSI) are present in U.S. operating nuclear power plants, potentially increasing safety risks, a "special inquiry" report released last Thursday from the Nuclear Regulatory Commission's Office of the Inspector General has concluded. The term "CFSI" can refer to parts that have been intentionally altered to imitate a legitimate product or those that have been misrepresented with intent to deceive, as well as parts that merely fail to meet intended product specifications.
The OIG initiated the report to look into allegations that CFSI are present in most, if not all, U.S. nuclear plants, that the NRC has lowered its CFSI oversight standards, and that the agency has failed to address CFSI concerns.
Other findings:
The actual extent of the problem is not clear, the report found, because the NRC does not typically require its licensees to track CFSI "unless a situation rises to the level of being a significant condition adverse to quality or a reportable issue under 10 CFR Part 21, 'Reporting of Defects and Noncompliance.'"
The report could not substantiate the allegation of lowered NRC standards for CFSI, but did find "examples that appear as such, including lack of inspection violations issued, a downward trend in Part 21 reports, and termination of a Part 21 rulemaking in 2016 that addressed CFSI oversight concerns identified by an NRC working group."
While noting that some organizations have reported fewer than 10 potential CFSI cases since 2016, the report concluded that the actual number could be much higher. "We found that U.S. Department of Energy staff identified more than 100 incidents involving CFSI in FY 2021 alone, including five incidents involving safety-significant components in its nuclear facilities," the report stated. "Additionally, as recently as 2019, the International Atomic Energy Agency published a report regarding its concerns about CFSI in nuclear power plants worldwide."
Recommendations: The OIG said that the NRC should improve its oversight of CFSI by clarifying and communicating how the agency collects, assesses, and disseminates information regarding CFSI, and by improving staff awareness of CFSI and its applicability to reactor inspections.
Agency response: "While the report's findings include the ongoing presence of CFSI at U.S. reactors, nothing in the report suggests an immediate safety concern," said NRC spokesperson Scott Burnell in a February 10 Reuters report. "The NRC's office of the executive director for operations is thoroughly reviewing the report and will direct the agency's program offices to take appropriate action."