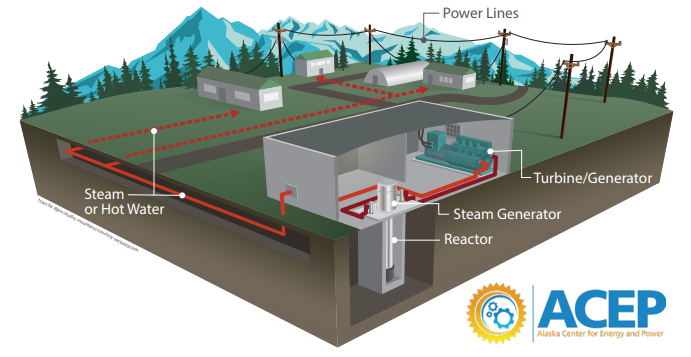 Alaska Gov. Mike Dunleavy (R.) introduced "An act relating to microreactors" (SB 177) in the Alaska state legislature on February 1 that would modify existing state law on nuclear energy by specifying that microreactors are not subject to certain nuclear reactor siting and permitting regulations in Alaska. The bill defines a microreactor as an advanced nuclear fission reactor that would be capable of generating no more than 50 MWe.
From the governor's office: Governor Dunleavy issued a press release announcing the bill as the first in a package of energy legislation intended to promote energy independence, long-term cost reductions, and competitive markets in both urban and rural Alaska.
"For communities seeking more options to end their dependence on diesel and heating oil, we want to ensure that our statutes give them the opportunity to explore what many experts believe may be a generational leap forward in terms of clean, reliable, and cost-effective off-grid power," Dunleavy said.
The town of Valdez, supported by the Copper Valley Electric Association, is one such community. "Copper Valley Electric Association supports the governor's legislation to streamline the state's permitting process for microreactors. With a feasibility study already underway in Valdez, this legislation ensures Alaska remains on track to be an early leader in microreactor technology," said Copper Valley Electric Association CEO Travis Million.
The law of the land: Alaska Statute 18.45.025 currently gives the Alaska legislature the authority to designate lands as economically appropriate for hosting a reactor. Construction of a reactor project with all necessary permits and licenses from the Nuclear Regulatory Commission could not proceed without that legislative designation and without a permit from the Alaska Department of Environmental Conservation (DEC) and from the municipality in which the reactor would be sited (if applicable).
SB 177 would change that law to specify that "a person that is otherwise compliant with this chapter may construct a microreactor on land that has not been designated by the legislature." The bill would also exclude microreactors from AS 18.45.030, which requires at least six departments and agencies of the state to conduct numerous studies "concerning changes in laws and regulations with a view to atomic industrial development."
SB 194, "An act related to advanced nuclear reactors," was introduced in 2020 by the Senate Community and Regional Affairs Committee to address some of the same challenges, but it did not pass.
Alaska's options: The Alaska Center for Energy and Power, based at the University of Fairbanks at Alaska, published a report—Small Scale Nuclear Power: An Option for Alaska?—in January 2021. In that report the authors recommended revising the nuclear statutes to do away with the requirement of a legislative designation, stating that "This is consistent with regulations and statutes in other U.S. states, and removes overt politics from future decision-making . . . . Instead, we recommend decision making be deferred to the local level with environmental and permitting led by the DEC."
The report authors also stated: "We recommend that the first microreactor project in Alaska should be at a military base, possibly Eielson Air Force Base. [The Department of Defense] is not required to comply with state law."
Later in 2021, the Air Force announced that Eielson had been chosen to host a stationary microreactor of 1–5 MWe.
Potential vendors: While many nuclear technology companies are developing designs that could fit Alaska's definition of a microreactor, three vendors were called out in the Alaska Center for Energy and Power's January 2021 report.
"Three companies have emerged of specific interest to the Alaska market," the report states. The companies are NuScale Power (a 50-MWe version of the company's pressurized water reactor design has received design approval from the NRC), Oklo Inc. (which is pursuing a license for its 1.5-MWe sodium-cooled fast reactor), and Ultra Safe Nuclear Corporation (which wants to deploy its 5–10 MWe high-temperature gas reactor at Chalk River Laboratories in Canada and on the campus of the University of Illinois at Urbana-Champaign).
More about nuclear power in Alaska: