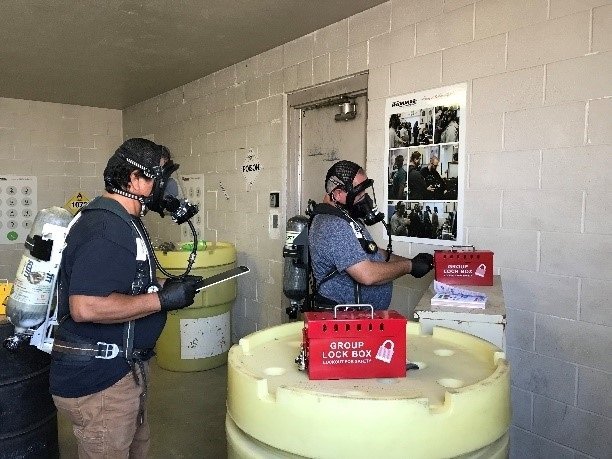 A new respiratory protection course at the Department of Energy's Hanford Site near Richland, Wash., features an "escape room" in which employees wear supplied-air equipment while they answer questions, discover clues, and solve puzzles in a simulated work environment.
Trainees are under pressure to "escape" or complete the activity safely in a limited amount of time before their air bottles empty. The simulation helps the employees learn the limitations, advantages, and disadvantages of respiratory protection equipment, the DOE said. Respirators are commonly used during cleanup activities at Hanford, including at the site's waste tank farms, where chemical vapors have long posed a safety concern for workers.
HAMMER time: The respiratory protection course is conducted by the Volpentest Hazardous Materials Management and Emergency Response (HAMMER) Federal Training Center at Hanford, which is managed by DOE contractor Hanford Mission Integration Solutions. It provides realistic and comprehensive safety and emergency response training for nuclear cleanup workers and emergency response personnel.
According to the DOE, the HAMMER center's worker-trainers help develop and deliver many of the hands-on courses. Their skills and firsthand experience in the field make them knowledgeable and relatable to employees taking the courses, the DOE said.
"HAMMER worker-trainers are recognized as safety advocates by their peers, and they successfully bridge the gap between the field and classroom while providing advanced safety training," said Angela Stoddard, program manager for the DOE's Richland Operations Office. "Their efforts to innovate educational methods also ensure a strong, consistent, and continuously improving safety culture across the Hanford Site."
Simulated learning: Another creative learning activity tests the ability to read and understand a respiratory protection form while under pressure from responding to simulated alarms. Employees also demonstrate equipment knowledge in responding to a simulated loss of air while wearing a supplied-air respirator.
"HAMMER staff and worker-trainers frequently implement course improvements to meet the Hanford Site's evolving training needs," said Paul Vandervert, director of HAMMER. "Employee feedback on updates to the respiratory program course has been very positive."