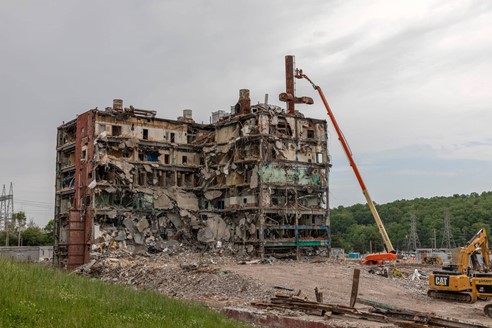 The Department of Energy's Office of Environmental Management (EM) has awarded a 10-year, $8.3 billion contract to United Cleanup Oak Ridge (UCOR), of Germantown, Md., for the cleanup of the Oak Ridge Reservation in Tennessee, including the Y-12 National Security Complex, Oak Ridge National Laboratory, and the East Tennessee Technology Park (ETTP).
UCOR is a newly formed limited liability company made up of AECOM Energy and Construction, Jacobs Technology, and Honeywell International. UCOR's teaming subcontractors include RSI EnTech, Strata-G, Longenecker and Associates, and Environmental Alternatives.
The timeline: The Oak Ridge Reservation Cleanup Contract will replace the ETTP cleanup contract held by URS/CH2M Oak Ridge that expires on January 31, 2022. The current contract, however, includes one additional six-month option period that, if exercised, could extend it through July 31, 2022.
In announcing the contract award on October 26, EM said it had received five proposals and determined that the UCOR proposal provided the best value to the government, considering the areas of key personnel, past performance, management approach, and cost and fee/profit to achieve measurable results toward the completion of the DOE-EM mission at the Oak Ridge Reservation.
The tasks: As the cleanup contractor, UCOR is to lead cleanup and remedial actions at ETTP; cleanup of excess facilities at ORNL and Y-12; design, construction, and operation of the new on-site disposal facility, the Environmental Management Disposal Facility; operational activities and surveillance and maintenance for multiple EM operational and nonoperational facilities; and core functions for central and project services.
According to EM, the goal of this end-state contract award is to achieve measurable results toward the completion of the DOE-EM mission at the Oak Ridge Reservation by accomplishing the maximum amount of environmental cleanup within the 10-year ordering period at the best value to taxpayers.
The terms: The Oak Ridge Reservation Cleanup Contract is a single-award, indefinite delivery/indefinite quantity contract with an estimated contract ceiling of approximately $8.3 billion over a 10-year ordering period and firm-fixed-price and/or cost-reimbursement type task orders issued to define the contract performance. According to EM, procurement of the contract was competed as a full-and-open competition.
The DOE said the contract exemplifies the department's commitment to continue supporting a highly skilled, diverse workforce that provides approximately 2,023 jobs that pay prevailing wages in safe and healthy workplaces. The contract ensures that workers have the right to organize, join a union, and bargain collectively with their employers. Union-represented workers currently make up approximately 46 percent of the total workforce.