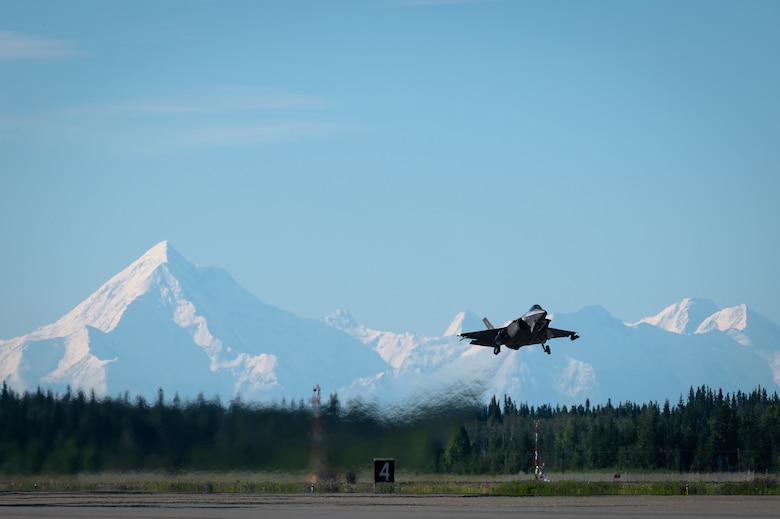 The Department of the Air Force has selected Eielson Air Force Base as the site of a stationary microreactor that "will provide the installation with a clean, reliable, and resilient nuclear energy supply technology for critical national security infrastructure," the department announced on October 15.
The microreactor pilot program was initiated in response to the National Defense Authorization Act for Fiscal Year 2019 requirement to identify potential locations to site, construct, and operate a microreactor by the end of 2027. The government is considering a power purchase agreement contract for a period of up to 30 years for a microreactor that would be commercially owned and operated and licensed by the Nuclear Regulatory Commission.
Eielson: Eielson Air Force Base is located on 63,195 acres in central Alaska, southeast of the city of Fairbanks. The base has more than 10,000 assigned personnel and boasts the second-longest runway in North America.
According to a set of FAQs released by the Air Force, Eielson was recommended to host the microreactor pilot by the Air Force Office of Energy Assurance in August 2018 "due to the existing infrastructure, suitable climate, and leadership commitment."
It's not Project Pele: As a request for information issued by the Defense Logistics Agency Energy on behalf of the Air Force in September 2020 explained, "The Department of Defense is interested in two different concepts, and, therefore, it is important to distinguish between two distinct microreactor technology applications: fixed-site and mobile. While the DOD Strategic Capabilities Office (SCO) is investigating the feasibility of mobile microreactors [through Project Pele] . . . the AF, through this RFI, is focused on the use of fixed-site applications of microreactors. The AF and the SCO will share insight gained from these initiatives, but these efforts will remain independent of each other, and there is no plan to combine efforts. The AF's energy vision is to enhance mission assurance through energy assurance."
Both projects propose a 1–5-MWe microreactor. The microreactor developed to Project Pele specifications will be deployed and tested at Idaho National Laboratory. Neither project has a chosen reactor design, but Project Pele has reduced its consideration of three candidate reactor developers to two, BWXT Advanced Technologies and X-energy, which are both offering high-temperature gas-cooled reactor designs using high-assay low-enriched uranium (HALEU) TRISO fuel.
A request for proposals for the Air Force microreactor is being prepared for release in February 2022, and vendor selection is schedule for late 2022.
He said it: "Energy is a critical asset to ensure mission continuity at our installations," said Mark Correll, deputy assistant secretary of the Air Force for environment, safety, and infrastructure. "Microreactors are a promising technology for ensuring energy resilience and reliability and are particularly well-suited for powering and heating remote domestic military bases like Eielson AFB.
"This technology has the potential to provide true energy assurance, and the existing energy infrastructure and compatible climate at Eielson make for the perfect location to validate its feasibility," Correll added.
The Air Force Office of the Deputy Assistant Secretary for Environment, Safety, and Infrastructure is working with the Air Force Office of Energy Assurance, the Office of the Deputy Assistant Secretary of Defense for Environment and Energy Resilience, the Department of Energy, and the Nuclear Regulatory Commission to facilitate the microreactor pilot.