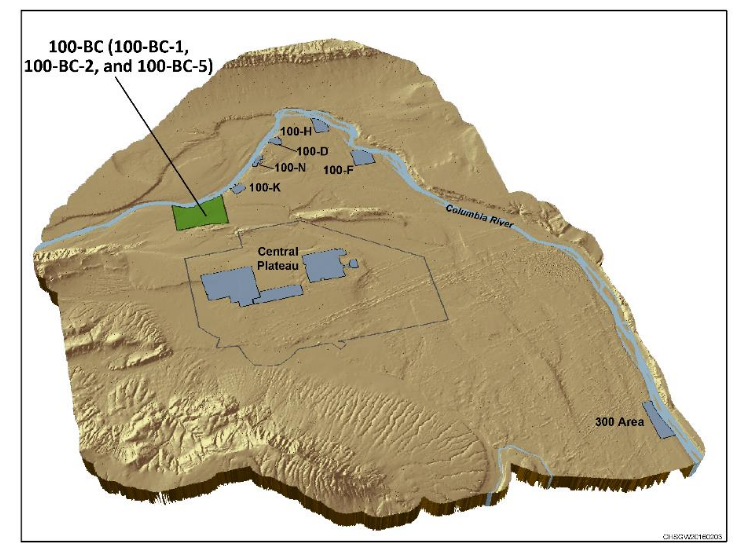 Soil and groundwater contamination at the Hanford Site's 100-BC Area will be treated under a record of decision (ROD) signed by the Department of Energy and the Environmental Protection Agency, with the concurrence of the Washington State Department of Ecology.
While previous remediation work has been performed in the 100-BC Area, which covers 4.5 square miles in the northwest portion of the Hanford Site, near Richland, Wash., the DOE has identified places where more work is needed to protect human health and the environment from potential exposure to contamination.
According to the DOE, the ROD will provide for further soil excavation and treatment from one waste site, monitored natural attenuation for contaminated groundwater, and institutional controls for soil and groundwater. The additional remediation work in the 100-BC Area will begin as soon as a remedial action work plan is established and approved by the EPA, the DOE said.
Background: Hanford's 100-BC Area is home to two deactivated nuclear reactors that produced plutonium from 1944 to 1969: the B Reactor, which has been preserved as part of the Manhattan Project National Historical Park, and the C Reactor, which has been placed in interim safe storage. The reactors and associated processing facilities generated large quantities of liquid and solid waste that contained radionuclides and chemicals. This waste contaminated the soil and groundwater beneath portions of the 100-BC Area.
Previous work: According to the DOE, significant cleanup progress has been made in the 100-BC Area pursuant to three interim RODs issued by the EPA and the DOE between 1995 and 2000. Since 1996, 104 facilities used to support B and C Reactor operations were demolished and removed, and approximately 3 million tons of soil and debris were removed, treated (as necessary), and disposed of in the Environmental Restoration Disposal Facility, Hanford's engineered landfill for low-level radioactive waste.
In 2019, the DOE held a public comment period on the proposed plan for the current ROD. The department said that it received input from tribal nations, government agencies, advocacy groups, and members of the public.