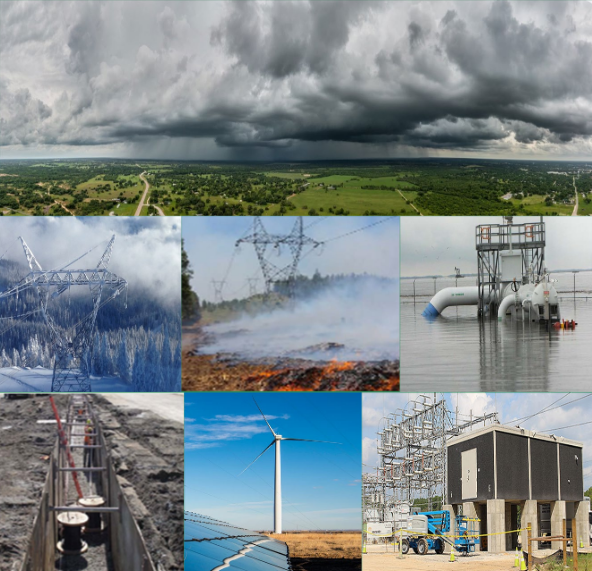 The Department of Energy has released its 2021 Climate Adaptation and Resilience Plan, outlining steps that it will take to ensure its facilities and operations adapt to and are increasingly resilient to the impacts of a changing climate. As announced by the White House last week , the DOE was one of more than 20 federal agencies to release climate change plans, which were developed in response to President Biden's executive order on tackling the climate crisis, issued in January.
In support of that order, the DOE said it is adopting ambitious goals to develop science-based approaches to ensuring that its enterprise is prepared for the impending effects of climate change. The department has 50 major sites spanning 2.4 million acres, making it the fourth-largest federal land manager.
The risks: According to the White House, the DOE and other federal agencies face a multitude of risks caused by climate change, including rising costs to maintain and repair damaged infrastructure from more frequent and extreme weather events, challenges to program effectiveness and readiness, and health and safety risks to federal employees who work outdoors.
The DOE claims that climate change is already affecting the department's facilities and operations. According to the DOE, wildfires have caused millions of dollars of damages, power outages, and temporary shutdowns of sites at Los Alamos National Laboratory and Lawrence Berkeley National Laboratory. Extreme cold has damaged facilities at the National Nuclear Security Administration's Pantex plant in Texas. Sea level rise, storm surge, and intense hurricanes are putting the nation's Strategic Petroleum Reserve, located along the Gulf Coast, at increasing risk, the DOE added.
She said it: "Even as we are full speed ahead in our efforts to slow climate change, its devastating effects are undoubtedly impacting our strategic mission," said energy secretary Jennifer Granholm. "DOE's operations must adapt to this changing environment to mirror the bold agenda that President Biden has set for America. This first-of-its-kind plan shows our commitment to being a change maker and tackling this existential threat."
The actions: According to the DOE, the 2021 Climate Adaptation and Resilience Plan echoes the department's priorities to increase the use of pollution-free electricity, lead the transition to a zero-emission vehicle fleet, and expand clean energy options for all Americans.
To respond to changing climate hazards, the DOE said it is planning to take the following measures:
Advance deployment of emerging climate-resilient technologies: The DOE will continue its mission to develop and deploy cost-effective, climate-resilient, and carbon pollution–free energy technologies. It will also partner with stakeholders—local and state governments, universities, and community organizations—to ensure these technologies are made available nationwide, including for disadvantaged communities and populations.
Assess vulnerabilities and implement resilience solutions at DOE sites: By conducting site-level assessments and implementing resilience plans, the DOE will take a proactive approach to climate change adaptation and enhance the climate resilience of not just DOE facilities but of neighboring communities, as well.
Enhance climate adaptation and mitigation co-benefits at DOE sites: The DOE plans to pursue adaptation and resilience strategies that reduce vulnerabilities to climate change, while also meeting its research, environmental management, and nuclear security missions—including prioritizing use of clean electricity and energy efficiency and achieving net-zero emissions for on-site operations that can both reduce climate risks and result in mitigation co-benefits by reducing greenhouse gas emissions that drive climate change.
Institutionalize climate adaptation and resilience across DOE activities: The department will establish a unified climate action approach to programs and operations that allow for the sharing of tools, techniques, and success stories. This process includes creating formal standards and processes to ensure that climate adaptation and resilience policies are implemented in the same manner across the department.
Provide climate adaptation tools, technical support, and climate science information at DOE sites: To improve climate readiness, and building upon existing efforts, the department will increase access to adaptation tools, technical support, and climate science materials for DOE sites and their surrounding communities, federal agencies, and tribal and local governments.