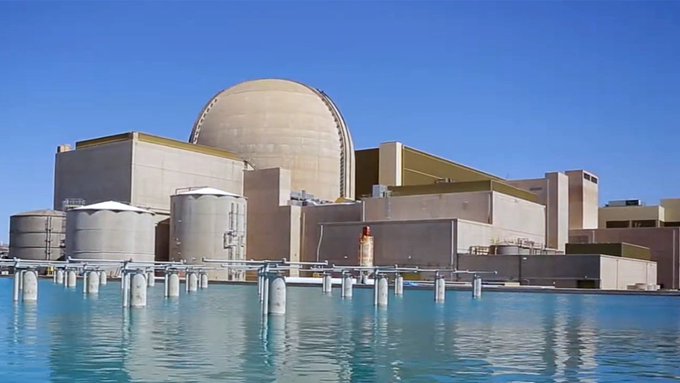 Arizona Public Service is the latest nuclear utility with confirmed plans to install hydrogen production capacity, an investment decision that is based on analysis conducted under the Department of Energy's H2@Scale program and backed by a $20 million DOE award.
APS will be able to draw on six metric tons of stored hydrogen produced at its three-unit Palo Verde plant to generate about 200 MWh of electricity during times of high grid demand and low solar availability, possibly by sending that hydrogen to peaking gas turbines, and may also use its stored hydrogen to make chemicals and other fuels, according to the DOE. With over 10 million metric tons of hydrogen produced and consumed in the United States each year, this is a demonstration-scale project, but one that could be go a long way to proving the technical and economic feasibility of using nuclear power for alternative revenue generation.
At Palo Verde: The project, led by PNW Hydrogen, will receive $12 million from the DOE's Hydrogen and Fuel Cell Technologies Office (HFTO) and $8 million from the Office of Nuclear Energy (DOE-NE), for a total award of $20 million, according to the DOE's October 7 announcement. The award was made during what the DOE has billed as Hydrogen and Fuel Cell Week in recognition of Hydrogen Day, which has been observed on October 8 since 2015.
The Palo Verde project was developed with input from researchers at Idaho National Laboratory working in the Light Water Reactor Sustainability Program and the Integrated Energy Systems Program and draws on work by APS's H2@Scale utility partners, Energy Harbor and Xcel Energy. DOE-supported research into nuclear-produced hydrogen includes other stakeholders and is intended to address both technical and economic barriers.
How many pilots does it take? There is not just one way to make or to use hydrogen, and the four pilot projects planned for operating nuclear power plants each intend to produce and use their hydrogen in different ways. Three other utilities have DOE cost-share funding for pilot projects: demonstrating low-temperature electrolysis at Energy Harbor's Davis-Besse nuclear power plant in Ohio, high-temperature steam electrolysis at Xcel Energy's Prairie Island nuclear plant in Minnesota, and low-temperature proton exchange membrane (PEM) electrolysis at Exelon's Nine Mile Point nuclear plant in New York. These pilot-scale systems will produce small quantities of hydrogen that may be used for plant operations, local public transportation, and local industrial customers, in the case of Davis-Besse; for plant operations, potential industrial customers, and flexible operations during times of peak wind generation at Prairie Island; and for plant operational needs and potential industrial applications, including transportation, at Nine Mile Point.
Hydrogen Shot: All four projects will address electrical, thermal, and controls integration with the nuclear power plants; provide data for analysis; pave the way for licensing of hydrogen production at nuclear power plants; and allow the plants to test the feasibility of alternative product streams. The projects also advance the DOE's Hydrogen Shot—a goal announced on June 7 to lower the price of hydrogen from clean sources by 80 percent to $1 per kilogram within the decade.
"Developing and deploying clean hydrogen can be a crucial part of the path to achieving a net-zero carbon future and combatting climate change," said deputy energy secretary David Turk as the APS award was announced. "Using nuclear power to create hydrogen energy is an illustration of DOE's commitment to funding a full range of innovative pathways to create affordable, clean hydrogen, to meet DOE's Hydrogen Shot goal, and to advance our transition to a carbon-free future."
Specifics: PNW Hydrogen is a subsidiary of Pinnacle West, a utility holding company that owns APS and is based in Phoenix, Ariz. Pinnacle West's decision to submit a request for funding for the project follows work by APS's H2@Scale partners, Energy Harbor and Xcel Energy, and a technical and economic assessment specific to Palo Verde performed by Idaho National Laboratory during the first phase of H2@Scale.
As the primary recipient of the DOE award, PNW Hydrogen will collaborate with multiple stakeholders including INL, National Energy Technology Laboratory, National Renewable Energy Laboratory, OxEon, Electric Power Research Institute, Arizona State University, University of California Irvine, Siemens, Xcel Energy, Energy Harbor, and the LA Department of Water and Power.