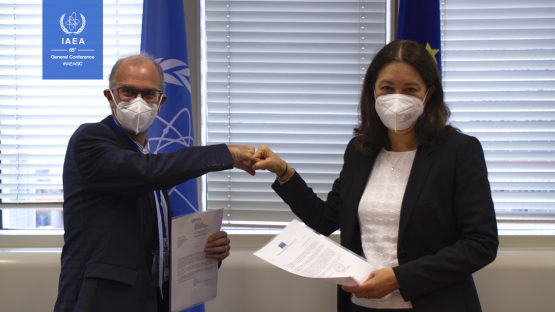 Some of the major achievements of the nuclear safety cooperation agreement between the International Atomic Energy Agency and the European Union (EU) include more than 100 nuclear safety review missions, environmental remediation at former uranium sites in Central Asia, and more effective radioactive waste management in Africa.
"Thanks to EU funding, the IAEA has responded to a high number of requests from countries looking for a tailored review of their national practices against the IAEA Safety Standards," said Lydie Evrard, IAEA deputy director general and head of the Department of Nuclear Safety and Security. "The follow-up actions implemented by the countries we visited have contributed to improving global nuclear safety."
Cooperation agreement: Meeting on the margins of the 65th IAEA General Conference, which took place last week, the two sides extended their 2013 cooperation agreement on the safe management of radioactive waste, regulatory arrangements, safety reviews and assessments, emergency preparedness and response, environmental remediation, and the development and application of IAEA Safety Standards.
"This joint decision today will help maintain the momentum we have built on our past joint achievements, and we look forward to working with the EU to continue addressing global nuclear safety challenges together," Evrard said.
Massimo Garribba, deputy director general of the European Commission's Energy Directorate-General, welcomed the added value of the new agreement and said he looked forward to a further deepening of cooperation in nuclear safety, including in the field of peer review missions.
Flagship services: Conducting peer reviews to assess countries' nuclear safety and security practices is one of the IAEA's flagship services. The IAEA noted that the EU has supported the development of peer review services such as the Integrated Regulatory Review Service (IRRS) and the Integrated Review Service for Radioactive Waste and Spent Fuel Management, Decommissioning and Remediation (ARTEMIS). In turn, these reviews have enabled the compliance of EU countries with their obligations under the EU Nuclear Safety and Waste Directives.
Since 2013, 116 IRRS missions and 12 ARTEMIS missions have been carried out to assess regulatory practices and radioactive waste and spent fuel management, according to the IAEA.
Building nuclear safety: The EU's support has also helped the IAEA deliver projects across the globe in all areas of nuclear safety.
In Central Asia, the IAEA has provided expert advice in environmental remediation to countries affected by uranium mining. These legacy sites, operational until the 1990s, present a potential threat to the health of the local population and the environment, according to the IAEA.
In Africa, the EU/IAEA cooperation enabled the implementation of projects to enhance the safety of research reactors and more effective radioactive waste management.
Countries in the Mediterranean that are not EU member states received support to strengthen their coastal emergency preparedness and response arrangements in case of radiological emergencies, as well as the full control of radioactive sources during and after their operations, under what is known as the "cradle to grave" approach