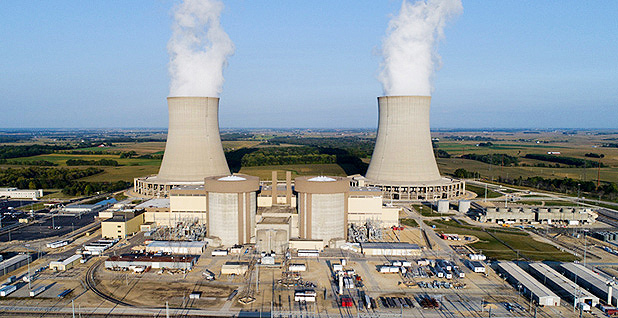 (This story has been updated from yesterday's post about the Illinois energy package.)
With only days remaining before the scheduled retirement of Exelon Generation's Byron nuclear plant, the Illinois House has approved a comprehensive energy package (S.B. 2408) that would save the plant, as well as the state's similarly struggling Braidwood and Dresden facilities.
A week after the Illinois Senate passed its version of the clean energy omnibus package, the House Democrats introduced an amendment to S.B. 2408 that would require municipally owned coal plants to achieve a 45 percent reduction in greenhouse gas emissions by 2035 and completely phase out coal by 2045. The negotiations surrounding the two downstate Illinois coal plants were a sticking point in the clean energy bill. Gov. J. B. Pritzker stated that the Senate bill did not do enough to limit carbon emissions from the coal plants and that he would not sign the bill as passed by the Senate.
The House bill maintains the $694 million in assistance to three of the state's nuclear plants: Braidwood, Byron, and Dresden. In addition, according to WBEZ Chicago, the plan mandates that 40 percent of the state's power is to come from wind and solar sources by 2030 and 50 percent by 2040. It also establishes a state goal of having 1 million new electric vehicles in use by 2030 and provides for rebates of $4,000 per vehicle purchaser.
Debate over the bill was contentious at times and included testimony from Alyssa Hayes, a graduate student at the University of Tennessee (and a native northern Illinoisan and University of Illinois graduate), who provided remarks on the impact that the premature shut down of the Zion nuclear station in Illinois had on the local community. She said that the lack of revenue provided by the nuclear plant caused families like her own to move to neighboring towns. "Even today," she said, "Zion-Benton High School still spends about $3,000 less per student than neighboring schools such as Grayslake North and Central." Hayes noted that the bill provides some financial support to the city of Zion and other communities hosting nuclear plants, should those plants close in the future. She concluded that if Illinois wants to be a leader in low-carbon energy production, Springfield must act to save Byron and Dresden and reward them for their zero-carbon generation.
Endorsements: The House clean energy bill has received many endorsements and seems to have checked all the boxes to move through the Senate and to the governor's desk.
From Governor Pritzker: "I would like to thank Speaker Welch [Chris Welch, D., 7th Dist.] and Leader Evans [Marcus Evans Jr., D., 33rd Dist.] for their collaborative leadership in reaching a compromise amendment that puts consumers and climate first, while protecting and creating jobs. I look forward to this amendment advancing in the House and Senate and making its way to my desk, where I will sign this historic agreement into law."
From union-backed Climate Jobs Illinois: "The bill will create thousands of new clean energy union jobs, expand union apprenticeships for Black and Latinx communities, increase energy efficiency for public schools, and safeguard thousands of union workers at the state's nuclear plants that currently generate the bulk of Illinois's zero-emissions energy. These key components were our top priorities in any clean energy legislation enacted, so we are pleased with the result."
From the environmentalist group Illinois Clean Jobs Coalition: "After more than three years of community collaboration, the Illinois Clean Jobs Coalition is proud to support this legislation that meaningfully addresses our climate emergency, takes bold action on creating equitable jobs all across the state, and enacts tough utility accountability measures, including the end of automatic formula rate hikes."
What's next? Senate president Don Harmon stated that the Illinois Senate would reconvene on Monday (September 13, the deadline given to Springfield by Exelon for when Byron would be permanently shut down) to take action on the energy package.