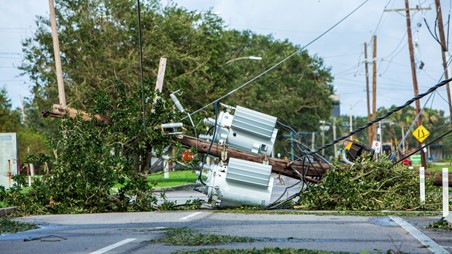 The Nuclear Regulatory Commission said it was monitoring events at three nuclear power reactors in Louisiana and Mississippi after Hurricane Ida made landfall on August 29. With winds of 150 miles per hour, the Category 4 storm left more than 1 million people without power in the two states. Ida has since weakened to a tropical storm.
The hurricane caused Entergy to shut down its Waterford plant and reduce power at its River Bend plant. The NRC was monitoring Grand Gulf, which remained at full power. The NRC said that no significant flooding has been reported at any of the sites.
Waterford: Per procedure, Entergy disconnected its 1152-MWe Waterford plant from the grid on the morning of Sunday, August 29, as storm winds escalated. After the hurricane caused the loss of off-site power, Entergy declared a notification of an unusual event, the NRC's lowest of four levels of nuclear emergency, at 6:12 p.m. (CDT). The single-unit Waterford plant is located about 25 miles west of New Orleans in Killona, La.
"The plant responded as designed, maintaining safe shutdown conditions with power from emergency diesel generators," the NRC said in a Facebook post on August 30. The plant was still off line as of August 31.
River Bend: On the evening of August 29, grid operators requested that the River Bend nuclear power plant reduce power because of load demands. The NRC said on August 30 that the 974-MWe boiling water reactor was stable and operating at 35 percent power with no significant equipment issues reported. River Bend is located in St. Francisville, La., about 30 miles north of Baton Rouge.
As of August 31, River Bend was operating at 40 percent power.
Grand Gulf: The Grand Gulf nuclear plant in Port Gibson, Miss., was operating at full power with no significant weather-related issues expected from Ida, the NRC said on August 30.