An innovative, rapidly deployable battery power supply system that enhances operator flexibility, improves stations' probabilistic risk assessment profile, and augments FLEX response.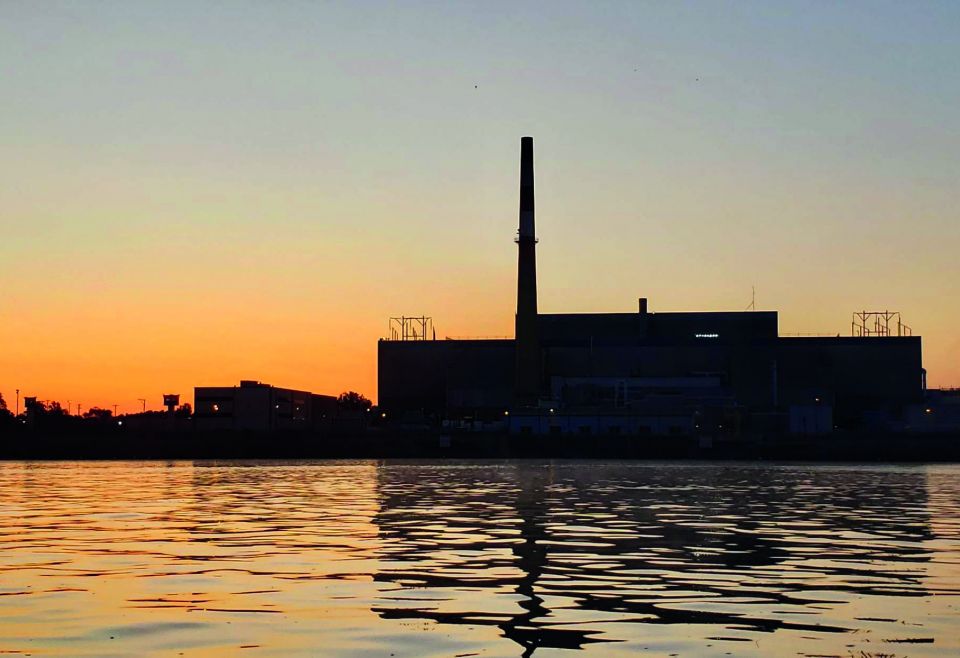 BlackStarTech® Innovation Group asked one simple question:
How do we further improve the response times of our FLEX strategies?
That question led to a second question:
Can we add defense in depth to U.S. FLEX response, enhance safety margins, and strategically provide critical power rapidly and reliably in under 30 minutes for up to 30 days?
The response and resultant innovative journey led to the development of a rapidly deployable and portable battery-powered energy delivery system transforming how the nuclear industry can provide critical DC and AC power to the most essential components and control systems. The BlackStarTech methodology utilizes compact and portable power supplies to further enhance essential equipment availability, as well as providing defense in depth to FLEX and B.5.b response. The portable battery power technology provides an alternative means of electrical power delivery solutions, expanding operator flexibility and optimizing station risk reduction strategies.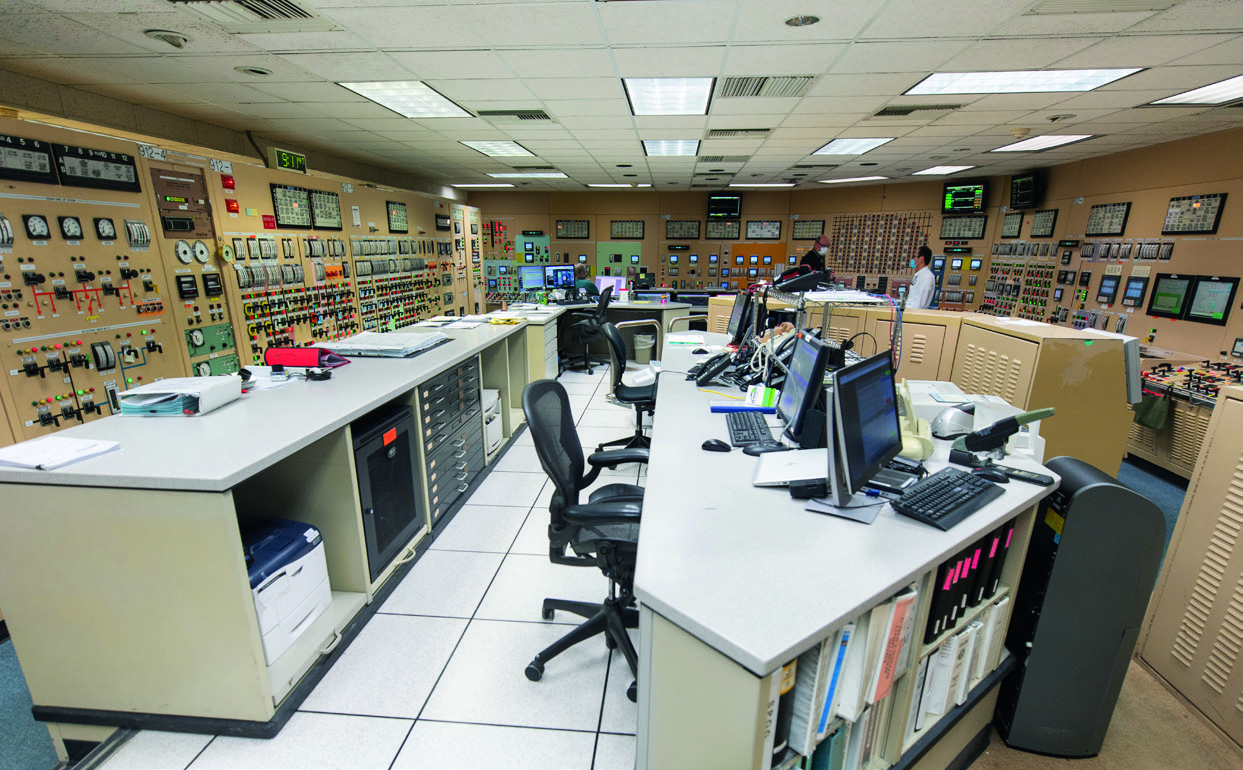 The technology utilizes state-of-the art lithium iron phosphate batteries and integrates specialized inverters and rectifiers to provide targeted instrumentation and control power, as well as a wide range of DC and AC direct-drive supply power (including 3-phase 480VAC). The specialized system can be used for critical control room indications, plant controls, and many essential emergency system components. The system rapidly deploys (within 30 minutes) and powers targeted loads until the integrated longterm backup propane generator supply is connected. By using the portable integrated propane generators, it is possible to keep the BlackStarTech system powered for at least 30 days.
Quad Cities Generating Station successfully piloted and fully deployed the BlackStarTech Basic system in 2019. Based on a successful outcome, Exelon Generation chose to implement BlackStarTech Basic across its entire nuclear fleet to augment FLEX implementation strategies and enhance response capabilities to various postulated extended loss of AC power (ELAP) situations caused by a beyond-designbasis event. Overall, the BlackStarTech Basic system delivers three specific mission-critical strategies:
Provide rapidly deployable power to key critical main control room indications, control systems, and critical subcomponents.
Support reactor vessel core cooling.
Augment reactor vessel pressure control.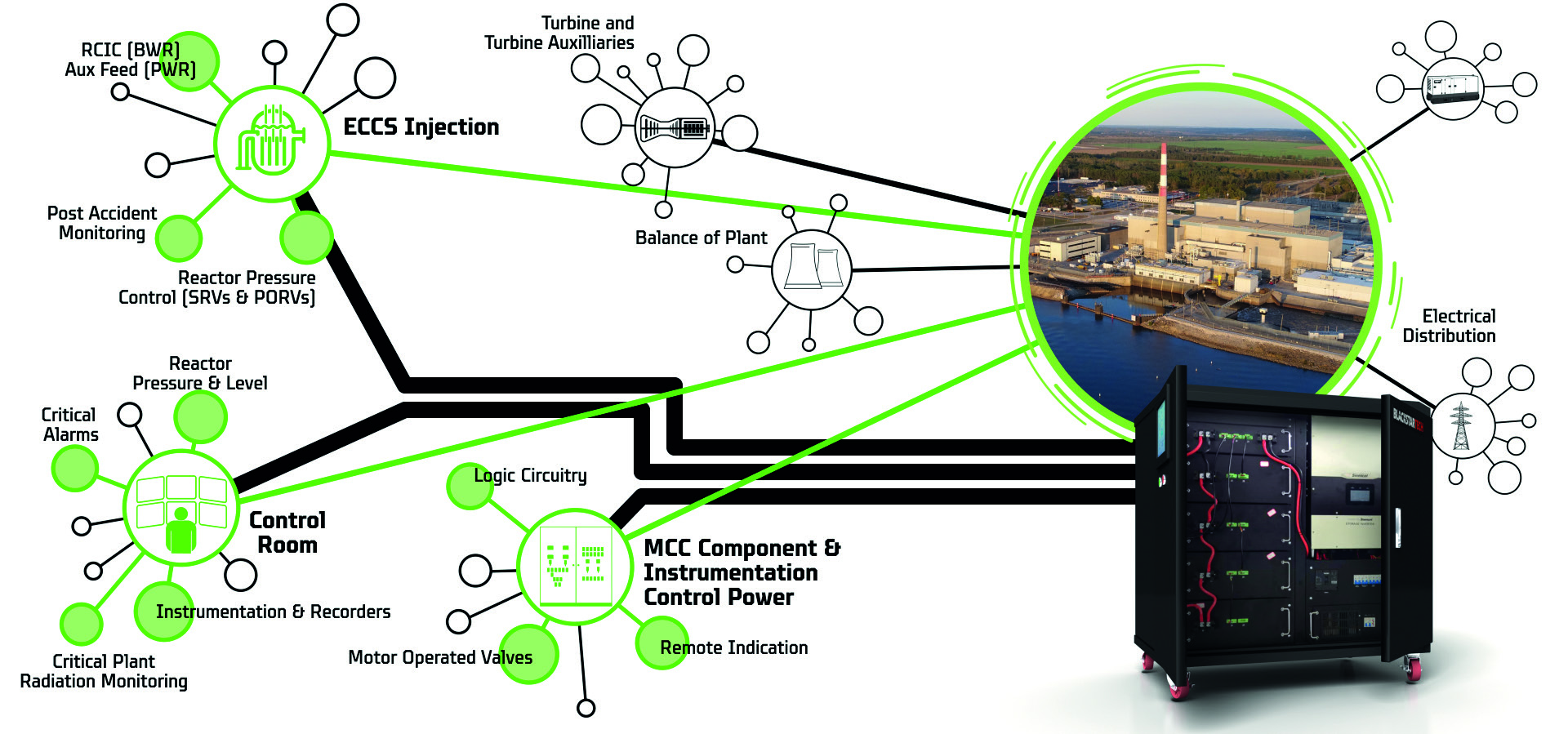 The Innovation Back Story
Dave Heilman, a Quad Cities Generating Station reactor operator, envisioned BlackStarTech as a far quicker means for operators to obtain the needed electrical power in a Fukushima-type loss of all power beyond-design-basis event. The underlining design mission remained to simplify operator response and provide additional flexibility to the many redundant capabilities and backup systems already at nuclear power stations while further diversifying critical power solutions for at least 30 days.
Inspired by his vision, Heilman initially created a handheld portable 125V DC power supply to energize critical equipment and instrumentation in the main control room. As a result of his inventions, senior Dave Heilman, BlackStarTech inventor leadership encouraged him to further develop and expand his innovative portable power methodology. Through a series of continued developments and refinement steps, Heilman came up with the preliminary concepts for the BlackStarTech Basic portable power response system to provide Quad Cities Station with solutions for an extended ELAP and other beyond design-basis loss of power events.
With the growing capabilities, Exelon Generation formed the BlackStarTech Innovation Group to further expand the design and drive the development and deployment of the new portable power technology. The BlackStarTech system evolved to expeditiously deploy battery power to critical equipment by "surgically" applying targeted power within 30 minutes right at the point where it is needed most. The approach augments the existing FLEX strategies that often require powering entire electrical distribution buses with large and somewhat cumbersome power sources that can typically take between six to 12 hours to fully deploy and require extensive fuel deliveries for longer-term response.
The BlackStarTech Basic system relies on establishing rapid connection points that power critical components right at the motor control centers or directly at the critical loads, simplifying response and eliminating extensive engineering evaluations or modifications. The portable power system, paired with a long-term diverse fuel supply system (utilizing propane generators), is specifically integrated with the portable battery energy delivery system. The combined battery generator system functions as an uninterruptable power supply (UPS) system, carrying the critical electrical loads while simultaneously recharging the core battery system. If the portable AC generator supply power is lost, the integrated system automatically switches to battery backup without dropping the critical electrical loads.
The propane fuel source provides a diverse fuel supply with an indefinite shelf life that is stored safely at the nuclear facilities to provide 30 days or more of extended operation for the most essential electrical loads. By diversifying the on-site fuel source, this provides an alternative to diesel fuel deliveries and adds emergency capability if there is ever a wide-ranging regional event or natural disaster. These smaller generators can be quickly deployed and will also run on gasoline if the need arises — further expanding resiliency and flexibility of response.
Quad Cities Pilot and Fleet Implementation Details:
Exelon Generation launched two BlackStarTech fleet projects in the 2nd quarter of 2019:
BlackStarTech Basic Fleet Implementation
Deploy BlackStarTech equipment to provide FLEX augmentation and minimize impacts of postulated beyond-design-basis loss of AC power.
Enhance Station PRA profile achieving upward of 10-25% reduction in overall risk margins from typical nuclear station industry averages.
BlackStarTech Risk Informed
Utilize BlackStarTech methodologies and strategies to achieve further industry PRA safety margins to aid in facility 50.69 classifications and provide additional safety factors for risk-informed completion times and actions.
Provide additional safety factor improvements to industry margins in postulated fire, full power internal events, and external event categories.
Quad Cities Generating Station piloted the BlackStarTech Basic system, deploying and staging the equipment throughout the plant to augment reactor operator response for beyond-design-basis ELAP events. As part of the implementation, station reactor and equipment operators received extensive hands-on instruction. The BlackStarTech Portable Power System was deployed in strategically predetermined locations with protective Electromagnet Pulse barrier storage covers. BlackStarTech Basic system consisted of seven pieces of response equipment, each being easily deployed by one station operator, and included the following:
1 | BlackStarTech Control Room Nano-Grid
5kWh cart with integrated 24V/48V/125V DC and 120V AC power supplies with rapid connection system to power critical control room components and displays for several instrumentation loops including reactor power, reactor or steam generator level, coolant temperature, and reactor or steam generator pressure.
2 | BlackStarTech 125VDC/250VDC Power Cart
18kWh – 25kWh DC control power carts to rapidly provide critical DC loads such as RCIC or isolation condenser system DC valves.
3 | BlackStarTech 3-Phase 480VAC Power Cart
20kWh – 30 kWh 3-Phase 480V AC power cart to rapidly provide power to critical AC valve loads.
4 | BlackStarTech Rapid Deployment Kit
Battery/inverter system with patented rapid electrical connector system to remotely connect temporary 125VDC or 120VAC power to affected critical components and instrumentation.
5 | BlackStarTech Integrated Generator Systems
3.5kW – 9.5kW integrated dual fuel propane/gasoline generator systems for long term auto transfer UPS operations and battery charging capabilities.
6 | BlackStarTech 3-Phase 480V MOV Power Case
Portable Integrated MOV power pack with both drive and control power functions to remotely operate critical MOVs and components.
7 | BlackStarTech 125VDC Portapower Power Case
Portable 125VDC and 120VAC power to remotely operate critical 125VDC or 120VAC components, such as reactor safety relief valve solenoids for reactor pressure control.
Utilization of the BlackStarTech technologies also augmented station FLEX response by providing rapidly deployable portable power systems to respond to a series of extreme postulated loss of power events. During the initial pilot, Pat Boyle, former plant manager at Quad Cities Station, stated: "The BlackStarTech solution revolutionizes the approach to provide critical power by supplying an additional completely separate rapid power source during a FLEX event that adds a new safety layer of protection for nuclear plant assets." The BlackStarTech system rapidly targets main control room critical instrumentation and controls, emergency core cooling assets, and pressure control to further minimize the effects of any extreme postulated event. Boyle, now plant manager at Dresden, also supported site BlackStarTech Basic deployment activities in 2020. To date, Exelon has completed four BlackStarTech site deployments, with the remaining fleet to fully implement by the end of 2022.
Realizing Improved Safety Enhancement Contributes to Significant PRA Benefits
Due to the rapid nature that the BlackStarTech Power system deploys, it also provides vital power solutions to critical loads often much faster than current industry FLEX strategies. The rapid response (typically <30 minutes) provides quantifiable improvements in nuclear stations' risk profiles, which adds additional safety margins above industry standards for our facilities. These safety enhancements translate to direct improvements in the Significance Determination Process response providing enhanced benefits to both postulated internal and external event risk profiles. Additionally, these enhancements provide supplementary capabilities with risk-informed improvement processes across many, if not most, nuclear stations, realizing significant quantifiable improvements of anywhere between 10% and 25% in baseline risk improvements. In fact, additional applications of riskinformed improvement processes identified new strategies with BlackStarTech to potentially improve significantly specific internal and external event risk profiles.
The BlackStarTech technology provides capability for improved regulatory margin and potential advances in:
50.69 categorization and component classification.
Risk-informed completion time program backstops.
Broad FLEX and B.5.b augmentation.
Improvements in the Significance Determination Process response that can reduce the significance of regulatory findings and mitigate liability in SDP enforcement cases.
Based on the initial results with Quad Cities, Exelon continues assessing new strategic options to utilize BlackStarTech to obtain new potential benefits in "risk-informed" classifications and PRA margin for Peach Bottom, Nine Mile Point-1, and FitzPatrick throughout 2021 and 2022.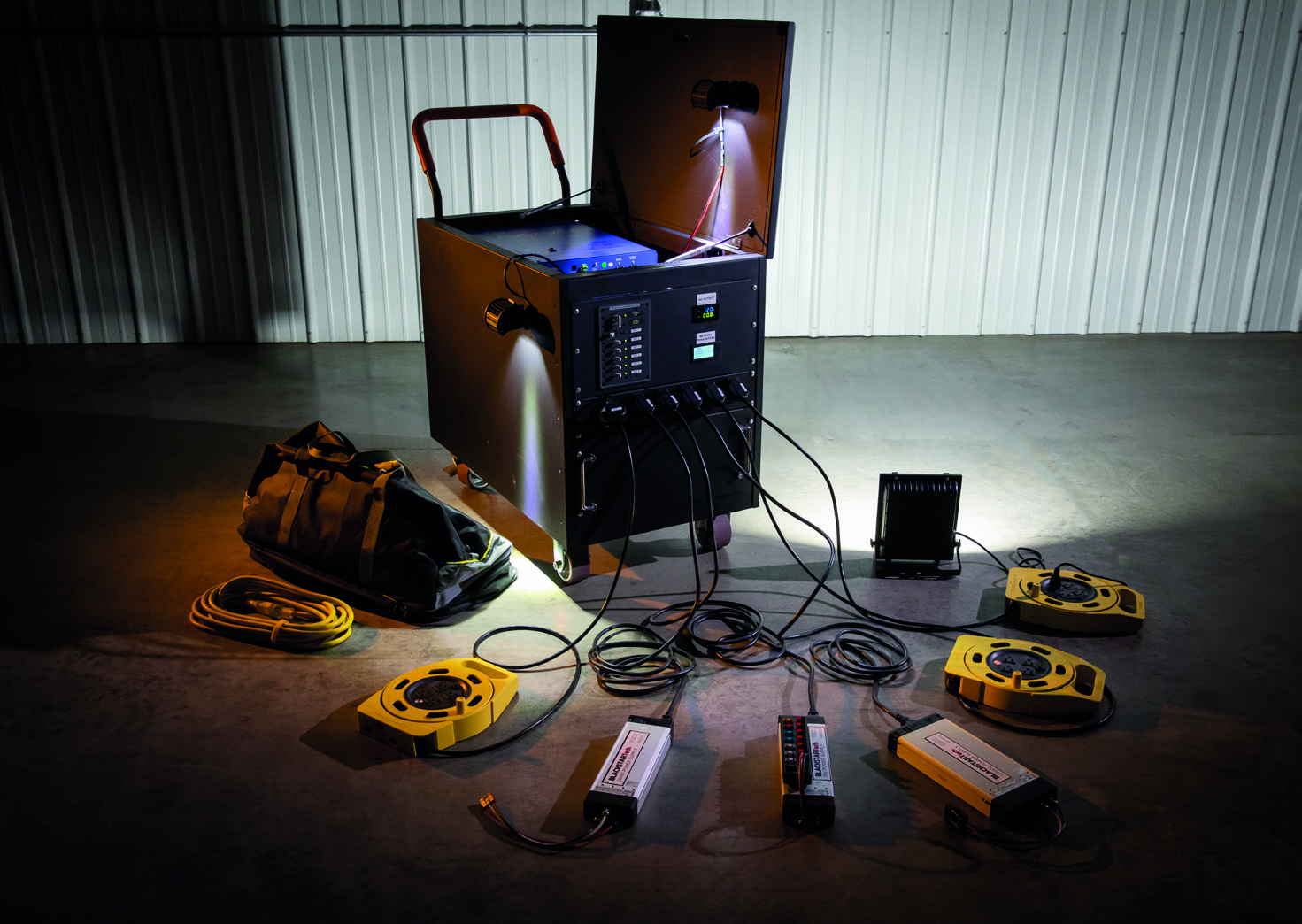 Nano-Grid Cart
Control Room Nano-Grid 5kWh Cart with integrated 24V/48V/125V DC and 120V AC Power Supplies and rapid connection system to power critical control room components and displays for several instrumentation loops including reactor power, reactor or steam generator level, coolant temperature, and reactor or steam generator pressure.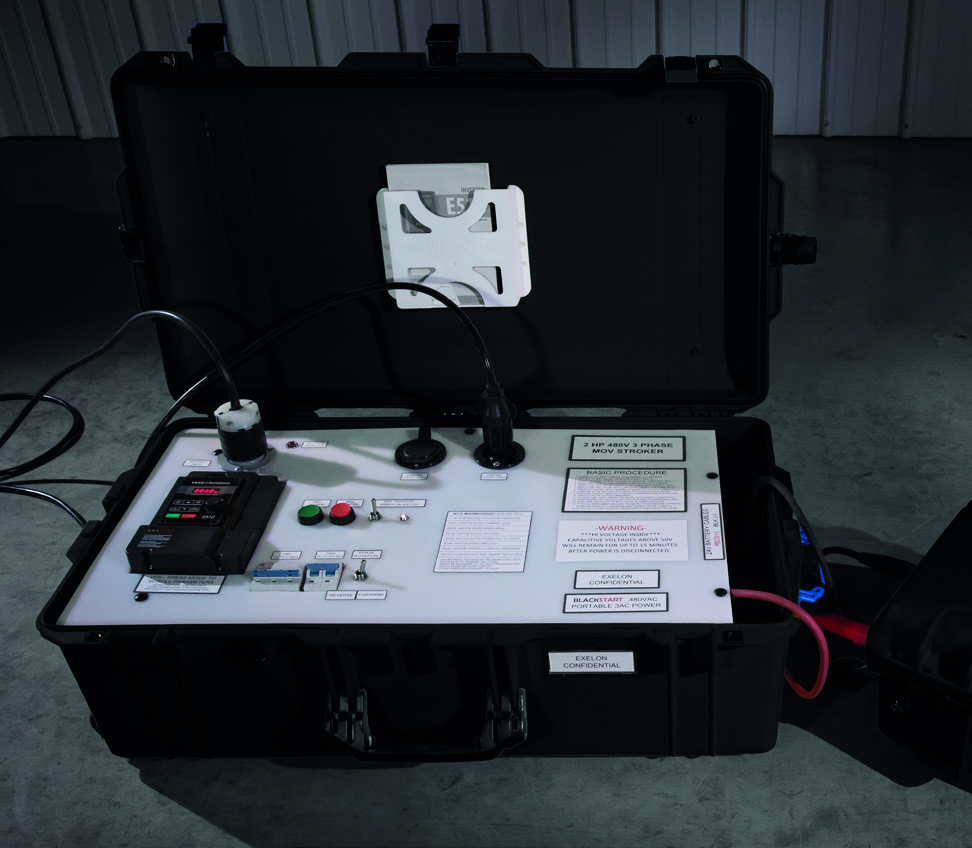 3-Phase 480V MOV Portable Power Pack
Integrated MOV power pack with both drive and control power functions to remotely operate critical MOVs and components.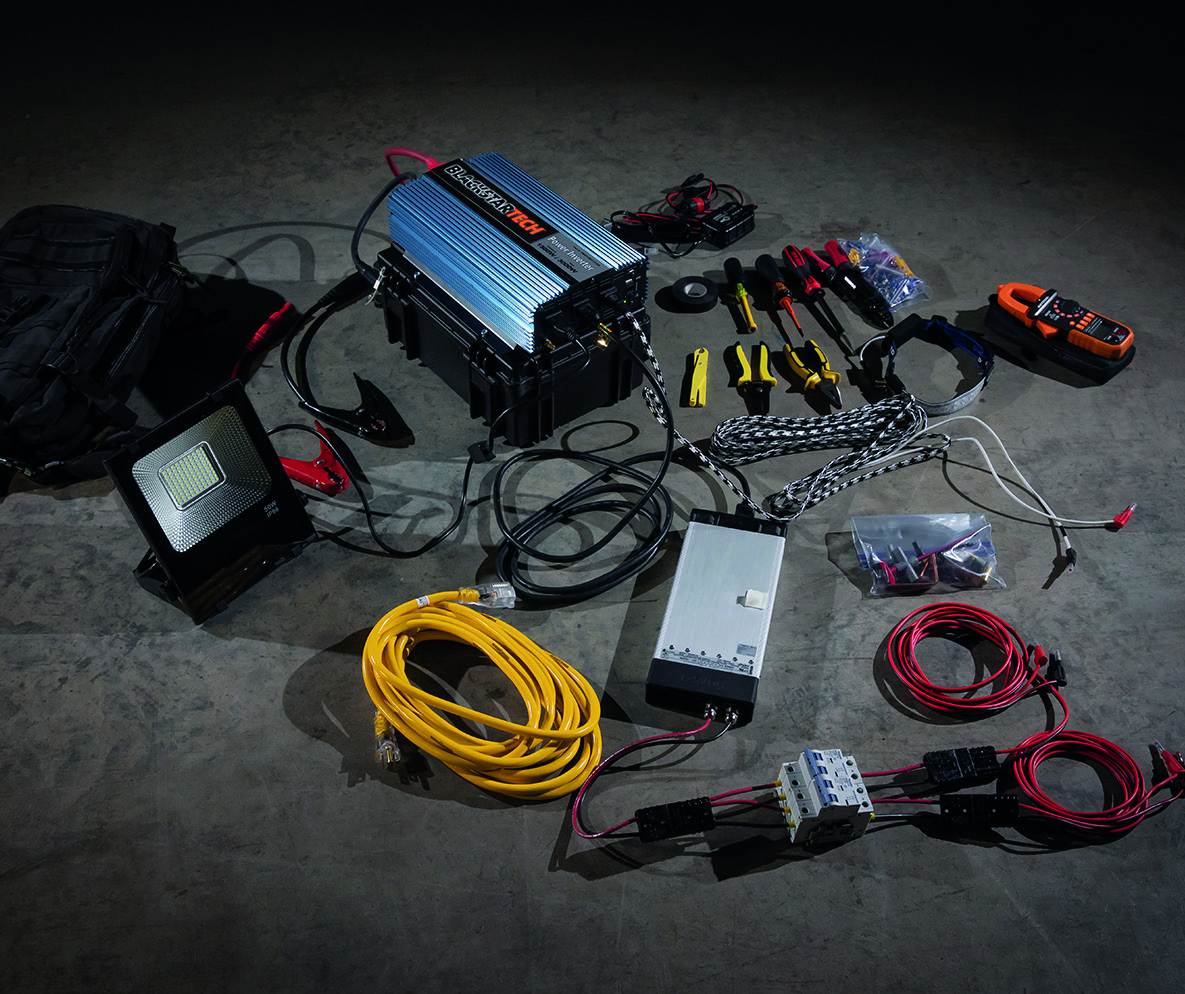 Rapid Deployment Kit
Battery/Inverter system with patented rapid electrical connector system to remotely connect temporary 125VDC or 120VAC power to affected critical components and instrumentation.
Table 1: Quad Cities PRA Profile Benefits from BlackStarTech

Integration Scenarios/Components of Opportunity

Estimated Improvement in Baseline Risk

RCIC BlackStarTech

At least a 10%
BlackStarTech DC Instrumentation Support

Up to 5%

Improved Hardened Containment System Response

20% –25%
The Innovation Impact
Implementation of BlackStarTech technology clearly provides augmented capability to Exelon Generation's FLEX strategies by providing rapidly deployable targeted power systems to respond to a series of nuclear design and beyonddesign- basis events. The integrated systems revolutionize the approach to extended loss of power events by providing rapidly deployable portable batterypowered in an unlikely Fukushima type event that requires extended power back up for essential systems and components. For many scenarios, BlackStarTech provides solutions faster than FLEX, and the rapid capability provides operators enhanced flexibility and significant benefits in station PRA.
Due to the rapid deployment time frame and defense in depth the BlackStarTech system provides, quantifiable improvements in station baseline risk profiles and margins can be achieved at nuclear facilities. Furthermore, by reducing facility risk profiles the BlackStarTech solution yields improvements in the Significance Determination Process, providing additional margins, which in turn can minimize the potential significance of findings.
BlackStarTech battery power technology also inspired the development of a number of battery power supply tooling and lighting innovations that provide industry leading enhancements to industrial and radiological safety as well as productivity methodologies across Exelon Generation's facilities that provide substantial and schedule savings in both online and outage activities.
The BlackStarTech system and specialty equipment is applicable across many industries outside of nuclear and can be used anywhere that rapidly deployable temporary or backup battery power is required.