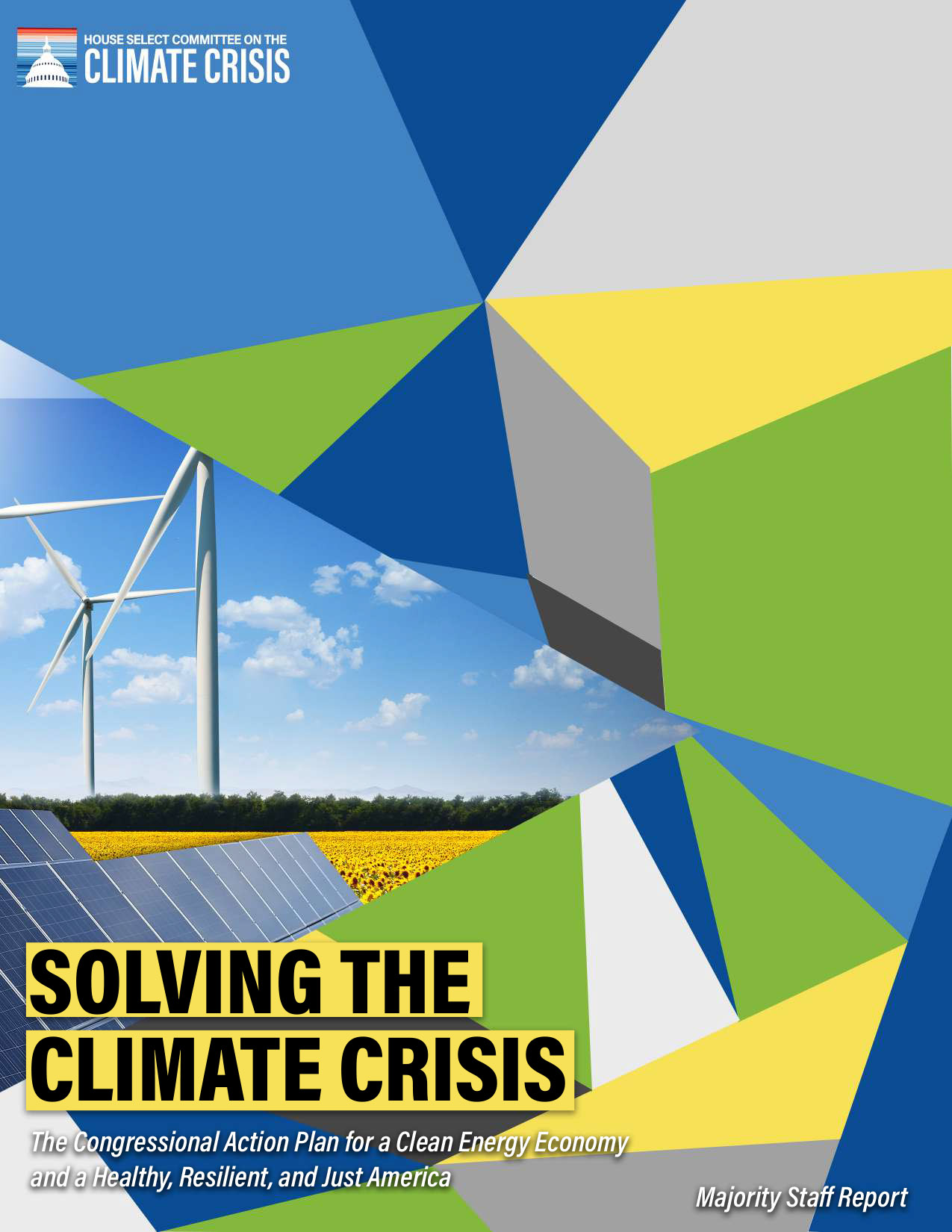 House Democrats on June 30 rolled out a vision of what U.S. climate change policy might look like in the event the Democratic party holds its current House majority, retakes the Senate, and wins the White House in November. The vision was presented in the form of a sweeping 547-page majority staff report entitled Solving the Climate Crisis: The Congressional Action Plan for a Clean Energy Economy and a Healthy, Resilient, and Just America.
The wide-ranging report, unveiled by Speaker Nancy Pelosi (D., Calif.) and House Select Committee on the Climate Crisis Chairwoman Kathy Castor (D., Fla.) at a press conference on the Capitol steps, includes a role for nuclear energy. "Where we landed is, if we're going to get to our net-zero goal as soon as possible, then nuclear needs to remain part of the equation," Castor said.
What it says: While offering a caveat regarding "radioactive waste that lasts for thousands of years" and the lack of a permanent disposal solution for it, the report notes that nuclear is a zero-carbon source of electricity that made up about 20 percent of the nation's electricity generation in 2019 and over half of all zero-carbon electricity.
"The majority staff for the Select Committee recommends that Congress establish a federal clean energy standard that would allow electricity generated from existing nuclear power plants to qualify for credits," the report states. In addition, the report "offers recommendations to ensure the safety and continued operation of the existing nuclear fleet and invest in the next generation of nuclear energy technologies."
The report's recommendations for nuclear:
Congress should direct the Nuclear Regulatory Commission to increase inspections at aging plants and maintain a strong Reactor Oversight Process.
Congress should direct the NRC to use its existing authority under the National Environmental Policy Act to conduct a rigorous climate assessment of any nuclear reactors seeking license renewals, including a thorough review of vulnerabilities to potential climate impacts.
Congress should strengthen the Department of Energy's sustainability program for existing light-water reactors to improve their reliability and safety.
Congress should direct the DOE to provide support for first-of-a-kind or early deployment nuclear power technologies, such as small modular reactors, through R&D, federal financing, loan guarantees, other types of federal credit, or a pilot program for a long-term power purchase agreement for federal agencies, provided the technology meets high standards of safety, including cybersecurity, and minimizes proliferation risks.
Congress should direct the NRC to maintain stringent safety and emergency planning requirements for SMRs and other emerging nuclear technologies
Congress should continue to pursue a legislative solution to America's nuclear waste problem, which should include consent-based siting for any permanent repository for nuclear waste.
Consistent with the Spent Fuel Prioritization Act, Congress should direct the DOE to prioritize accepting high-level radioactive waste or spent nuclear fuel from decommissioned civilian nuclear power reactors that are located in high population areas and high earthquake hazard areas.
Congress should provide incentives for utilities to expedite the transfer of spent fuel at existing reactors into hardened, shipment-ready onsite dry casks. Congress should direct the NRC to maintain a robust inspection program for spent fuel at existing reactors.
Congress should establish a task force comprised of federal, state, local, and tribal officials to study the implications of amending the Atomic Energy Act to remove exemptions from environmental laws for spent fuel and high-level waste, while maintaining federal minimum standards. The task force should develop a report for Congress with its findings.
Congress should direct the NRC to reopen the rulemaking into "Mitigation of Beyond-Design-Basis Events" and require nuclear power plants to take action to address known seismic and flood risks. The rule should fulfill the requirements of current floodplain management standards (Executive Order 11988).
Congress should direct the NRC to perform a fleet-wide assessment of extreme weather and climate vulnerabilities of U.S. nuclear plants and spent fuel based on projected climate impacts.
Industry reaction: "When you consider that nuclear energy is America's largest carbon-free electricity source, it is encouraging the House committee proposes a technology-neutral approach to decarbonization that recognizes nuclear energy's important role in addressing our climate challenges," said John Kotek, vice president of policy development and public affairs at the Nuclear Energy Institute. "We are encouraged the plan includes support to keep our existing nuclear plants churning out reliable carbon-free power for American homes and businesses and promotes development and demonstration of advanced reactors that can decarbonize sectors beyond power generation. The recognition of nuclear in the report demonstrates the consensus that nuclear energy is viewed as an essential partner to wind, solar, and storage to achieve an affordable, reliable, decarbonized energy sector."