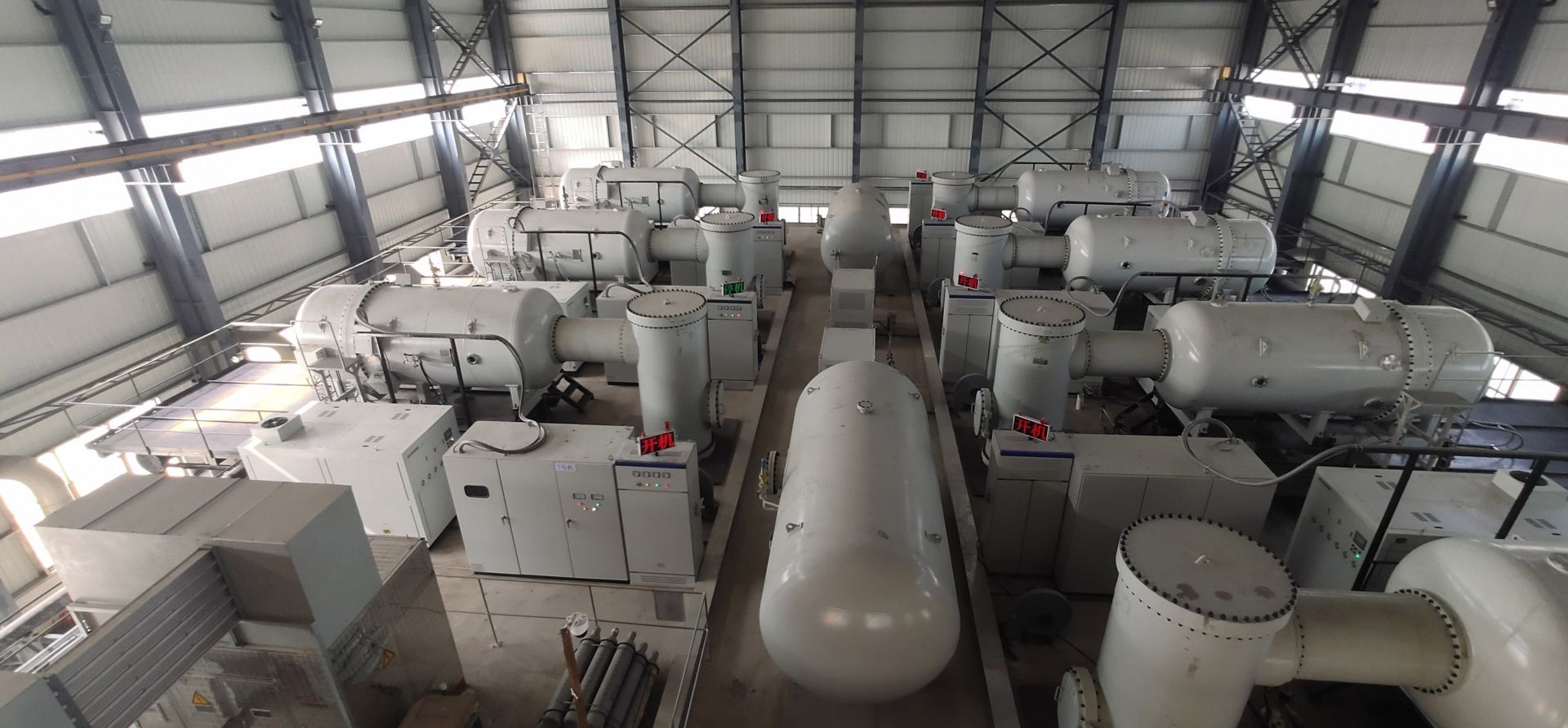 With the capacity to treat 30,000 cubic meters of wastewater per day, the largest industrial wastewater treatment facility using electron beam technology in the world was inaugurated in China in June 2020. The treatment process has the capacity to save 4.5 million m3 of fresh water annually—equivalent to the amount of water consumed by about 100,000 people.
Operating at the world's largest producer of knitted fabric and dyed yarn, the Guanhua Knitting Factory in southern China, the treatment plant uses electron beam technology to treat water polluted with industrial dye residues, whose molecules are too unwieldy to be broken down using bacteria or chemicals. These long and complex molecules are decomposed by a stream of high-­energy electrons generated by accelerators, resulting in water that can be reused.
The textile industry consumes huge amounts of water and chemicals, such as dyes, starches, acids, salts, and detergents, which are discharged during the production process. "Normally, such wastewater would be treated with chemical processes, which generate secondary waste," said BumSoo Han, a radiation chemist at the International Atomic Energy Agency. "Electron beam treatment is an eco-­friendly and cost-­effective method of wastewater treatment, as it saves the treatment time and cost for chemical solutions, and no secondary waste is generated."
The textile industry in China, the world's largest producer, has used chemicals to treat wastewater. But with strengthened policies on environmental protection, the industry is turning to nuclear technology and electron beams, which offer a highly efficient wastewater treatment method.
Seeds of development
It all started as an IAEA project in 2012, through which Chinese scientists developed a program to treat wastewater with electron beams. The IAEA's support included fellowships at existing laboratory facilities using electron beam technology in other countries, a training course, and advice from visiting experts, who provided guidance on project development.
In 2017, a pilot facility in Jinhua City, 300 kilometers southwest of Shanghai, was built with the capacity to treat 1,500 m3 of wastewater per day from a nearby textile factory. Two years after the launch of this demonstration project, construction of a commercial treatment plant at the Guanhua Knitting Factory began. Constructed by CGN Nuclear Technology Development Company (CGNNT), a subsidiary of China General Nuclear Power Corporation, the new wastewater plant treats more than 30,000 m3 of wastewater per day through the operation of seven electron accelerators.
"Over 70 percent of the wastewater that runs through this operation can be reused in the factory, up from the previous reuse rate of 50 percent," said Dongming Hu, general manager at CGNNT. "This means less water directly from the nearby river is needed for the operation of the factory, saving 4.5 million m3 of water every year."
Given the growing emphasis on ecological practices, innovative solutions are key for environmental protection, while simultaneously supporting industrial development. "This project is a notable example of how a small amount of seed support from the IAEA contributes to stimulating the emergence of sustainable industrial practices in a country," said Gashaw Wolde, who manages the IAEA's technical cooperation projects in China. "The result is cleaner, more efficient industrial processes that clearly have a socioeconomic impact at national scale."
The success of this project has been widely shared with other industries in China to implement the technology to treat increasing amounts of wastewater due to industrial and agricultural development and population growth. "We have a high amount of wastewater discharged in China, and it is difficult to treat it with conventional technologies," said Shijun He, a professor at the Institute of Nuclear and New Energy Technology at Tsinghua University. "But with electron beams, we can greatly improve the discharge water recycling rate." Other demonstration projects are underway in Xinjiang, Hubei, and Guangxi Provinces. "We are working on implementing electron beam technology in a variety of industries, such as the pharmaceutical industry, in China," He added.
How it works
Because of the various types of wastewater generated by different industries, there is no universal treatment process. Conventional water treatment technologies include filtration and chemical and biological treatments. Nuclear--derived techniques, based on advanced oxidation---reduction processes such as electron beam and gamma radiation involving free radicals, have emerged as promising solutions to combat micropollutants.
The main goal of radiation processing—the use of ionizing radiation to modify or synthesize materials—is to convert nonbiodegradable pollutants into simpler molecules that are more susceptible to biodegradation. "Radiation techniques using electron beam technology can decompose the large amounts of contaminants in the wastewater and remove these complex pollutants," the IAEA's Han said.
In radiation processing, an accelerator generates an electron beam that ionizes water molecules. The absorbed energy disturbs the electron system of the water molecules and results in the breakage of interatomic bonds. Highly reactive products from the radiolysis of water molecules react with the harmful organic contaminants. An advantage of the electron beam technology is that the reactive components are generated in situ, during the radiolysis process, without the addition of any chemicals.
Hydrogen peroxide and the hydroxyl and hydroperoxyl radicals are oxidizing species, while hydrogen atoms and hydrated electrons are chemical reducing in nature. "The simultaneous existence of strong oxidants and strong reductants within wastewater under treatment is both remarkable and one of the important characteristics of radiation processing," Han said. "The hydroxyl radical, by virtue of the high radiation–chemical yield of the formation, as well as its high oxidation potential, is the most predominant species. The oxidation power of the hydroxyl radical is much higher than that of conventional industrial oxidants, such as chlorine, hypochlorous acid, or potassium dichromate."
The degradation of pollutants occurs in less than a second, a faster rate than conventional processes, which can take days. "These products' reactions with impurities in water typically require less than 1 microsecond to break down or convert contaminants," Han explained. The contaminants then degrade and become simpler chemical forms, making the wastewater easier to treat through traditional methods.
The past and future of wastewater treatment
The first studies on the radiation treatment of wastes, principally for disinfection, were carried out in the 1950s. In the 1960s, these studies were extended to the purification of water and wastewater. By the 1990s, several pilot plants, including mobile electron beam facilities, were deployed for studies, and since then, the IAEA has coordinated a range of research projects related to irradiation treatment of contaminated waters and sludges and the remediation of polluted waters and wastewater by radiation processing.
Wastewater treatment using radiation has not yet found wide application, as it tends to be costlier than using chemicals. However, pilot plants and industrial--scale studies, from the Americas to Europe and Asia, have shown that radiation processing could have a bigger impact in the future as stricter environmental rules curb the use of chemicals.
With the support of the IAEA, in 2005, South Korea established the first industrial plant for the treatment of textile dye wastewater using an electron beam, with the capacity to treat 10,000 m3 of wastewater per day. In a recent project in Brazil, the Nuclear Energy Research Institute of the National Nuclear Energy Commission, in cooperation with the IAEA, constructed a mobile electron beam unit to enhance national capacity to treat industrial effluents from chemical, pharmaceutical, and petroleum production for reuse. The mobile unit treats up to 1,000 m3 of effluents per day on--site, providing an effective way to demonstrate the efficacy of the electron beam technology.
A cutaway illustration of Brazil's mobile electron beam unit.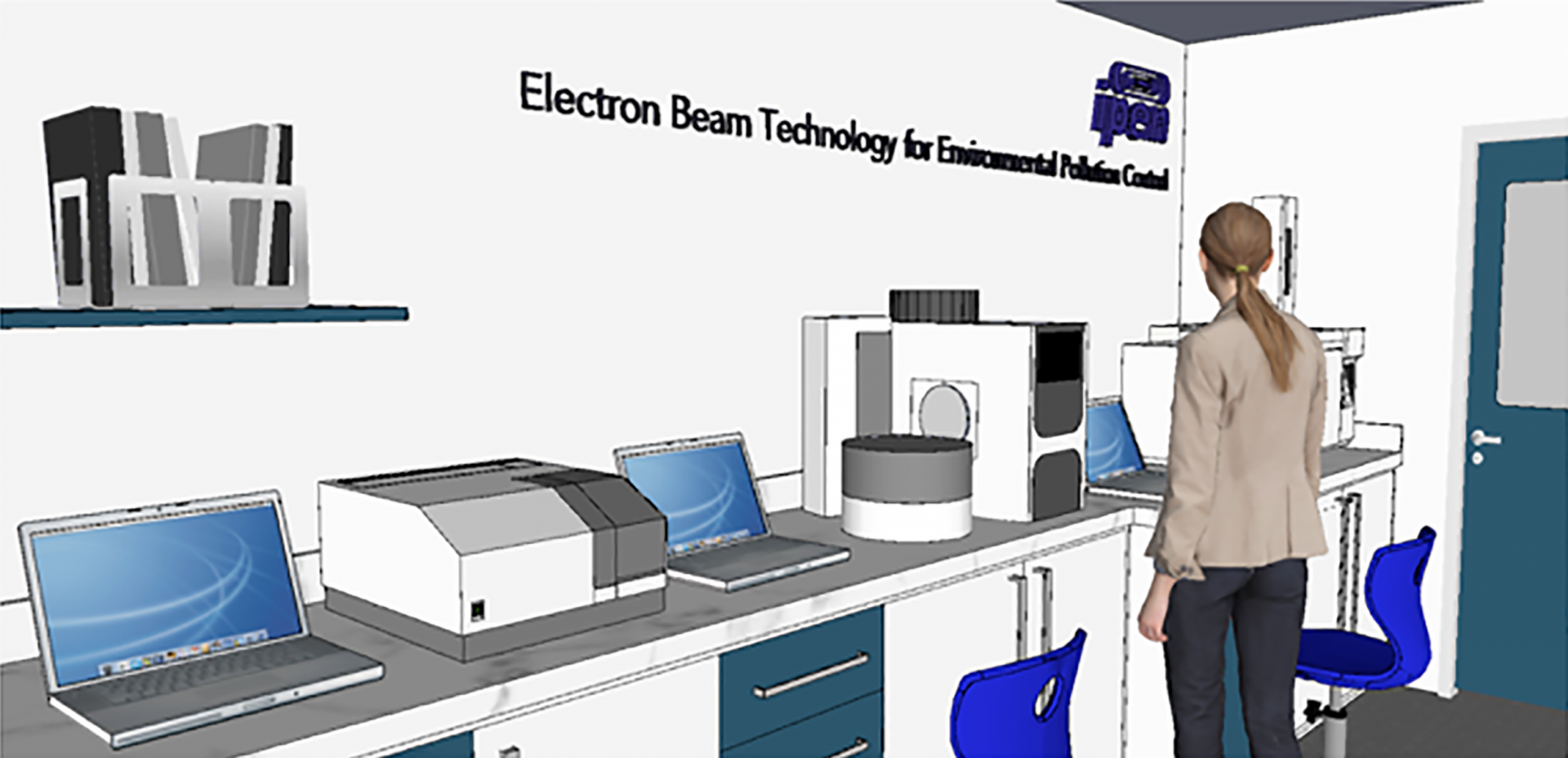 An artist's conception of some of the interior of the mobile lab.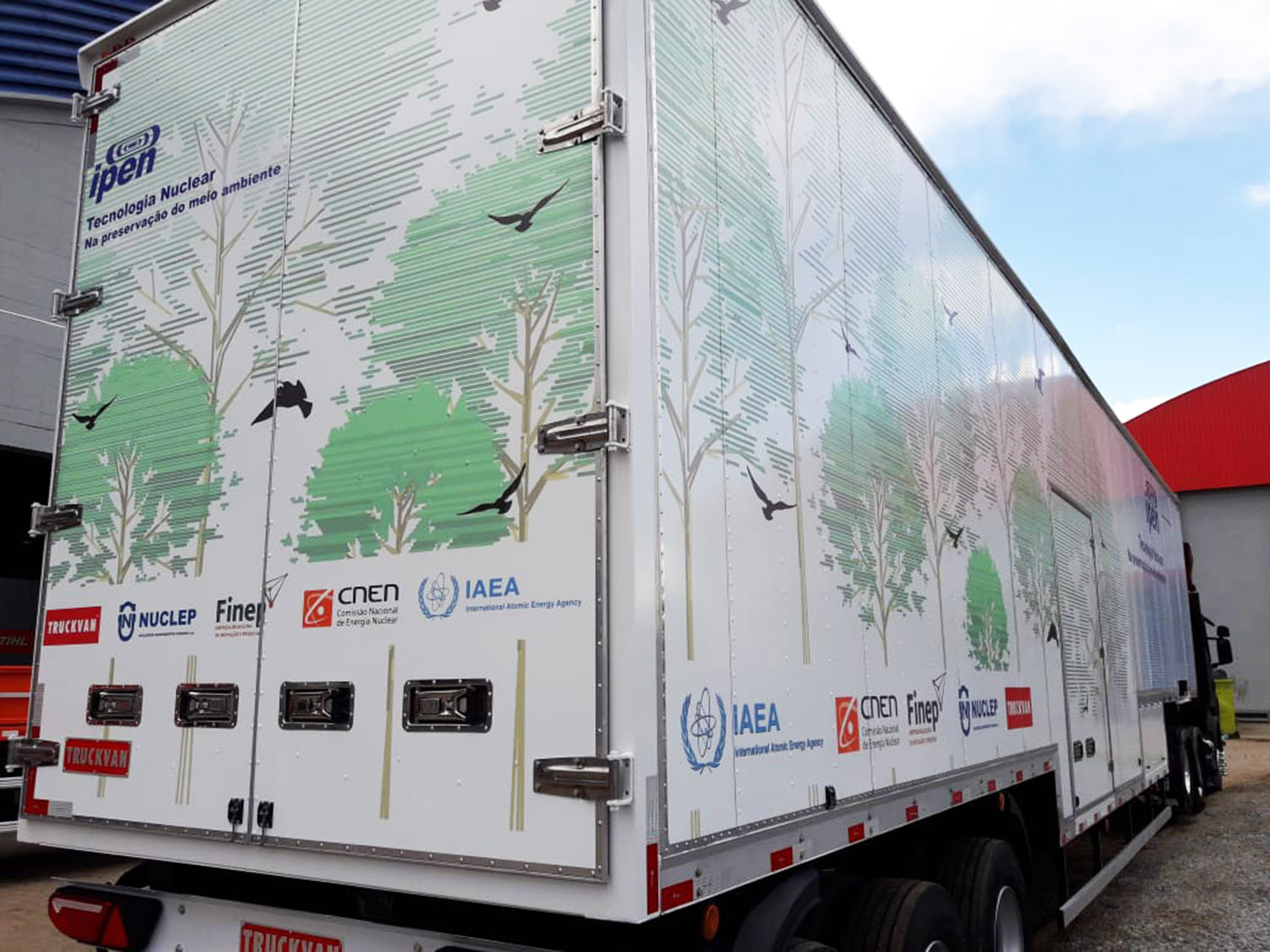 The tractor trailer that houses the mobile electon beam unit.
In 2019, the IAEA launched an international research project to further develop and demonstrate radiation technologies to treat emerging organic pollutants (EOPs) in wastewater. "Though low levels of emerging contaminants, such as endocrine--disrupting compounds, antibiotics in water, and polyfluorinated compounds in soils, may not cause an immediate lethal effect, they could have chronic effects on human and animal health and the ecosystem in general," Han said. The four--year project brings together experts from Argentina, Bangladesh, Brazil, China, Egypt, Hungary, Malaysia, Myanmar, Poland, Serbia, Slovakia, Tunisia, Turkey, the United States, and Vietnam.
In addition to the research objectives, experts involved in the project are developing standard operating procedures for treating EOPs with different radiation treatment technologies and are establishing toxicity measurement assays to determine if the degradation of EOPs by radiation leads to the formation of toxic by--products. "There is a need to harness radiation technologies to address the environmental pollution caused by EOPs," Han explained. "A multi-disciplinary approach that includes the development of new analytical methods to detect pollutants and a deeper understanding of pollutant degradation mechanisms is needed."
Carley Willis and Joanne Liou are with the International Atomic Energy Agency's Office of Public Information and Communication.