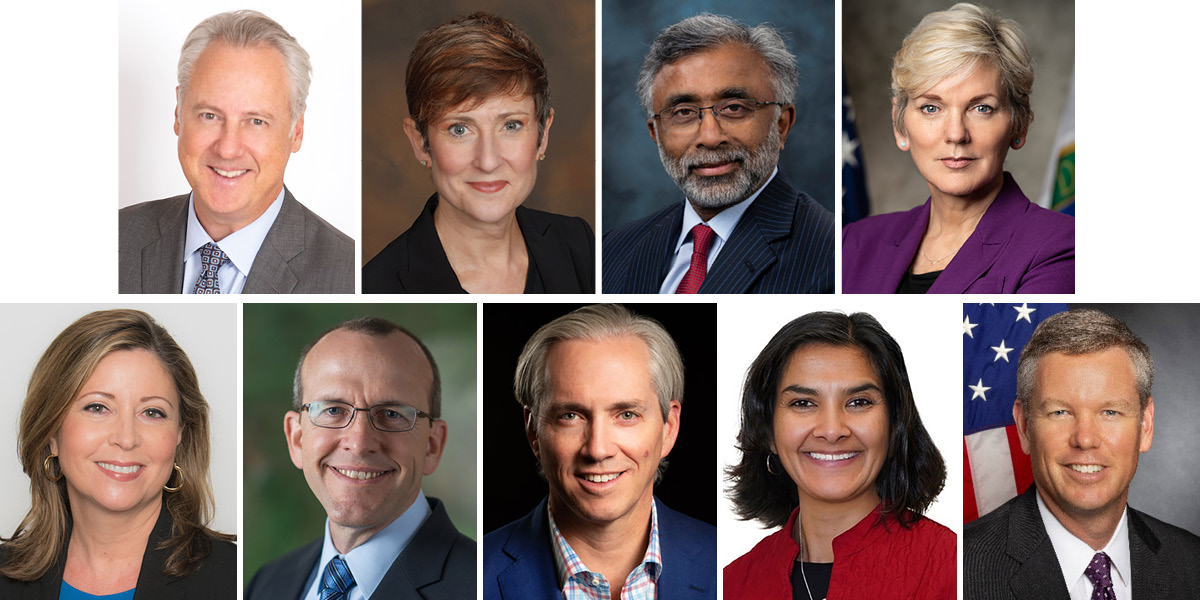 The theme of the 2021 ANS Virtual Annual Meeting—Breaking Through to Deployment—is a theme of action. It can take substantial momentum, shrewdly applied, to break through barriers.
Both the American Nuclear Society and the nuclear community can point to momentum and change happening right now. The Department of Energy's Advanced Reactor Demonstration Program is providing structure and funding for the development and demonstration of advanced reactors, while within ANS, modernization and improvements guided by a Change Plan have reshaped the Society, including its publications and services, and enabled a nimble approach to the challenges of the coronavirus pandemic.
ANS CEO and Executive Director Craig Piercy and ANS President Mary Lou Dunzik-Gougar kicked off the Annual Meeting—and the Opening Plenary Session—on June 14 with a celebratory embrace of ANS successes one year after the society produced its first fully virtual Annual Meeting.
The general chair of the meeting, Thomas Zacharia, director of Oak Ridge National Laboratory, spoke about seven decades of nuclear research and development at ORNL, from the fission of the X-10 Graphite Reactor in 1943 to the fusion of U.S. ITER, before introducing Energy Secretary Jennifer Granholm and five distinguished panelists, each with close ties to nuclear deployment and the DOE's Advanced Reactor Demonstration Program (ARDP).
ANS takes the right risks: Dunzik-Gougar described the many benefits of ANS membership and reflected on the remarkable experience of serving as ANS president during a pandemic.
"While there was much opportunity and even demand for change in the last year, change is still not easy, and it's often uncomfortable," she said. "In our highly regulated nuclear science and technology community, we tend to be conservative and a bit risk averse, avoiding significant change. But sometimes risk-taking is necessary. By approving the Change Plan in 2019, our Board took a risk. Since then, our committed members and staff accepted that risk in making these plans a reality. Today, it looks like the risks were the right ones to take."
Piercy agreed. "Truly, the progress that we've made is a testament to what happens when a community, despite all its internal divisions and complexity, makes up its mind to do and be better," he said. "Our success is also buoyed by a growing awakening of the value of nuclear technology in tackling decarbonization, resiliency, and the overall sustainability of our world."
Granholm: "Right now, we need you," said Secretary Granholm in prerecorded remarks. "President Biden is absolutely committed to getting this country powered by clean energy using every single clean energy tool available. Let me say loud and clear, carbon-free nuclear power is an absolutely critical part of our decarbonization equation. But we're not just talking the talk here. This administration is walking the walk. And you can see that in the president's 2022 budget and you can see it in the American Jobs Plan."
The recently released budget calls for $1.8 billion in nuclear energy funding, which Granholm described as "by far our largest proposed investment ever."
"To start with, we want to preserve our existing nuclear fleet," she said. The budget includes $175 million for fleet modernization efforts, including the development of advanced, accident-tolerant fuels. "We're going to keep doing everything we can to encourage our partners in the states to keep their reactors on line.
"At the same time, we are making it a priority to fund and find a long-term disposal solution to nuclear waste. We know it's not going to be Yucca Mountain. Instead, we want to move forward with a consent-based siting strategy. It's why our funding request includes $20 million to support near-term consolidation and storage."
Granholm said that when it comes to advanced reactors, "there is a lot to like," and the budget request includes nearly $700 million for advanced nuclear.
"If all of that excites you," Granholm continued, "just imagine what tens of billions of dollars more for research and development and demonstration and deployment would do for nuclear energy in America." The American Jobs Plan includes those R&D investments, she said, along with a clean electricity standard and an allocated production credit for electricity generation from eligible, existing nuclear power facilities.
"Those would solve the nuclear plant retirement issue in one fell swoop," Granholm said. "It's big. The administration sees these next few years as a truly can't miss opportunity in nuclear energy."
Korsnick: "When it comes to electricity production, job creation, and decarbonization, nuclear energy is a source that can make it all work. Together we're going to develop and deploy the next generation of nuclear technology, and we're going to make nuclear the carbon-free core of our clean energy future," said Maria Korsnick, president and chief executive officer of the Nuclear Energy Institute. "Decades of work from the people here today across academia, government, and the entire nuclear supply chain, have prepared nuclear energy to meet this moment."
Among lawmakers, nuclear energy is enjoying hard-earned bipartisan support, Korsnick said, adding, "We need to go farther—to successfully deploy the next generation of nuclear, we need everyone, from the halls of Congress to the C-suites of the world's biggest energy companies, to realize nuclear's potential."
"Nuclear by its nature offers so much energy for the use of very little resource. I just think fundamentally the business proposition that we bring makes a lot of sense," Korsnick said, adding that CEOs must be convinced that nuclear makes good business sense.
"Once it makes a good business case sense, things really fall quickly into place" Korsnick said. "It makes sense to relicense your plants. It makes sense to build more plants. But as long as there's very, very cheap natural gas and no concern if you're burning natural gas, I think that will continue to be a challenge."
Levesque: "At TerraPower, we approach the energy industry differently—more like a tech company than a traditional energy company," said Chris Levesque, TerraPower president and CEO. TerraPower is preparing to build Natrium ARDP demonstration reactor at the site of a retiring coal plant in Wyoming that can serve both baseload and energy storage functions, integrating with high levels of renewables, enabling its customers to capitalize on peaking opportunities.
"The Natrium system is the first nuclear concept to integrate large-scale energy storage capabilities." Levesque said. "In fact, our utility partners strongly encouraged us to invest in the storage component, and we shaped the Natrium design based on that advice."
Utilities are finding that the incremental additions of wind and solar are getting more and more expensive, and Levesque said, "Nuclear will really be in demand in the 2030s and 2040s. That's why it's so important that we pull off these seven-year schedules for our demos. There will be a demand for many, many advanced reactors which we believe will be sold even before our demo projects are complete."
When Congress created the ARDP, Levesque said, they realized we needed an aggressive schedule. "We needed a schedule that that got these plants on line in the 2020s because, frankly, if we don't do it, we could miss the opportunity for nuclear energy to play a big role in fighting climate change if we don't get these new technologies out there and show the world that it can be done."
"What is the government getting for return for its very significant contribution to this public private partnership?" Levesque asked, rhetorically. "A big part of it is renewing U.S. leadership in nuclear energy with advanced nuclear technology. China and Russia are beating us in new-build deployments. I think the U.S. has really decided our best play in the international market is to beat those folks with advanced technology."
Sell: Clay Sell is the CEO of X-energy, the company planning to build a four-module Xe-100 high-temperature gas reactor plant at an Energy Northwest site near Richland, Wash., as an ARDP award recipient. Previously, Sell served in the DOE as deputy energy secretary from 2005 to 2008 during the George W. Bush administration.
"I spent 10 years away from this industry," Sell said, "and when I came back to it, I was amazed by the change in the political support for our industry to solve the nation's problems. . . . the policy support for nuclear and the extent that our nation's leaders need us to deliver is greater now than ever. And I think there are three fundamental trends in support of this rapidly improving level of political support: climate change, national security, and jobs."
The production of high-assay low-enriched uranium (HALEU) to fuel both the X-energy and TerraPower demonstrations is a critical near-term need, Sell said. X-energy's goal is assuring a near-term supply of HALEU while working on long-term supply beyond 2030.
"From a regulatory standpoint, we will put in a license application under Part 74 for a fuel facility at a location to be announced in the coming months. We will do that in the third quarter of this year and will begin the licensing process," Sell said, adding that he anticipates that X-energy will have a fuel facility constructed and on line in late 2024 or early 2025 to support the manufacture of TRISO pebbles enriched at 15.5 percent for the Xe-100 demonstration reactor.
As for the licensing process of the Xe-100 reactor itself, "We look with great anticipation to the Part 53 rules that the NRC staff is developing, but the reality of our timelines forces to use either Part 50 or 52. The realities of our specific timeline at Energy Northwest really lead to, most likely, a construction license application under Part 50 around the beginning of the second quarter of 2022."
Sell indicated that while X-energy is focused on deploying a demonstration plant, its sights are set on the eventual deployment of fleets of Xe-100 reactors, and the company is talking to its partners about maintaining the mobilization of a construction crew to build another four-module Xe-100 plant at the same site.
Baranwal: Baranwal was energy secretary when the ARDP program was announced in 2020. She was asked by Zacharia what advanced reactor success looks like just months after moving on from the DOE to become vice president of nuclear and chief nuclear officer at the Electric Power Research Institute.
"Success still looks like deploying something within seven years," Baranwal said. "The rest of the world is really watching us, and I think I think we've laid the groundwork to get there."
"We need to take up that Etch-a-Sketch and change how we do business," she added. "We need to be quick and nimble in technology transfer. We need to continue to leverage technology that wasn't invented in this sector when it's beneficial to us. And when it comes to innovation, we need to be failing fast, pivoting, and moving on to the next iteration of a concept to better utilize technology. That is a bit at odds with the fairly conservative nature of our industry. We got a lot of work to do. Nuclear is stepping up to meet the challenges that are before us in the changing landscape, and it's certainly an exciting time to be in the industry."
EPRI, Baranwal explained, has an advanced reactor initiative that is a low-cost entry point to the EPRI collaborative model for the advanced reactor community. "In 2015, EPRI recognized the private sector's interest in advanced nuclear energy systems," Baranwal said. "With seed funding from EPRI's technology innovation program, a small research focus area was established with an external facing technology advisory group within the Advanced Nuclear Technology Program. Fast forward to today. That program is now going to be pulled into our base program, and that's a success story."
Hanson: "When Congress created the ARDP, it took seriously the idea that the deployment of advanced nuclear technologies to help combat climate change faced a complex series of what I call chicken-and-egg problems," said NRC chairman Christopher Hanson, before quipping, "Well, everyone calls them chicken-and-egg problems.
"By creating a demonstration program instead of a pilot or engineering program," Hanson explained, "Congress indicated that it wanted to support relatively mature technologies that could be connected to the grid, and by virtue of that connection, those projects must be licensed by the NRC. That nexus with the NRC attempts to resolve another chicken-and-egg problem, getting the regulatory framework right to support eventual broader commercial deployment. Responding to this growing demand in a safe and secure way, consistent with NRC's principles of good regulation—particularly clarity, reliability, and openness—is a priority for me."
Hanson spoke about the NRC's development of 10 CFR Part 53, an anticipated risk-informed licensing framework for advanced reactors. "I know we've received some criticism so far, but it's still early and I would urge everyone to be patient," Hanson said. "The NRC must balance a number of issues to get a rule that is both comprehensive and usable for as many technologies as possible. It must be risk informed, but where data is missing, there needs to be defense in depth. It needs to be both predictable and flexible and reconcile competing interests of vendors and utilities while considering public input. It's complex, but I'm confident we'll get there."
Hanson emphasized that the NRC would continue to work with countries embarking on new nuclear programs, and share information and approaches with regulators in countries, such as Canada, that are also preparing for advanced reactor license applications.