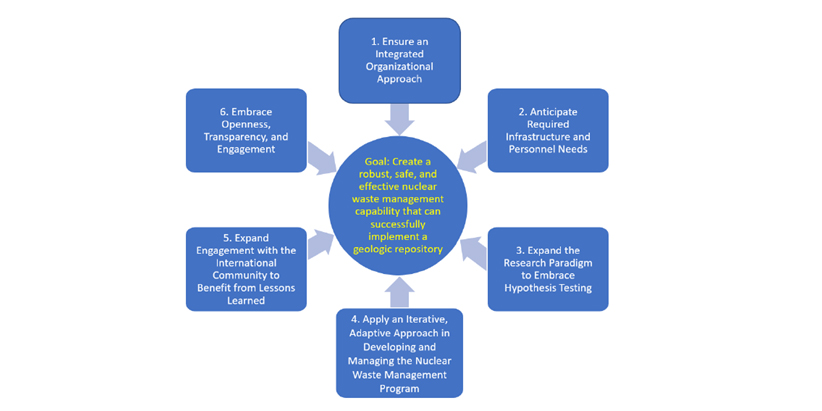 According to the NWTRB, the report synthesizes the current board members' nearly decade-long experience reviewing numerous DOE technical programs related to the management and disposal of SNF and HLW. The report is also informed by the study of and a number of visits to programs and facilities in other countries, the NWTRB said.
The recommendations: In their report, released on April 30, the board members offer six high-level recommendations to the DOE that, if adopted as core principles, they believe will support the creation of a robust, safe, and effective nuclear waste management capability for the nation, including laying the groundwork for a successful geologic repository.
The six interrelated and overarching recommendations, along with associated action items, are linked with (1) an integrated organizational approach, (2) required infrastructure and personnel needs, (3) the DOE's research approach, (4) an iterative, adaptive waste management program approach, (5) engaging with the international community, and (6) building public trust.
"We strongly believe the progress the nation is making in developing its waste management capability, as well as public and stakeholder acceptance, could be improved with regard to both timeliness and effectiveness by adopting these recommendations as core principles of the nuclear waste management program," the board states in its report.
The challenges: While it has been shown that SNF and HLW can be safely stored for an extended period of time, progress toward a long-term disposal solution is still a matter of urgency, the NWTRB said.
To ensure a successful nuclear waste management program is developed in the United States, the NWTRB said several challenges need to be addressed, including the current lack of a plan for developing a repository and concomitant funding, the complex array of stakeholders responsible for implementing different stages of the nuclear fuel cycle, and the unprecedentedly long time-scale for which a repository must be designed.