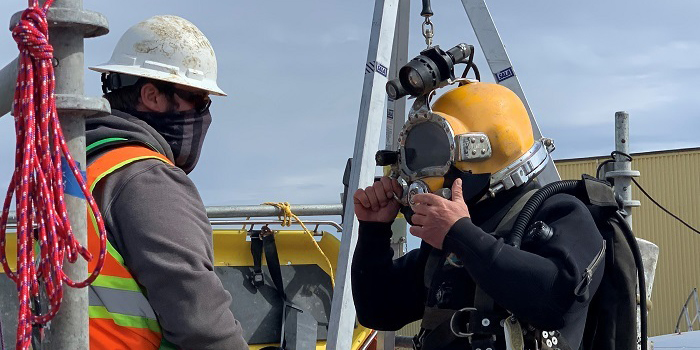 The Department of Energy's Richland Operations Office contractors Central Plateau Cleanup Company (CPCCo) and Hanford Mission Integration Solutions (HMIS) teamed up recently to dive into inspection and maintenance activities at the Hanford Site in Washington state.
Project video: View this video for sights and sounds from this unique project.
The project: In a challenging project, highly trained divers wearing specialized equipment entered two 300,000-gallon water tanks to inspect conditions, remove sediment and debris, and perform minor repairs, the DOE reported on April 20.
The tanks provide water for a portion of the Hanford Site and are required by the National Fire Protection Association to be inspected every five years.
Deep dive: The effort required extensive planning and coordination among several teams, according to the DOE. HMIS workers installed scaffolding to allow the divers and support crews to access the entry hatches at the top of the 50-foot-tall tanks. CPCCo managed the dive teams and coordinated the inspections, and the Hanford Fire Department stood ready to provide support in the event of an emergency.
After safety checks, divers climbed down ladders into the water, while workers remotely monitored a video feed from cameras on the divers' helmets.
Collaborative job: "I'm proud of our teams for the excellent organization and clear communications among multiple contractors and crews needed to safely complete this work," said Mark French, project and facilities division director for the DOE's Office of Environmental Management. "The success of complex projects, like this, reinforces the value of our collaborative approach; everyone is working together to accomplish the cleanup mission."