April 16, 2021, 2:59PM
Updated

April 19, 2021, 10:56AM
Nuclear News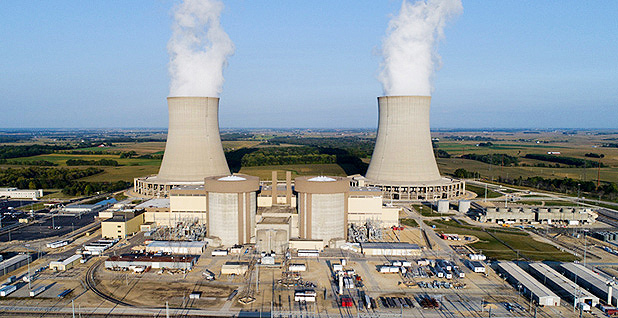 A research and consulting firm hired by Illinois governor J. B. Pritzker's administration to scrutinize the financial fitness of Exelon's Byron and Dresden nuclear plants approves of limited state subsidies for the facilities, according to a redacted version of the firm's report made available yesterday.
Early this year, Cambridge, Mass.-based Synapse Energy Economics was contracted by the Illinois Environmental Protection Agency to look into Exelon's claims that it would be forced to close Byron and Dresden in the fall of 2021 because of "market rules that favor polluting power plants over carbon-free nuclear energy."
Synapse firing: "Our analysis demonstrates that Byron and Dresden do face real risk of becoming uneconomic in the near term," the report states. "This has implications for Illinois's policy goals because the plants generate carbon free electricity that is currently undervalued or even ignored within current wholesale electricity markets."
The state's financial aid suggested by Synapse, however, is substantially less than is currently being provided to Exelon's Clinton and Quad Cities facilities through the state's zero-emission credit program. The ZEC program, created in 2016, secured $235 million annually over 10 years for those two economically troubled facilities. In Synapse's view, Illinois can limit payments for Bryon and Dresden to five years at a cost of roughly $150 million per year at the most.
The report adds that Exelon must be "transparent with its finances to ensure that state support is provided only when required to support the economic operation of the plants."
Exelon's response: An Exelon spokesperson responded to a request for comment from Nuclear Newswire with the following:
"Over the last few months, we have opened up our books and shared all of our financial records with economic analysts. Their conclusions confirm what we have been saying, that without urgent action we are going to lose vital zero-carbon energy sources that provide billions of dollars of economic value to Illinois families and businesses as well as thousands of jobs. We are still reviewing the materials and have questions about the underlying assumptions and price projections. Exelon is committed to working with policymakers and all stakeholders to provide affordable, reliable and clean energy to Illinois families and businesses."