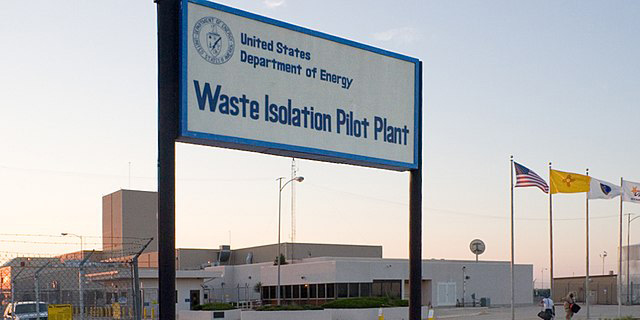 The Waste Isolation Pilot Plant's underground repository in New Mexico was evacuated for 13 days in March following an incident at Los Alamos National Laboratory, where a drum being packed with transuranic waste began emitting sparks.
As reported on March 31 by the Carlsbad Current Argus, an evacuation order was given on March 5 after WIPP was informed by the National Nuclear Security Administration that similar at-risk drums from LANL were emplaced for disposal in the repository. The order was lifted on March 18 after it was determined that the drums were compliant with WIPP's waste acceptance criteria and did not pose a risk.
Shipments of LANL's TRU containers holding items related to the incident have been suspended. LANL is to reevaluate the situation after Triad National Security, LANL's management and operations contractor, completes an investigation report, due by April 23.
LANL drum: The incident began on February 26, when workers at LANL's Plutonium Facility observed sparks while loading a drum with TRU waste. According to a Defense Nuclear Facilities Safety Board report, the workers followed proper procedure and exited the room, pulled a fire alarm, and contacted the operations center. The fire department responding to the alarm found no fire, and a subsequent evaluation by Triad indicated no obvious damage to the glove box used in packing the drum, with no release of radioactive material and no injuries to any workers.
It is believed that the sparks were caused when a metal waste item was put in the drum on top of a plastic bag containing two high efficiency particulate air (HEPA) filters. The filters had been from an inert-atmosphere glove box used to weld nonradioactive titanium alloy. The metal item tore the filter bag, allowing air to enter the bag and oxidizing the titanium fragments captured by the filters, causing the sparking.
NMED investigation: According to the Carlsbad Current Argus, the New Mexico Environment Department was first notified of the incident on March 9. It was reported that NMED has received reports from both LANL and WIPP and is investigating the incident to determine if any noncompliance issues exist.